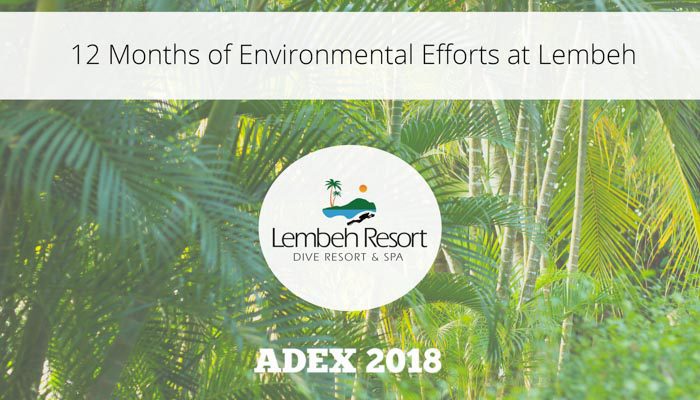 Keeping Green at Lembeh Resort
Trying to keep our beautiful resort as green and environmentally sustainable as possible is not a small task. We are constantly trying to identify areas in our operations where we can reduce emissions, plastic, water and non-renewable energy. It's a never ending process. When new technologies develop and become available in Indonesia, areas we previously thought we couldn't improve on, we suddenly can. We are constantly researching new green innovations, revising our methods and implementing changes.
Last year, Petra attended a sustainable marine tourism think-tank and discussion at ADEX in Singapore. After sharing her ideas (and challenges) with renowned conservationists, environmental leaders and other operators in the tourism field she returned to Lembeh with a host of green ideas and suggestions which we have been working towards over the last 12 months.
As we prepare for ADEX 2018 we've taken time to reflect on what we have achieved since last years' show – it's pretty amazing! Here's an overview of what we've accomplished but there's still even more to come!
Starting with Supplies: Here in North Sulawesi the local community are not educated about reducing plastic and almost all items are sold in plastic bags. We now use large crates for transporting goods to the resort, eliminating the need for plastic bags.
Tasty Treats that don't Cost the Earth: Our three dive day trips now serve lunches from sustainable paper lunch boxes – no more Styrofoam. Our farewell snacks and treats are now also wrapped in traditional banana leaves – which are even greener!
Cocktails with a Conscience: You won't find any plastic straws at Lembeh Resort. Our cocktails and soft drinks are served with a stylish glass straw which is reusable and adds an elegant touch.
Luxury Cottages that Care: Our newly renovated traditional cottages offer comfort, luxury and they are eco-friendly. The new cottages combine modern energy saving technology and green materials with traditional flair; AC efficiency has increased, water collection and solar water heating systems are in place and our new faucets reduce unnecessary water waste.
Educating Future Generations: We are extremely fortunate to be located within easy reach of Tasik Oki Wildlife Rehabilitation and Rescue Centre. Tasik Oki's core goals are to fight the illegal trade and trafficking in wildlife through the port in Bitung and to protect, conserve and rehabilitate the flora and fauna of North Sulawesi. As part of our ongoing social and environmental commitment we are organising and funding trips for children from our local villages to attend Tasik Oki and learn more about programs carried out there as well as the importance of their incredible natural environments. Lembeh Resort also makes a donation to Tasik Oki for each of our guests who visit during their stay.
Cleaning House: Over the last year we have continued our efforts against marine debris through both reef and beach clean-ups.
Palm Free Products: All Lembeh Resort Spa products are palm oil free – this also includes the soaps provided in guest accommodations.
Our Most Recent News:
Petra has been working with an innovative and inspiring group of young Indonesians who are in the process of creating "KeMarine Foundation". The foundation will focus on educating and socialising to local communities the importance of reducing, recycling and up-cycling plastic. Petra has a lot of exciting future opportunities to explore with this group including possible plastic up-cycling workshops for local communities and even involving the local government to support a "trash bank" in our neighboring village.
The trash bank would be a depository for local people to bring their cleaned and separated plastics which we would initially purchase from them and take to the nearest recycling center. Visions for the future include local people being able to upscale the plastic to make useful items either for themselves or for retail. This is an exciting project and we are looking forward to watching it develop.
Petra will be attending this years' Sustainable Diving Think Tank and Dialogue at Adex (April 6th to 8th) and we can't wait to hear what new ideas and green initiatives she comes back with! Are visiting ADEX? If you'd like to learn more about our environmental initiatives (and diving in the Lembeh Strait) Petra will be on our stand at the Indonesian booth and would love to catch up with you.
Are you already planning your next diving trip? Join us at Lembeh Resort and dive the world's best muck diving sites, enjoy luxury accommodation and let us exceed your expectations.
For more information or to make a reservation, contact us on: reservations@LembehResort.com
We look forward to welcoming you to our beautiful Indonesian resort soon.