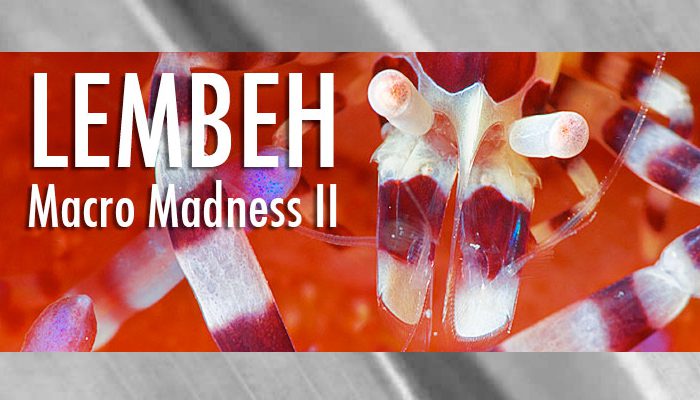 Lembeh Macro Madness II, April 16-27 2012
Backscatter once again will return to the Lembeh Resort in Indonesia for spectacular encounters with some of the strangest critters on the planet. Please be sure to check out Backscatter's trip report from this year's expedition for a detailed look at what you can expect from this awesome destination.
Lembeh Strait is a name synonymous with "critter" or "muck" diving. Consistently rated among the top dive locations in the world, Lembeh is home to many unique and rare animals. It's not only a macro paradise; there are some equally good wide angle sites nearby. We are thrilled to be reuniting with our good friends and dive guides Hergen and Kerri who will be sure to show us the best that Lembeh has to offer. For a taste of the crazy critters that inhabit the area, take a look at the slide show from the 2011 Lembeh expedition below.
Lembeh Resort, a spectacular boutique style resort, is situated on Lembeh Island and perched above the beautiful Strait. The property is surrounded by lush tropical gardens and blends perfectly into the landscape. All guest cottages boast spacious verandahs for perfect views of glorious North Sulawesi sunsets and an intimate connection with nature. Modern amenities including air-conditioning, mini bar, wifi internet and massage ensure your comfort and relaxation.

Photo Guide: Berkley White
Berkley White is a leading internationally-published professional photographer, instructor, and expert in the field of underwater photography and videography and the founder of Backscatter Underwater Video & Photo in Monterey, California. He shares his in-field photographic techniques and digital methods through a series of select international travel events each year. This trip will include informal lectures based on client interest and time available. Each night a slide show of the days images will be projected and critiqued by Berkley.
This video was shot by Berkley at the Lembeh Resort in 2011, and will give you an idea of the spectacular variety of creatures found in the strait.
11 night / 26 dive package including Nitrox
$3150 based on double occupancy


Price includes
Technical support by our photo staff
Luxurious island accommodations
Great food – all meals included
Photo friendly diving with a limit of 3 divers per expert dive guide
26 expert guided boat dives
1 self guided house reef dive daily
Free NITROX
Round trip airport transfers
Additional costs
Airfare to Manado Indonesia (MDC)
Additional / custom arranged dives
Alcohol and soft drinks
Massage
WIFI internet
Land excursions
Gratuities
For booking information, please contact Dan Baldocchi at [email protected].