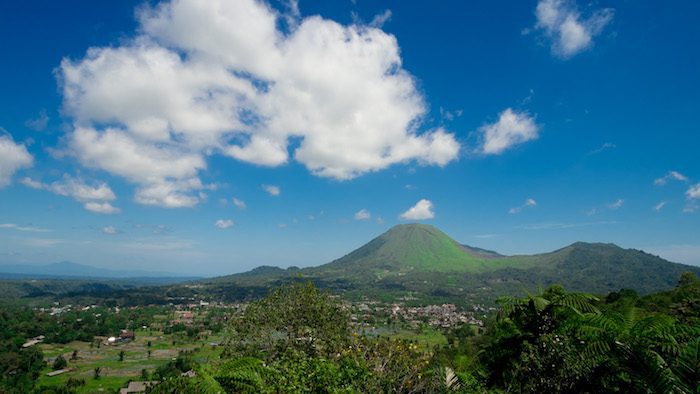 Discovering the Minahasan Highlands of North Sulawesi
Here at Lembeh Resort we are passionate about exploring both underwater and on land and we hope we can share some of the highlights of top side North Sulawesi with you too. Imagine a mountain lake that stretches as far as the eye can see, natural waterfalls, volcano craters, traditional markets and fields of blooming tropical flowers – it's all right here in North Sulawesi and it's entirely possible to see it all in one day with one of our Minahasan Highlands tours.
Do you want to know more? Read on to find out more about the highlights of this stunning region….
Lake Tondano
No Minahasan highlands tour would be complete without a visit to Lake Tondano. Lake Tondano is the largest lake in North Sulawesi and it's the second largest lake in Indonesia. The incredible crater late is the life blood of numerous lake side villages, fishing and farming communities. Life around the lake takes place at a leisurely pace and is totally in synch with nature. The lake supplies water to the low lying paddy (rice) fields, is a source of food and the center of village life. This rural area is home to friendly locals who will greet you with beaming smiles and friendly waves. Photography opportunities are numerous here and range from capturing incredible landscapes through to portraits of fishermen and rice farmers and pictures of the local children jumping in to and playing in the waters.
Tomohon Traditional Market
This large highland market is a huge "event" where the locals go to buy and sell produce. If you want to experience day to day life then this is a must to include in your Minahasan highlands tour. The market is divided into two sections, one of which sells tropical fruits, vegetables (some of which you might never have seen before), flowers, herbs, spices and there are always local women cooking sweet treats which sell faster than they cook. Here you'll see the locals bartering and chatting and there is a contagious buzz and vibe of activity!
The second section of the market (which is in a separate building and can be easily avoided) is where the meat and fish is sold and venturing into this area is not always for the faint of heart. You'll find here all manner of proteins from the expected to the unexpected – on weekends the locals call it the "extreme market" as this is when there is a larger range of bush meats on offer which can include anything from huge pythons, lizards, bats and monkeys through to cats and dogs.
Mount Mahawu Volcano
Mahawu Volcano is a stratovolcano which last erupted in 1789. The crater is 180 meters wide and 140 meters deep with two pyroclastic cones on its northern peaks. When visiting the volcano it's possible to drive the majority of the way to the summit. There is parking area, from which there is an approximately 15 – 20 minute walk up steps to the rim of the crater – and it's well worth it! On clear days, from the crater rim, you'll have magnificent views of Bunaken and the nearby islands on one side and views of the Minahasan highlands on the other. There is a path which circumnavigates the crater rim for those who want an more active experience. Looking down into the crater you'll see places where steam is venting through the rocks due to the geo-thermals underground. It's an incredible experience to stand on the edge of such an iconic volcano.
Waruga
Have you ever heard of a Waruga? Warugas are ancient Minahasan stone graves in which people were buried in a seated position. As more family members passed away their bodies were added to the graves and stacked on top of those already there. The Waruga area is close to the Tomohon tradition market so it's an easy add on to any trip.
Lake Linow
For those who can't stand to be away from the water any longer than necessary Lake Linow is a beautiful place to stop en route during your Minahasan highlands tour. The lake is known as the "lake of changing colors" as the highly sulphurous waters change color as the sun passes overhead.
Pinaras Waterfall
This beautiful, secluded waterfall is also located close to Tomohon, amid lush tropical jungle. This is another incredible spot for those who enjoy taking pictures of nature. Here you'll commonly also see a range of butterfly and bird species.
Japanese WWII Caves
For those who are interested in the history of the region and World War II, there are a series of caves which were excavated and used by the Japanese during war time. This is a somber reminder of Indonesia's turbulent history.
---
All of our Minahasan highlands tours are guided by our own in-house tour guides who have excellent English and extensive knowledge of the area. In addition to the usual sites they will usually have one or two little surprises waiting for you too. Lunch is included in every tour and you'll have the opportunity to taste beautiful local flavors along the way.
Are you planning your next muck diving trip to the Lembeh Strait? Why not add a Minahasan highlands tour to the end of your stay while you are decompressing before flying? We can tailor make your tour so you see the highlights which interest you most – no matter which elements you select you'll see stunning scenery, experience the vibrant culture of the region and be greeted by smiling locals every step of the way!
For more information about our tours or to make a reservation for your next stay, contact us on: reservations@LembehResort.com
We look forward to welcoming you to our beautiful Indonesian dive resort soon.