Traditional Cottage Renovation
 New Luxury Cottages: Unparalleled Accommodations in Lembeh Strait 
At Lembeh Resort we aim not only to meet your accommodation needs and expectations but to exceed them. In order to continue to offer the most luxurious accommodation in Lembeh our traditional cottages have been completely renovated. Our new Luxury Cottages have been rebuilt to provide you with contemporary tropical accommodation, designed with absolute comfort, liveability and sustainability in mind.
Before finalising our renovation plans we extensively studied years of guest feedback comments to gain a better insight into what guests value highest. As a result of this, we believe we have created individual luxury living spaces which will meet the needs of even our most discerning guests.
Our newly finished Luxury Cottages incorporate a mix of modern materials combined with traditional Indonesian detailing and organic touches to promote a sense of harmony and balance. Attention to detail has been applied throughout, from the ambient lighting and elegant furnishings through to the carefully concealed sockets and charging station.
Each Luxury Cottage offers a living area with generously sized closets, coffee table and chairs, and a comfortable sofa for relaxing. The bedroom space is elegantly simple with a canopy bed and thoughtfully positioned bedside tables and reading lights. Luxury Cottages have ensuite semi-open tropical bathrooms which feature exquisite detailing, rainfall showers and small palm gardens. All cottages are supplied with toiletries, hairdryers and a selection of towels. Outdoor seating is found on the private veranda so you can relax after a day of diving whilst enjoying the sunset over the water.
The Luxury Cottages have been rebuilt in stone and over-layered in a sustainably sourced hard wood finish to ensure a strong structure which blends in with the natural surroundings. In an effort to minimise our environmental impact our new Luxury Cottages utilise solar water heaters, water collection systems, fully weather sealed windows and doors and thermal insulation to reduce air conditioning energy consumption. While our new cottages incorporate modern energy saving technologies, our stunning views over the Lembeh Strait and our warmhearted, friendly service remains the same as ever before.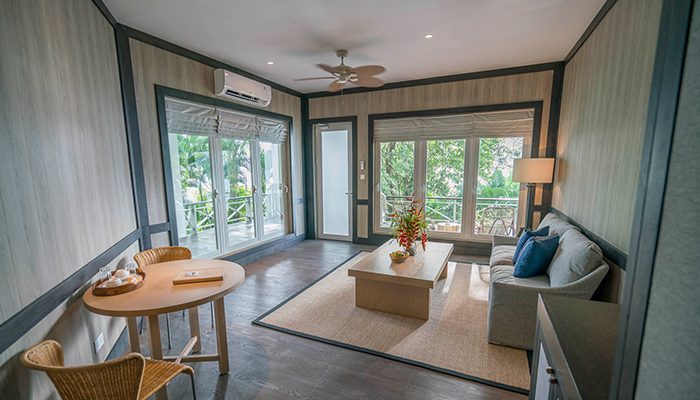 The light, neutral tones which have been selected for the cottages' interior design create a feeling of modern cosy comfort in which you can unwind from the stresses of daily life. Canopy beds, premium bedding and a choice of three different pillow types will ensure a good nights sleep before your next day of spectacular diving.
For your comfort and convenience all renovated traditional cottages include:
– Canopy beds (double and twin configurations available)
– Mini-bar and fridge
– Drinking water
– Tea and coffee making facilities
– Generous storage space
– Indoor and outdoor seating
– Semi-open tropical bathrooms
– International plug sockets and USB charging facility
– Warm LED lighting
– Luxury towels and bedding
– Choice of three pillow types
– Desk with light
– Bedside reading lights with dimmer controls
– Complimentary toiletries
Are you planning your next diving holiday to the Lembeh Strait? Reserve your cottage at Lembeh Resort and dive the world's best muck diving sites with all the comforts of home. Let our warmhearted and friendly staff exceed your expectations to ensure you have the diving holiday of a lifetime.
To make a reservation or for more information, contact us on: [email protected]
We look forward to welcoming you to our beautiful Indonesian resort soon.