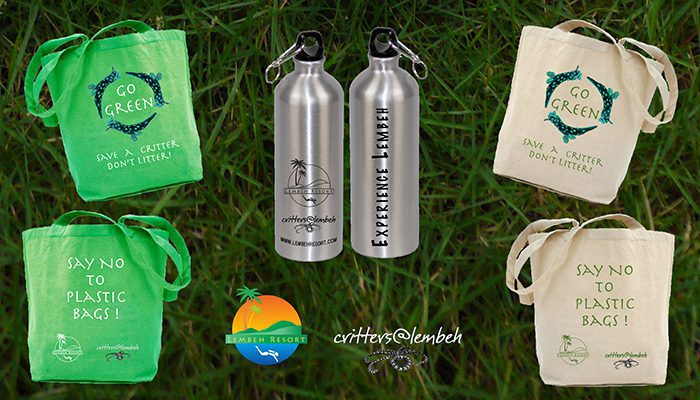 Save A Critter Don't Litter
Together we can make a positive change and help the Lembeh Strait environment.
We have been looking for further ways of reducing our environmental footprint and at the same time help the local population to preserve beautiful North Sulawesi by providing alternatives to disposable plastic and promoting education. One example of this is that we make a point of taking our staff diving and showing them why is it so crucial to save the ocean and its critters.
We have also been working on reducing plastic: we have big water dispensers in every guest room, and we give reusable bottles to every guest at the beginning of their stay which can be used on tours and while traveling to and from the resort and is then yours to keep.
Our latest initiative is canvas shopping bags which we have bought to give to the staff and local communities, once again to raise awareness of the damage that plastic bags cause and provide a viable alternative. You can help us with this campaign: we sell these bags at the gift shop and for every bag you purchase we will donate one bag to the local villagers.
We are preparing a short presentation which our resident marine biologist will show in the local village in order to further raise awareness of these issues. On that day we hope to donate many of these bags, together with your help.