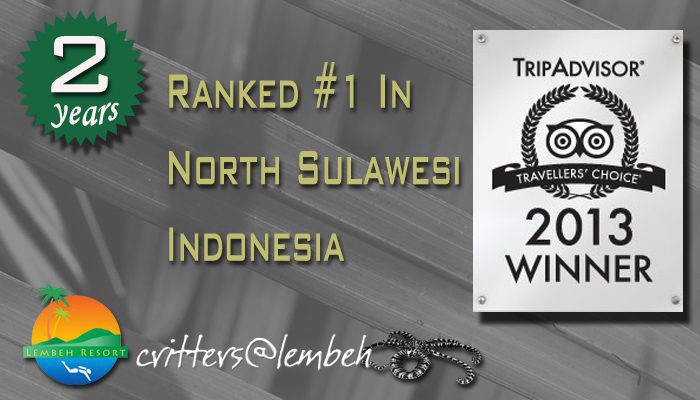 Top Choice on Tripadvisor!!
2012 was a great year for Lembeh Resort – we celebrated our 10th Anniversary and enjoyed some seriously excellent diving throughout the year! 2013 has started off extremely well also, with us winning some more accolades from Tripadvisor!
Throughout 2012, Lembeh Resort remained the #1 choice in not only Lembeh but in North Sulawesi as a whole and we hope to keep the pole position in 2013 as well. We have also been awarded in the following categories in the Tripadvisor Travellers Choice Awards:
– Top 25 Small Hotels in Indonesia
– Top 25 Hotels for Service in Indonesia
– Top 25 Small Hotels in Asia
We are immensely proud of all of the hard work that our great teams at both Lembeh Resort and [email protected] continue to put into to ensure that our guests have the best time possible when staying with us – these awards are really a reflection of them, we are honoured to work with such a great team.
We would also like to thank our guests for taking the time to write these reviews about us, it us really appreciated. Click HERE to read some reviews about us.