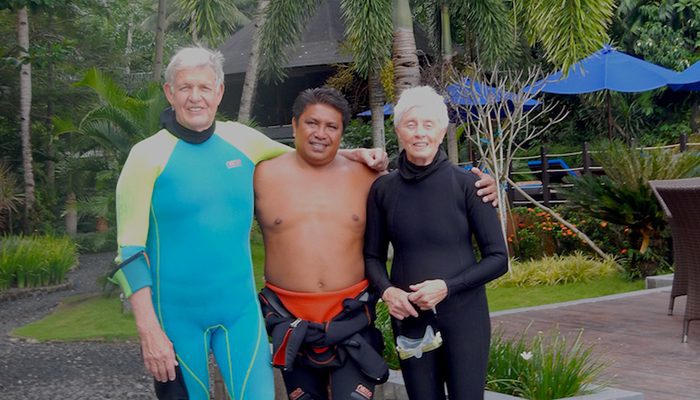 Trip Down Memory Strait
This week at Lembeh Resort we are honoured to have two very special guests staying and diving with us, Bob and Jayne Bruner, who have been diving Lembeh for almost 20 years. Nowadays, underwater macro photography is becoming increasingly popular and many people make the trip to Lembeh to see the world-famous marine life unique to this area. But in 1995 when Bob and Jayne first dived here, it was a different story and they and the friends who joined them were the only guests diving in the whole strait. At this time they also had the pleasure of diving with enthusiastic critter-diving pioneer and friend of Critters@Lembeh, Larry Smith.
Larry Smith was training local people how to be the world's best dive guides by teaching them about the critters, where and how to find them, and the best way to approach them underwater in order to show these fabulous aquatic animals to others without disturbing them.
One of Larry's trainees in the mid-nineties was named Iwan Muhani, and it was in 1995 that Bob and Jayne first dived with this young, eager guide.
Years later at Critters@Lembeh we are very proud to have Iwan on our team, now a dive master, senior dive guide, and equipment technician. Over the past two decades Iwan has logged countless dives in Lembeh but Jayne says she still sees Larry's influence on Iwan's diving style in how he treats the critters with respect, his enthusiasm, and in his graceful way of moving underwater.
Training and skill development are integral to our philosophy and we continue the tradition begun by Larry all those years ago. Now, it is our senior dive guides such as Iwan who help train and provide a role model for the newer staff, ensuring the circle of knowledge continues to grow.
When I asked Jayne and Bob what keeps them interested in coming back to Lembeh over 20 years they said that even now, no two dives are the same and the fun is in never knowing what they are going to see. And, being able to dive with Iwan again after so many years is icing on the cake!
We would like to wish Jayne and Bob many more discovery-filled dives in Lembeh, and if you haven't yet dived here, come see what keeps divers coming back to Lembeh time and again.