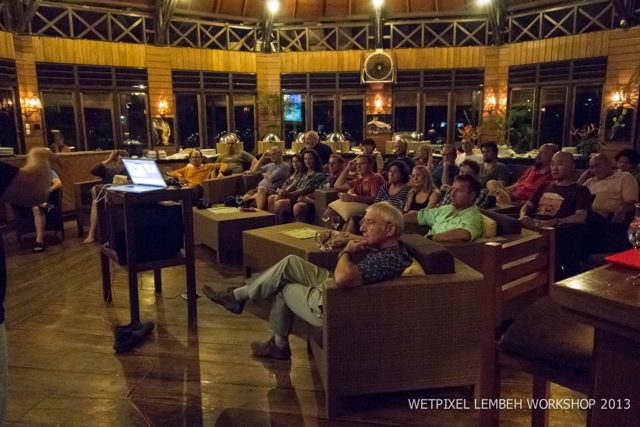 Wetpixel Lembeh Workshop 2013
Over the last two days, we welcomed 31 photographers from around the world, here for Wetpixel's Lembeh Macro Workshop 2013, to experience 10 days of tuition into the "dark" art of macro photography delivered by Wetpixel Associate Editor Alex Mustard around the iconic dive sites of the world capital of muck diving, Lembeh Straits. Last night, Alex Mustard kicked off the workshop proper with a welcome, introduction to how it is all going to work.
"Lembeh represents absolutely the best place to run macro underwater photography workshops. It offers reliable dive sites with a multitude of great subjects and good conditions that allow participants to concentrate on improving their skills and learning new techniques. The variety and concentration of sites allows each dive to focus on different aspects of the participant's skills. Lembeh Resort and Critters@Lembeh offer the combination of comfortable accommodation and efficient diving operations all done in a pleasant and personable manner. As an organizer, it is great to be able to relax and know that the group's needs will be well looked after." Adam Hanlon, Wetpixel Editor.
Adam is also on hand to give you "live" commentary over on the trip's thread on the forum.