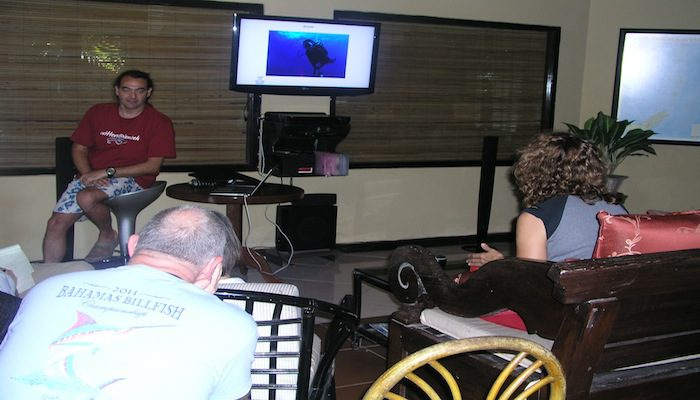 Whats Happening on Day 6 @ 'Capturing Critters @ Lembeh' ?!
Going into Day 6 (Tuesday) of the Lembeh Resort 'Capturing Critters @ Lembeh'  Photo Workshop  everyone is super excited after an excellent day of diving yesterday including two separate sightings of Hairy Octopus on the afternoon dives. Everyone got lots of feedback from our Pros in last night's Critique Session, so they are ready to put all the tips into practice on today's dives.
Carlos Villoch held this morning's seminar on 'Advanced Macro Techniques'. During this talk he introduced our participants to the concepts of 'Snooting'  and 'Backlighting' as well as how to use a slow shutter speed , different lighting and movement to create some really different imagery. We are sure that many of participants will be giving these techniques try today and tomorrow – it is probably going to look a little strange underwater with people spinning their cameras to get creative but interesting shots! We are excited about seeing everyone's efforts in the next critique session.
Our afternoon session by Doug Sloss is all about Photoshop. He will be covering the essential post-processing adjustments needed to bring original captures to a finished image.  It's all about adjustment layers, non-destructive workflows, and the best way to make Lightroom and Photoshop work seamlessly together. With Doug's help our participants will be learning to make a great photo into an amazing photo in a few simple steps!
Office Hours today will be held with Steve Fish and Ethan Daniels . After Carlos's talk about 'Snooting' we are sure that there are going to be requesting getting beer coolers and plumbing tubes to help make home made snoots!
Our participants are all off enjoying some diving at the northern part of the Strait this morning – California Dreaming and Angels Window. The diving at these sites will offer opportunities for them to practice their Close Focus Wide Angle as well some of the newly introduced Macro Techniques.