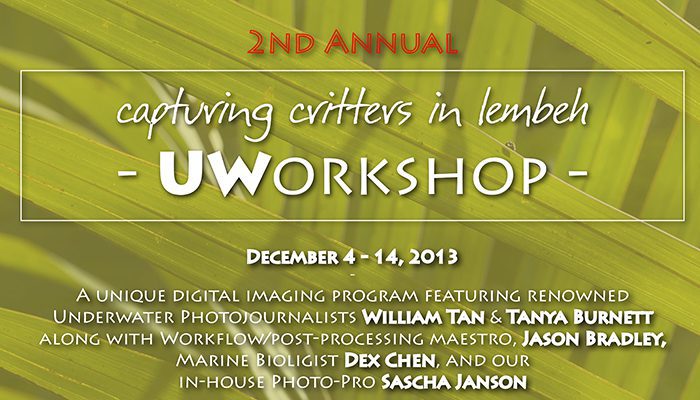 2013 Capturing Critters in Lembeh with Tanya Burnett
Have you ever looked at other divers' photo and ask yourself, "how did they get that shot?  What do I have to do to get images like that?"  These are sentiments heard often and many novice underwater photographers are closer than they think to those "great" images.
Join us for Capturing Critters in Lembeh UWorkshop and let Photo Pro Tanya Burnett help you with macro techniques on backgrounds, close focus wide angle, macro behavior and much more.  One-on-one time is available daily for critiques and additional tips.
Block your calendar for December 4 – 14, 2013 for the most complete digital-imaging event offered in Lembeh Strait.  The special rate of $2,975 per person includes 10 nights at Lembeh Resort and 24 Guided Boat Dives.  Workshops & seminars will follow two tracks based on experience and desire.  Presenting with Tanya is Jason Bradley, William Tan and our own photo-pro Sascha Janson.  Email us today for more information or contact your favorite dive travel agent.
"I was very excited when I found the photo workshop. I learned different things, great things, from what I expected to learn. It was a great workshop and now I have a whole new equipment wish list."  – Christy Quinlan – 2012 participant
Tanya Burnett has been a pioneering force in the dive industry since graduating with a major in Dive Business and minor in Photography in 1989. She had numerous "first in the industry" credits by the age of 25, but her real love has always been the marine life and photography. Afflicted with the travel bug early, she has been leading dive expeditions for photographers since the early 1990's. As a professional photographer, her work has frequently appeared in dive and travel publications for the last 15 years. Her style reflects her talents in imaging: balancing action and space, revealing the geometry of a strong image, painting with light, recognizing vignettes that work and dealing with those that don't. Ultimately you have to be able to "see" a great photograph in order to take it.
Stints as field Editor for Sport Diver, PADI Travel photographer, freelance photo assignment work and dive travel specialist have kept things busy for this Florida based artist. But when you really see Tanya in her element is underwater – helping people with strobes, pointing out subjects, suggesting changes and solving problems. Topside her enthusiasm and knowledge of marine life is infectious and liberally shared. "Underwater environments, light and a camera are powerful ingredients that if mixed with just the right balance of passion and restraint can create absolutely amazing alchemy," says Tanya, "That's what I try to inspire in fellow photographers at every workshop".