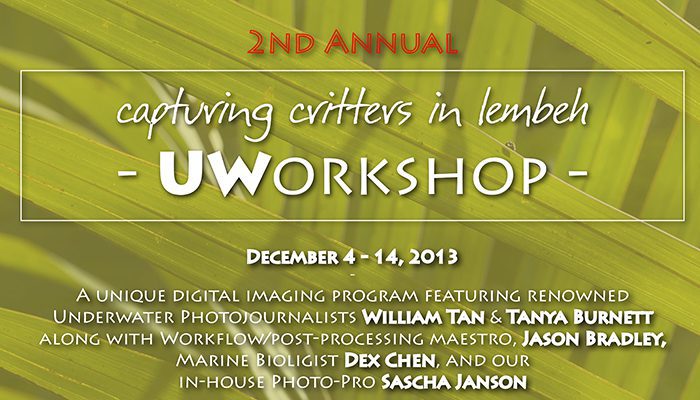 Limited Space – Dex Chen Now Complements the Pro Team – Inquire Now
There is still time to register for the most comprehensive digital-imaging workshop offered in Lembeh Strait. Dex Chen now joins the team and we anticipate all remaining cottages to sell quickly.
Marine Biologist and friend, Dex Chen is complementing the Photo Pro team for this years event. He brings many years of u/w photography experience specializing in animal behavior and the best time to photograph a subject. Dex will share simple tips and points to help you obtain the best timing and angles for your prize macro images.
Join us for Capturing Critters in Lembeh UWorkshop and let Photo Pro Tanya Burnett helps you with macro techniques on backgrounds, close focus wide angle, macro behavior and much more. One-on-one time is available daily for critiques and additional tips.
Block your calendar for December 4 – 14, 2013 for the most complete digital-imaging event offered in Lembeh Strait. The special rate of $2,975 per person includes 10 nights at Lembeh Resort and 24 Guided Boat Dives. Workshops & seminars will follow two tracks based on experience and desire. Presenting with Dex is Jason Bradley, William Tan & Tanya Burnett and our own photo-pro Sascha Janson. Space is very limited – Email us TODAY for more information or contact your favorite dive travel agent.
I was very impressed with how much work the photo pros put into their presentations -Amalie Frischknecht, 2012 Participant
About Dex Chen:
Fascinated with the natural world at a young age, Dex was a keen follower of David Attenborough's documentaries and decided on picking up Scuba Diving after serving his National Service in Singapore in 2007. Since then, Dex has embarked on a journey to become a Marine Biologist and graduated from the National University of Singapore in 2010. His experience as a trained Marine Biologist exposed him to a variety of marine habitats and provided him the opportunity to observe and understand marine life behaviour.
In his spare time, Dex also travels around to photograph and share the beauty of the underwater world. By applying the knowledge he has acquired as a Marine Biologist, his photos have won him placings in underwater photography competitions and were also published in articles magazines like ScubaDiver AustralAsia and Asian Diver. Recently, he has also started to provide workshops in photography, marine life behaviour and reef restoration to share his passion and create awareness for marine conservation.
Dex hopes that through his images, he can ultimately communicate the wonders of the ocean and encourage various stakeholders to cultivate long-term concern for and preservation of the rich and amazing marine systems.