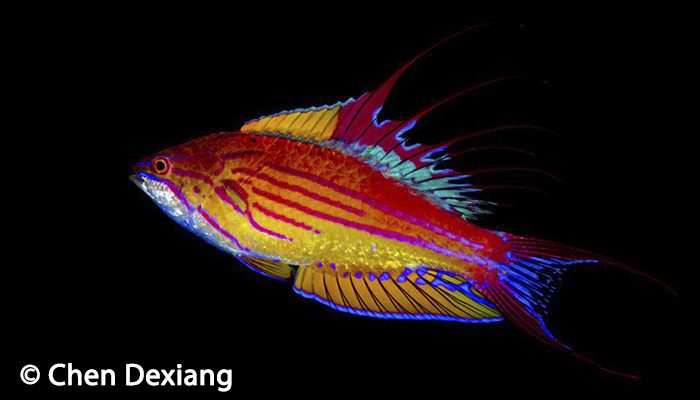 Flasher Wrasse Diving
Have you ever seen a flasher wrasse?  The [email protected] team is excited to offer the opportunity to see these most spectacular fishes.
They are quite common here in Lembeh but many divers don't notice them at first – as with many birds, the females are comparatively uninteresting, and during most of the day, the males' colours and behaviour are muted in order to avoid being eaten by predators.
However, when the males are putting on a mating display, which they do between 4PM-5PM every day, they open their oversized fins in a dazzling show of colour and frenetic energy as they try to impress females and chase away rival males.  They have even been called the peacocks of the underwater world!
When you see them in action, we think you'll agree that male flasher wrasses are some of the most beautiful fishes in the world, but also some of the most challenging to photograph due to their unpredictable swimming style, so patience and perseverance are required to get a good shot!
Here in Lembeh strait we have 3 different species: the most common, and one of the most spectacular, is the Filamented flasher wrasse (Paracheilinus filamentosus), and there is also the Togean flasher wrasse (Paracheilinus togeanensis), until recently thought to only be found in the Togean Islands (also in Sulawesi), and finally, the Paracheilinus cyaneus, or Blue flasher wrasse.
Our flasher wrasse dives depart at 4:30PM so you have a chance to observe the spectacular mating displays, while still being able to do 3 day-time dives if you like and still get back in time for a cocktail before dinner.  Minimum 2 and maximum 6 divers so it's always a nice small group.
It's a perfect way to round off a day of great diving in Lembeh Strait and witness an unforgettable, ostentatious display of nature's beauty at her finest!
These beautiful flasher wrasse photos were taken by Chen Dexiang, Singapore-based marine biologist and underwater photographer.  He will be complimenting our Photo Pro team for our December 4th-14th photography workshop, Capturing Critters in Lembeh. One of his specialties is using knowledge of underwater critters' behavior to get the best shot possible, so join us in December to take advantage of his expertise along with that of fellow presenters Tanya Burnett, Jason Bradley, William Tan and in-house Photo Pro Sascha Janson.  Space is limited – email us  today for more information or contact your favorite travel agent.