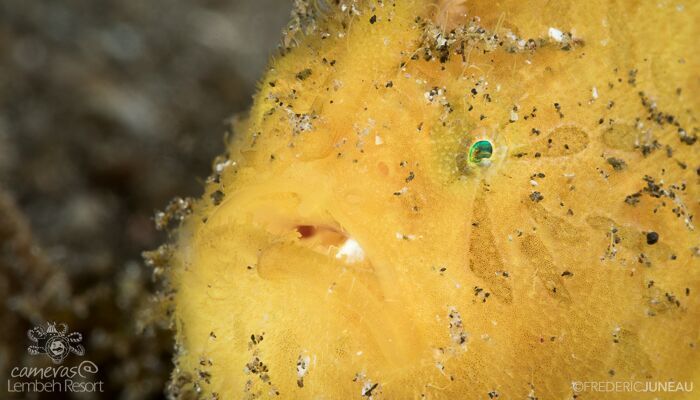 Hairy Frogfish Aren't Hairy!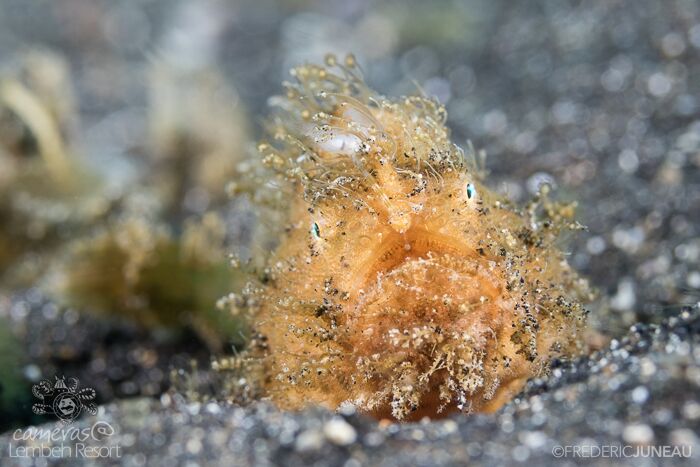 This month we are focusing on frogfish and we know that every muck diver, underwater photographer and critter aficionado loves the hairy frogfish but did you know that they don't actually have any hairs? This incredible critter is full of surprises! Check out these 10 intriguing hairy frogfish facts. How many did you already know?
1. The hairy frogfish is also known as the striated frogfish which comes from its scientific name: Antennarius striatus. Despite having a hairy appearance the "hairs" are actually skin appendages or spinules which cover the frogfish's body, head and fins. These spinules can be copious and long or very short or even almost invisible.
2. Hairy frogfish are formidable predators. When the frogfish spots its prey, it will follow the prey by eye movement only. When the prey draws close enough the frogfish will start moving its lure to bring the prey even closer. If the prey does not respond to the lure the frogfish will stealthily start to "crawl" towards its intended victim. When the intended prey is only a short distance away the frogfish will take time to carefully orient itself so it is facing its victim and it will adjust its mouth angle in preparation for striking. As soon as the prey is within one body length of the frogfish it will strike with lightening speed. The distance of one body length is known as the striking zone.
3. The hairy frogfish's "rod" is actually a modified first dorsal spine which is moveable and called the illicium. The lure looks like a fleshy worm and is specific to the hairy frogfish. The lure is scientifically known as the esca.
4. Hairy frogfish can open their mouths extremely wide which allows them to suck in their prey whole – no chewing required by this critter!
5. The hairy frogfish has an extremely flexible stomach – so much so that it can swallow prey which is up to twice its own size.
6. Hairy frogfishes have tiny 5mm palatal teeth. These teeth are ineffective when it comes to breaking down food. If a hairy frogfish tries to swallow something larger than its stomach can cope with, it has to spit it back out. A lucky escape for the victim which will often be able to swim away – all be it a little dazed by the attack!
7. Hairy frogfish are extremely good at hiding in plain sight and are able to change their color to match their surroundings (mimesis). Hairy frogfish are excellent at mimicking seaweed here in the Lembeh Strait and the most common colored hairy frogfish variations that we see are orange, yellow, white, tan and black.
8. Have you ever seen a hairy frogfish move? Frogfishes rarely swim and when they do they use their tail while folding their other fins flat to the body. It's more common to see frogfish "jumping" combined with gliding a few centimeters above the bottom. Frogfish jump by sucking in water through the mouth and expelling it in jets through the small gill openings behind their «legs» – they really are jet propelled!
9. Hairy frogfish have very few natural predators. Marine species which are known to prey on frogfish include lizardfish and scorprionfish.
10. When two hairy frogfish are seen together it is often a female which is ready to mate and a male which is guarding her. Prior to mating (spawning) the female frogfish starts producing eggs (up to 180,000 eggs) and the male will begin to nudge her abdomen. When the pair are both ready they swim up to the surface together which is where the female releases her eggs in a ribbon-like mass known as an epipelagic egg raft. The male immediately fertilizes the eggs which remain buoyant for several days. The egg raft eventually sinks down to the bottom again when the embryos are ready to hatch. Juveniles can be just a few millimeters long and already have an active lure!
The hairy frogfish is definitely one of our favorite critters here in Lembeh but it's not the only species of frogfish that can be found in the Strait, other frogfish species we see include: painted, warty, giant, randall's and ocellated.
We hope you enjoyed these frogfish facts and we are looking forward to welcoming you to Lembeh Resort and showing you our incredible critters here in North Sulawesi. If you'd like to find out more about our critters before you arrive, check out our Critter Log!