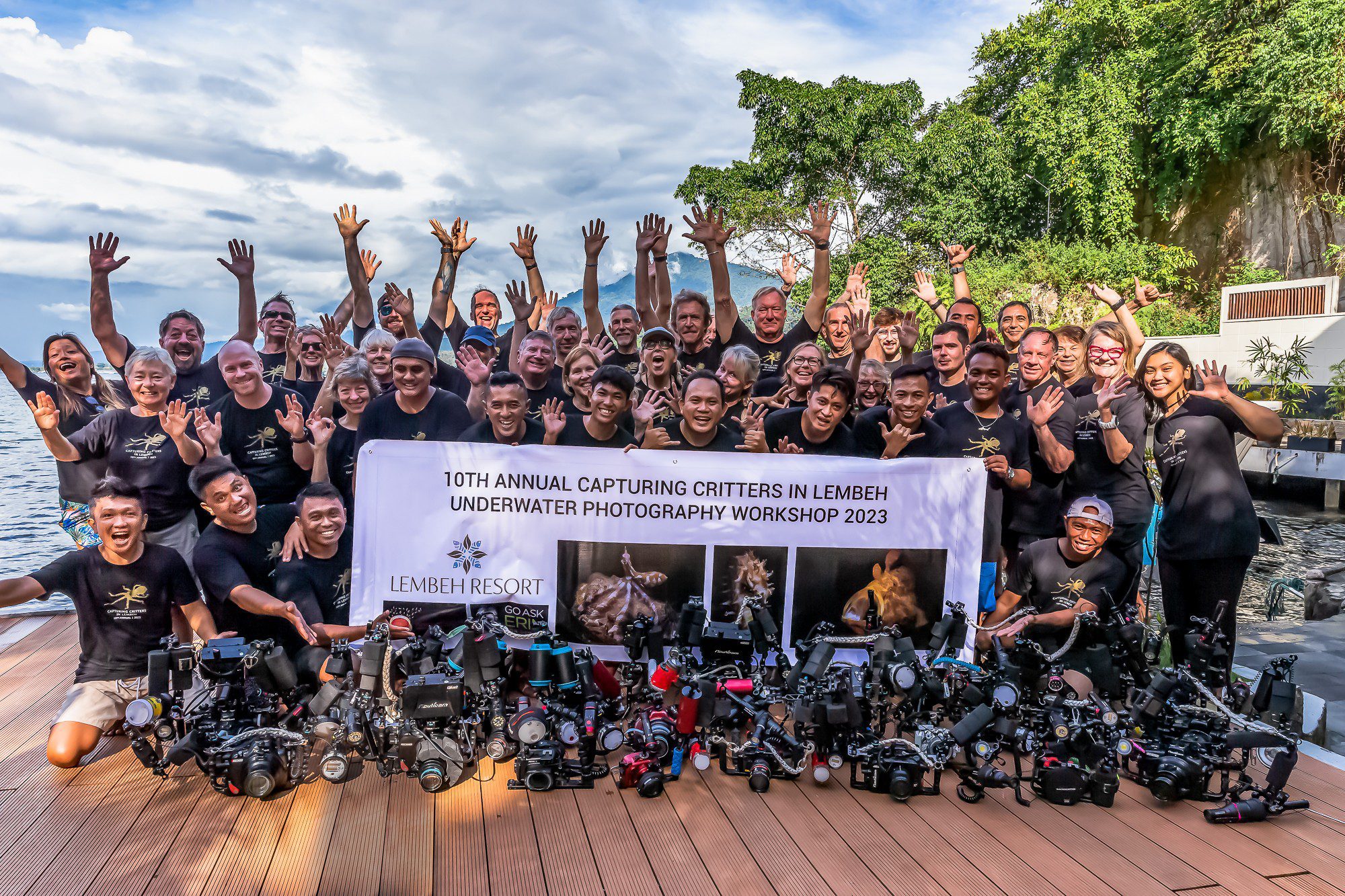 Capturing Critters in Lembeh Underwater Photography Workshop 2023 Round Up
The 2023 Capturing Critters in Lembeh annual underwater photography workshop was fully booked – twice! This year's workshop was an extra special event as it was not only our 10th annual event but also the first workshop since the pandemic. To mark the occasion, instead of holding one workshop, we hosted two – back-to-back. This meant a record number of 43 participants across the two weeks!
Three photo pros joined us to co-host the event; Erin Quigley, Joel Penner, and Jennifer Penner, who hosted daily presentations, workshops, and one-on-one sessions with participants. They shared their knowledge and expertise with everyone taking part and joined them underwater for some truly amazing critter spotting in the Lembeh Strait.
Capturing Critters grows from strength to strength each year and the images generated this year portray some of Lembeh's most iconic muck diving highlights. The participants dived into our favorite Lembeh Strait hotspots such as Nudifalls, TK, Hairball, Aero Bajo, and Serena. Lembeh Resort's dive guides certainly didn't crack under the pressure and they delivered some remarkable critter sightings including blue ring octopus, flamboyant cuttlefish, hairy frogfish, seahorses, and wunderpus to name but a few!
Lembeh Resort's dive center manager, Brigitte Gassner, reported the following:
"43 participants, 16 dive guides, 3 world-class photo pros, 4 boats, 1161 boat dives, 16 bonfire dives, 8 blackwater dives, and immeasurable fun along the way! It was certainly a busy two weeks"
Pro Underwater Photographers at Lembeh Workshop 2023 
Erin Quigley is no stranger to diving in the Lembeh Strait, and it was a delight to welcome her back to Lembeh Resort as part of our team of pros. Erin is an Adobe ACE certified expert specializing in post-production techniques using Adobe Photoshop and Lightroom. She's an award-winning underwater photographer and the creator of GoAskErin.com, which provides one-on-one instruction and post-centric resources specifically developed for underwater photographers. Erin was certainly kept busy during both workshops, sharing her Adobe Lightroom skills and genius tips with participants!
Joel and Jennifer Penner are both experienced Lembeh Strait photographers and we were extremely excited to see them return to Lembeh Resort. Joel and Jennifer are the owners of Newmediasoup, LLC, a multimedia and event coverage company based out of Northern California. Joel and Jennifer create underwater images that captivate their audience and convey the beauty of what lies beneath the waves. Their joint love for the ocean is limitless; if they could, they would be in the water every day with their cameras. By sharing their passion for the ocean through stills and videos, their hope is to increase awareness of the importance of ocean conservation and preserving marine habitats for future generations to enjoy.
During the workshop, Joel and Jennifer hosted multiple presentations and spent one-on-one time with participants, advising them on shooting techniques and image editing. They also captured some stunning images and video footage themselves!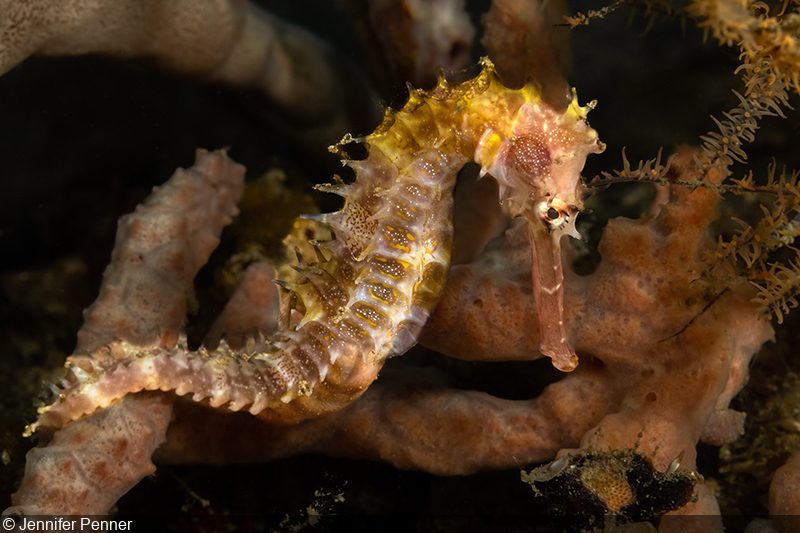 What Happens on an Underwater Photography Workshop Day?
Over the years we have hosted numerous underwater photography workshops and we believe we've created a great daily schedule that ensures participants get the most out of the workshop – both underwater and through presentations.
Workshop days start with breakfast – fuel for the day ahead! Our luxurious buffet breakfast offers both full English, continental, and Indonesian options – it's a great way to start the day. After breakfast is the first presentation of the day which is usually a 45 minute session. 
After the presentation, we make sure there is enough time for participants to prepare their camera gear before heading out for a two dive boat trip. Surface intervals are spent on the boat and provide time for guests to ask the pros any questions they have about their shooting and our dive guides are on hand for critter identification too. There is usually one pro on each boat and they rotate boats throughout the week to ensure that every participant has an experience with each of the pros. After refreshments, it's time for the second dive and then we head back to Lembeh Resort where lunch will be waiting!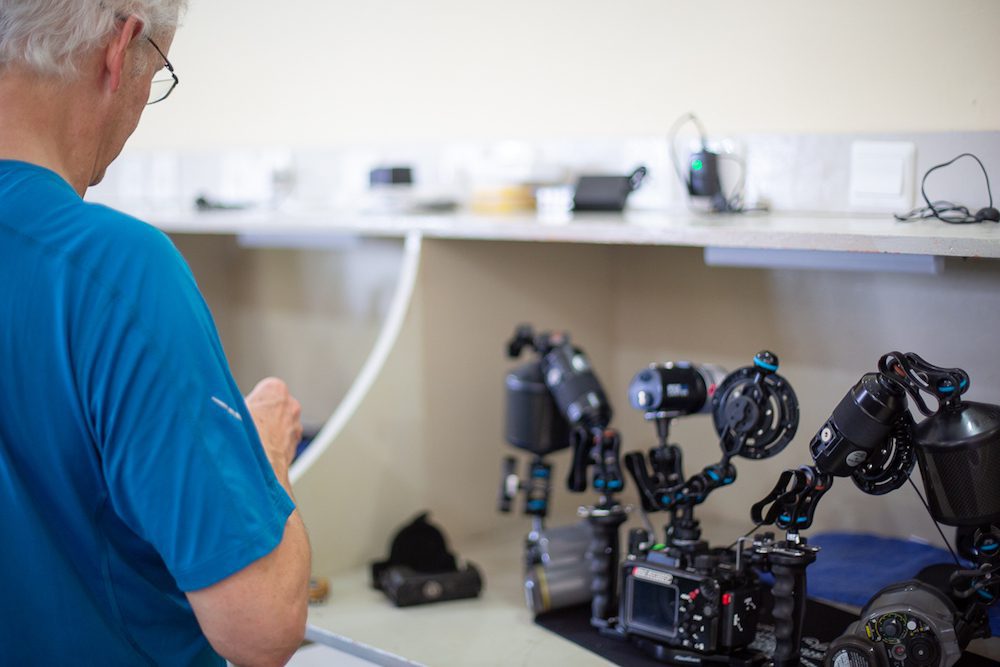 Lunch offers hot and cold buffet items and we encourage guests to try our daily specials, cooked to order at our á la minute station. Once refueled and re-energized from lunch, we head into the second presentation of the day. Throughout the workshop a range of different topics will be presented, from basic composition and lighting to artistic effects and editing.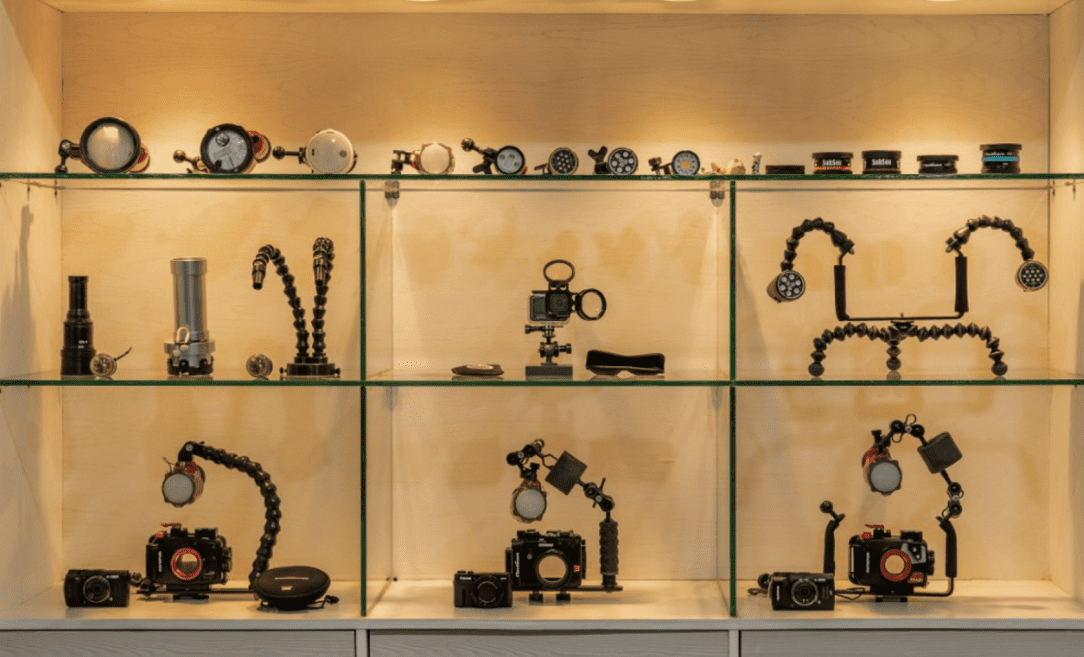 There is time after the presentation to allow for battery changes and gear reconfiguration before we board the boats for the third dive of the day – more critters and photography opportunities! For those who want to make a fourth dive of the day, we have options for night diving, mandarin fish dives, bonfire, and blackwater dives.
A well-deserved á la carte dinner is served in our restaurant, after which participants can spend the evening relaxing or join us for 'Office Hours' which are manned by the pros in rotation and allow for one-on-one time.
Join our Next Capturing Critters in Lembeh Underwater Workshop
If you'd like to join an underwater photography workshop at Lembeh Resort, we are set to host the 11th annual Capturing Critters in Lembeh workshop in January 2024. With award winning photo pros Alex Tattersall, Saeed Rashid, and Nicolas Remy, this promises to be a show stopping event. For more information or to make a reservation, contact Lembeh Resort!