Olympus TG-6 Camera Review, Housing & Accessories
We are delighted to announce that we now have the Olympus PT-059 housing for the TG-6 camera available and the Olympus TG-6 is coming soon to the Photo Center. At Lembeh Resort we aim to keep our Photo Center as up to date as possible and stocked with the latest equipment on the market for guests to hire during their stay. The new Olympus TG-6 has received rave reviews from underwater photography professionals and camera experts around the world and we are looking forward to adding it to our range of rental cameras here in Lembeh.
The TG-5 has been a firm favorite compact camera of ours for some time and it has proved to be a popular choice with both guests and our Dive Guides, so we are all very excited to explore what more the TG-6, and its improved macro capabilities, brings to the table.
Olympus TG-6 Review
Our friends at Backscatter recently reviewed and tested the TG-6 and here are their conclusions after rigorous underwater testing and comparing to the Olympus TG-5:
"The Olympus TG-5 made major leaps forward in image quality and performance over previous models, and all of these great improvements carry over to the Olympus TG-6. Think of it as everything the Olympus TG-5 could do, but with a few more enhancements.

The biggest news with the camera is the revamped menu options that make it much easier to shoot. With the new ability to shoot super macro outside of microscope mode, shoot 4K video outside of video mode, and set a minimum shutter speed, Olympus took away all of our pet peeves regarding the usability of the Olympus TG-5.

The camera can now live in Aperture Priority Mode and do it all. Having control over aperture allows the camera to get darker backgrounds and more depth of field control, and with the minimum shutter speed setting, it can eliminate motion blur for big moving subjects in wide angle.

Minor updates are the new underwater preset modes and white balances that we will test the next time we are in tropical waters, but on the surface, it looks very promising.

With the upgrade in usability, the Olympus TG-6 gets the top spot in our Best Compact Cameras for best overall compact camera. It's hands down lightyears ahead of any other camera for macro, both ease of use and performance, and does a decent job at wide angle."
To read Backscatter's full review, click here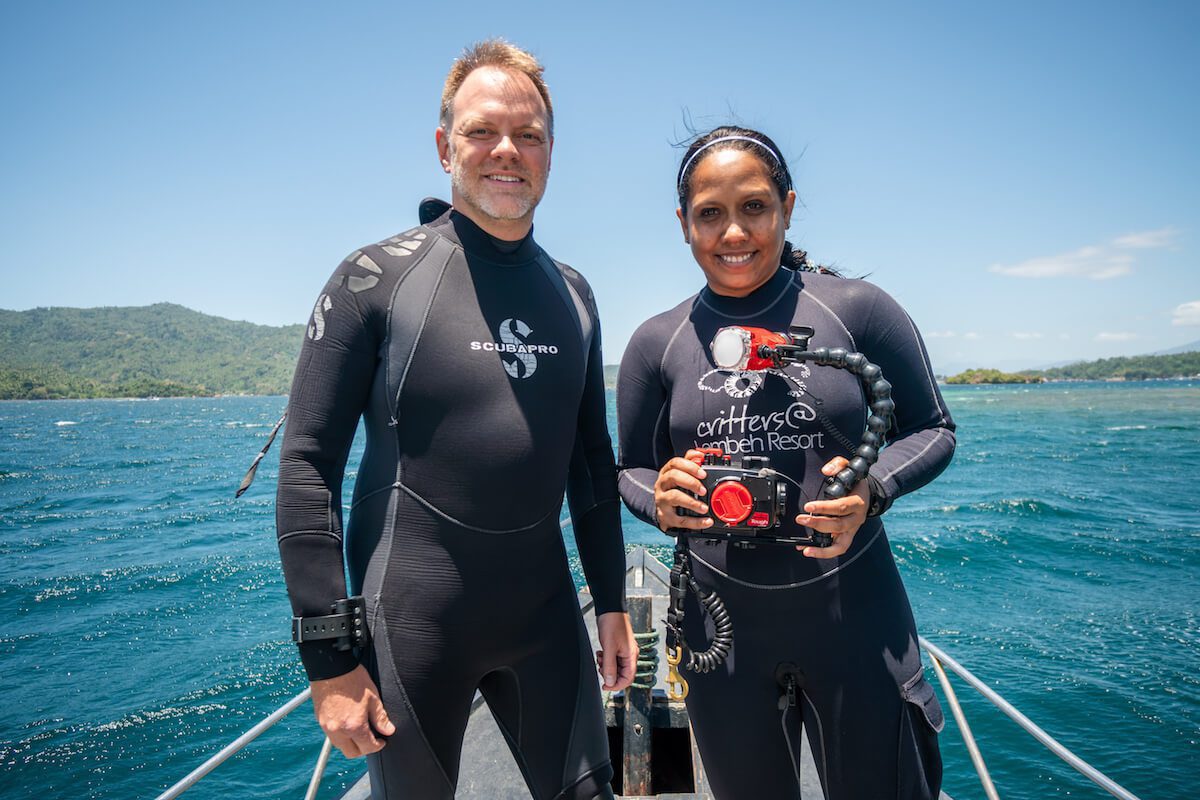 Olympus TG-6 in Lembeh
The Lembeh Strait is world renowned for its incredible underwater macro photography opportunities and the enhancements of the TG-6 make it an ideal choice for anyone seeking a compact camera for shooting in the Strait. Our Photo Center team will combine the TG-6 (and Olympus PT-059 housing) with an INON S-2000 strobe, Solar 1200 video light and with fiber optic cable, tray & flex arm.
Dimpy Jacobs, Lembeh Resort's in-house Marine Biologist and avid underwater photographer, tried out a TG-6 combined with a snoot and has been impressed with its macro-capabilities (see Dimpy's snoot image below). Jim Decker, CEO of Backscatter, has also been able to finally test out the TG-6 in tropical waters this week here in Lembeh while helping Dimpy with tips, advice and guidance along the way!
If you are planning a trip to Lembeh and would like to rent camera equipment while you are here, we currently have the following rigs available in the Photo Center:
Olympus TG-5, Olympus housing, INON S-2000 with fiber optic cable, tray & flex arm
Canon S120, Canon housing, INON S-2000 with fiber optic cable, tray with handle, 2 section arm set with 2 floats, 3 clamps
Canon G7X MKII, Nauticam housing, INON S-2000 with fiber optic cable, tray with handle, 2 section arm set with 2 floats, 3 clamps
If you are visiting with your own TG-6, we have the following add ons available: Olympus PT-059 housing, Solar 1200 video light or INON S-2000 strobe with fiber optic cable, tray & flex arm – and the TG-6 itself is coming soon.
For more information about our range of rental cameras and accessories, click here.
Would you like to improve your underwater imaging? Why not check out our upcoming workshops and develop your skills here in Lembeh with one of our visiting photo professionals?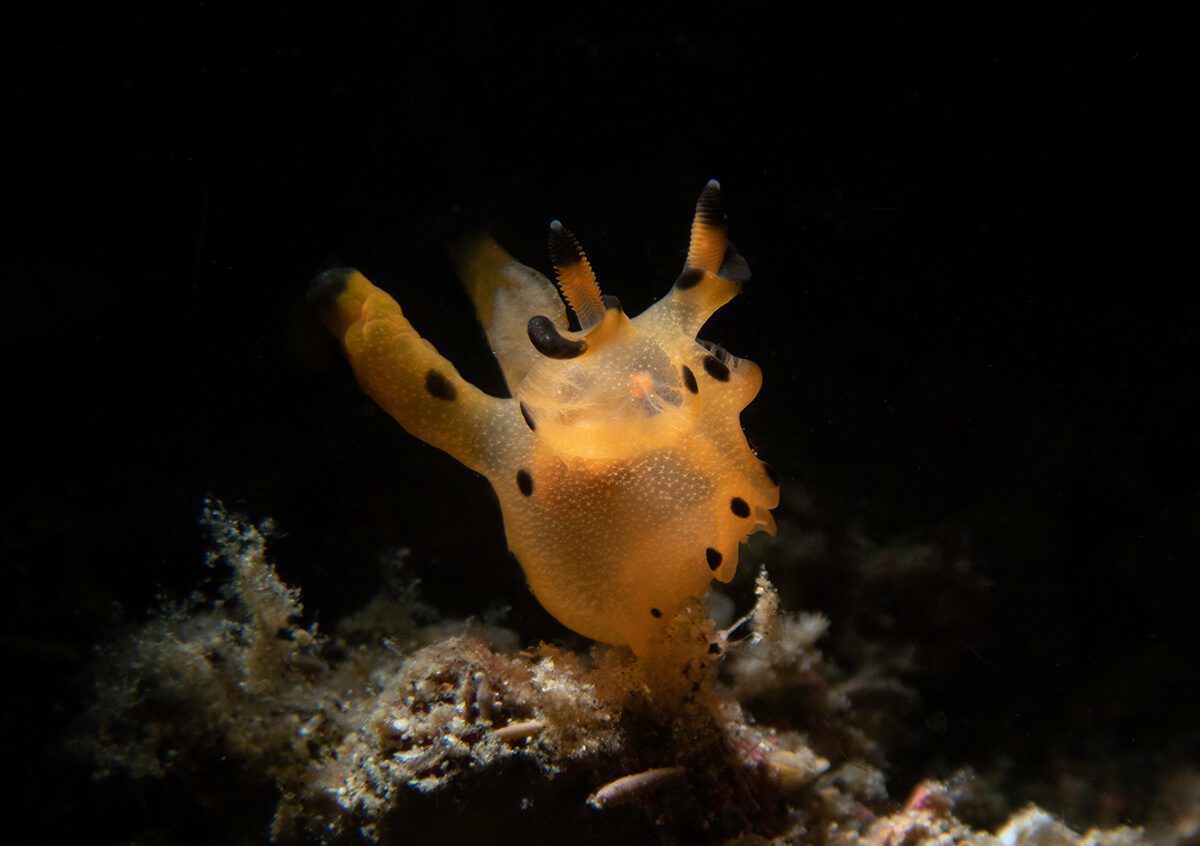 Staying at Lembeh Resort
When you are not out diving, Lembeh Resort's secluded location on Lembeh Island ensures you enjoy an exclusive and relaxing stay. Our tropical gardens, incredible wildlife and exotic flora form a natural backdrop while luxury and elegance come as standard. We hope not only to meet your expectations, but to exceed them.
We offer three accommodation options (Garden View Rooms, Luxury Cottages and the Cliffside Suite). All accommodation is offered on a full board basis with three exquisite meals a day including à la carte dining in the evenings. Our team of professional chefs can cater for special dietary requirements and requests.
Stay with us at Lembeh Resort, discover  the world's best muck diving and experience Lembeh with a touch of luxury.