Underwater Photography Equipment & Accessories
Underwater Photography at Lembeh Resort
At Lembeh Resort we are as passionate about underwater photography as you are – and we understand how important it is to you that your underwater imaging equipment is in good working order while you are here. We REALLY do know what effect a broken, lost or forgotten piece has on your holiday and that's why we aim to do everything possible to ensure that we keep you and your gear up and running throughout your stay. Not only that, but we want you to take home your best possible images (or footage) that you will be proud of. This is why we offer such extensive underwater imaging services from repairs and rentals through to advice and courses – read on to find out more about our imaging services and what's available from our Photo Center here in Lembeh…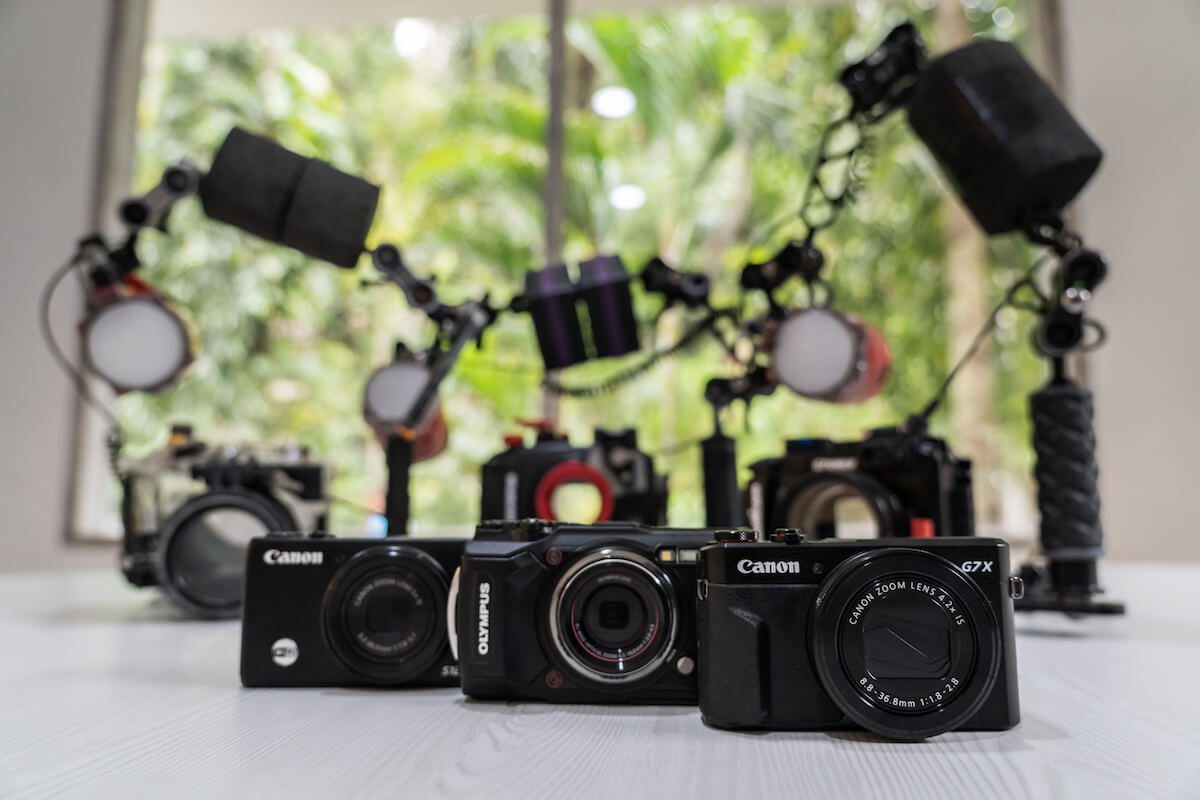 Underwater Camera Hire
Our Photo Center has a selection of complete camera rigs available for rent. For those who do not need a complete rig, accessories or individual components (including camera bodies and housings) can be rented separately. If you are new to underwater photography and don't yet have your own equipment, our Photo Center team are on hand to explain to you the pros and cons of each setup and to guide you to the best possible option specifically matched to your needs and experience.
If you are thinking about buying your own equipment or replacing your existing equipment, why not try some options before you commit to a purchase?
These are the underwater photography camera hire options currently available in the Photo Center. Each rig has been carefully compiled to ensure the best possible match of accessories with each camera's capabilities.
Canon S120, Canon housing, INON S-2000 with fiber optic cable, tray with handle, 2 section arm set with 2 floats, 3 clamps
Olympus TG-5, Olympus housing, INON S-2000 with fiber optic cable, tray & flex arm
Canon G7X MKII, Nauticam housing, INON S-2000 with fiber optic cable, tray with handle, 2 section arm set with 2 floats, 3 clamps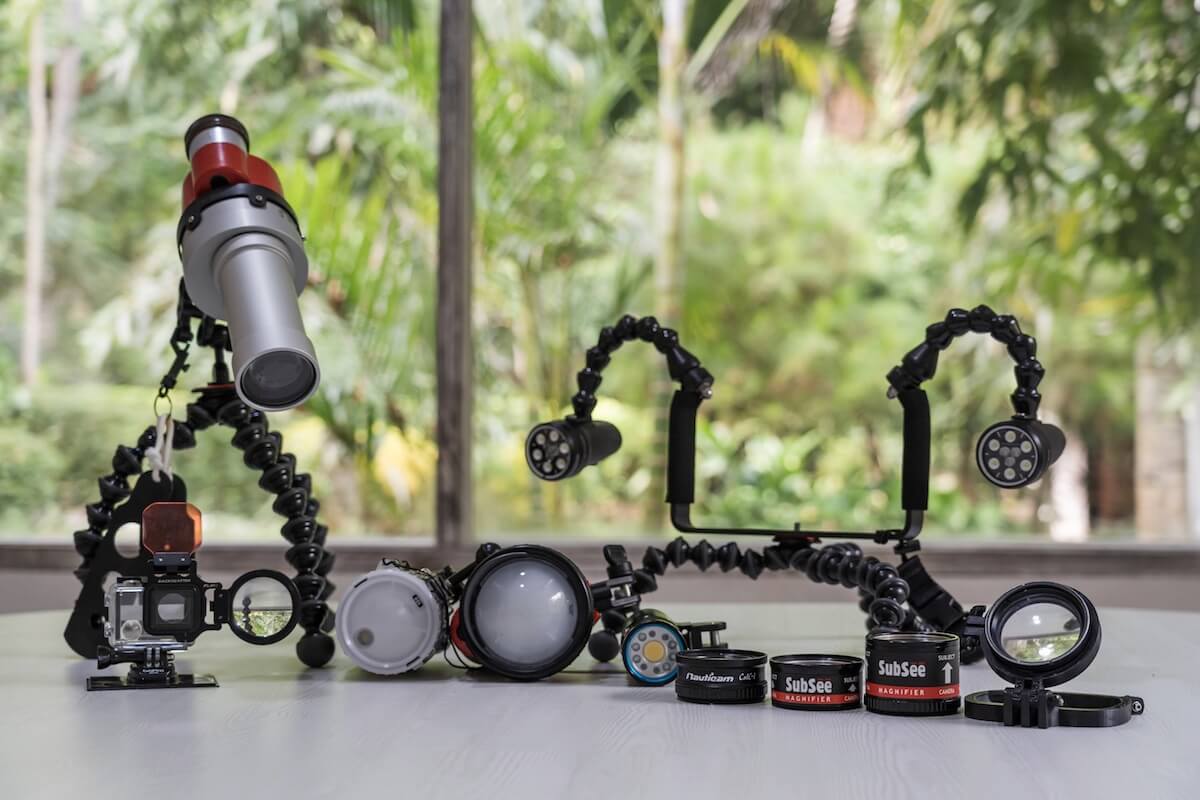 Underwater Camera Accessories for Hire
Are you bringing your own underwater camera and accessories with you to Lembeh? We too are always on the look out for new accessories on the market which may enhance our underwater images and that's why we carry a wide selection of accessories for hire – and our range is always growing as new innovations become available. Our selection of hire options is a great way to "try before you buy" while you are here. Hire options are also an opportunity to try different accessories which enable new ways of shooting – of course, when hiring any accessories our Photo Center team will help you to select the items which are most compatible with your existing equipment and which will help you to best achieve the images and effects you are hoping for. Our team love nothing more than assisting underwater photographers to take incredible images – the reward for us is when you return to the Photo Center with a smile on your face!
These underwater camera accessories are currently available for hire from the Photo Center:
Retra LSD Snoot, with Inon D2000 strobe and Joby Gorillapod 5K tripod.
GoPro Backscatter flip mount adapter with +15 Macromate and red filter
Sea&Sea YS-D2 strobe
Inon D200 strobe
Kraken Hydra 2500 video light macro edition
2x Sola video light 2000 S/F, Backscatter double handle tray and Joby Gorillapod 3K tripod
Wet lens Nauticam SMC 1 (for more information about the SMC 1, see below)
Wet lens Subsee +5 magnifier
Wet lens Subsee +10 magnifier
Inon +6 macro wet lens with custom 3D printed flip adapter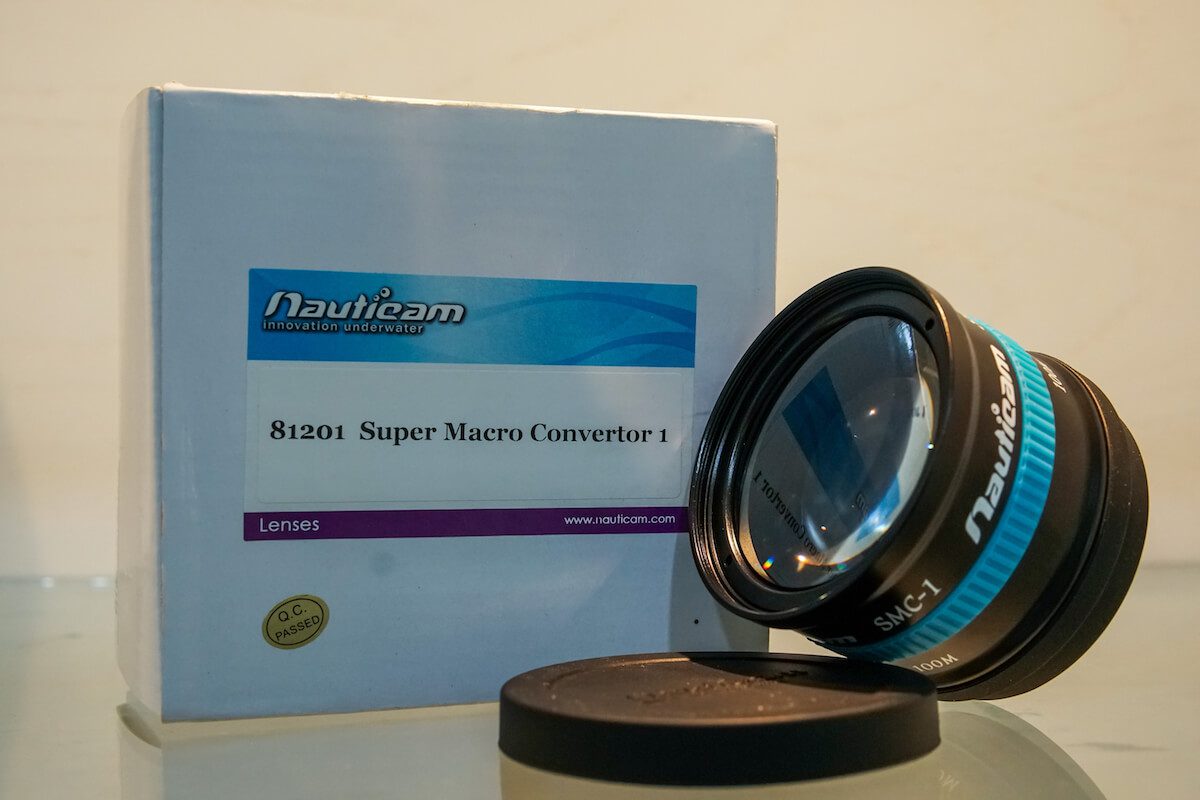 Introducing the Nauticam SMC-1
Have you heard of super macro photography and want to give it a try underwater? Or are you already experimenting with super macro and want to improve your results? The Nauticam Super Macro Converter, is one of our favorite accessories – this innovative converter truly changes the way most of us approach underwater super macro photography. Prior to Super Macro Converters, achieving "super macro" underwater meant using tools that were designed for in-air use and did not take into account the physics of shooting in water. The SMC 1 takes a radically different approach: it treats the system (camera, lens, port, air and water) as a whole, and accounts for the air-water interfaces in a conversion lens design to achieve the best image quality possible. We highly recommend trying the SMC-1 while you are here, the results speak for themselves and you'll be amazed by the difference this makes to your underwater photography. The Nauticam SMC-1 is also currently available for sale in our Photo Center along with a range of accessories including strobes, video lights and many other small parts that you may need.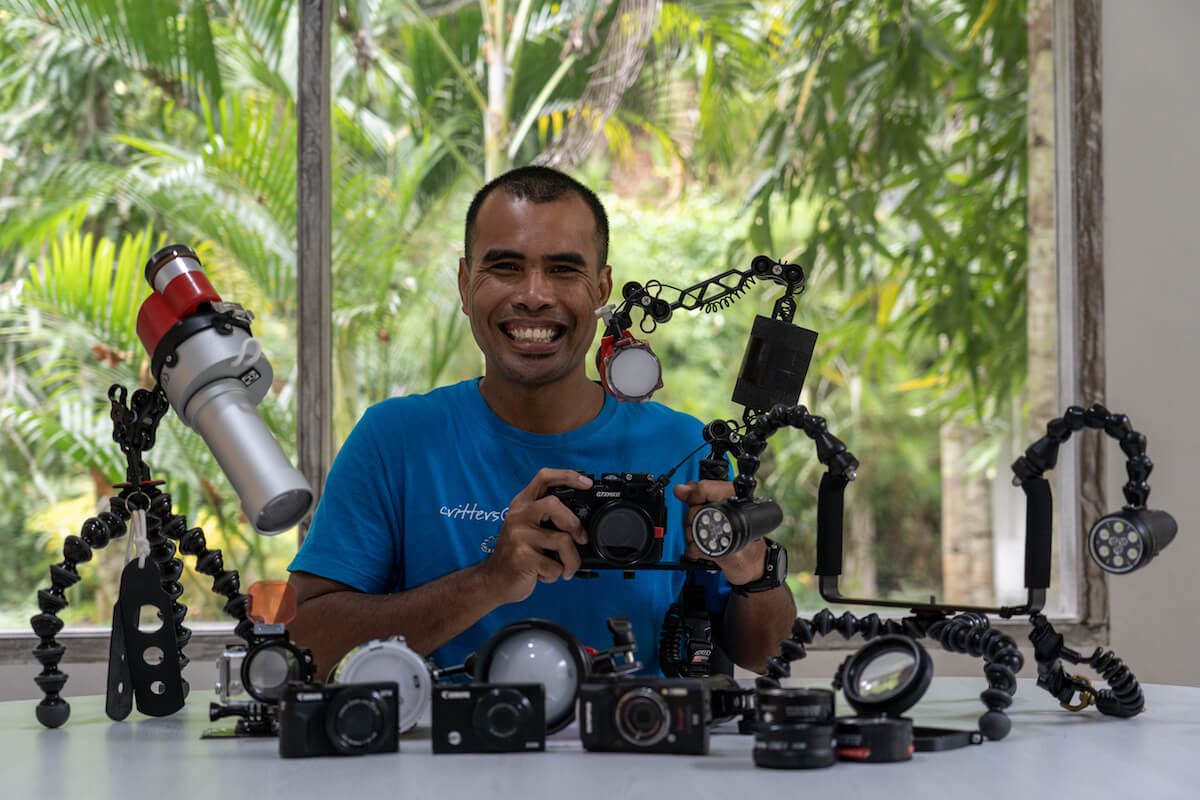 Additional Photo Center Services
Our Photo Center is the only facility in the Lembeh Strait (and possibily in Indonesia) that is able to carry out imaging equipment repairs and manufacture new parts onsite to ensure your underwater camera or video system doesn't stay out of the water. Our 3D printer allows us to develop a range of components so if you have a broken or missing piece, don't despair. Our Photo Center has an extensive selection of tools (as well as spares and a drying box for floods and leaks) and we are constantly impressed by the range of problems we have been able to fix over the years. In the event that we cannot recreate what you need, our team will be able to direct you towards an alternate solution to ensure that you can keep on shooting.
Did you know that at Lembeh Resort we also host Underwater Photography and Videography Workshops throughout the year? Take a look at our upcoming underwater imaging workshops here.
Underwater photography is in our DNA at Lembeh Resort and all of our guides understand not only what you are looking for, but also what it takes to successfully photograph it. Whether you are new to underwater photography or a seasoned pro, our aim is to provide support to maximize your underwater photography experience in Lembeh.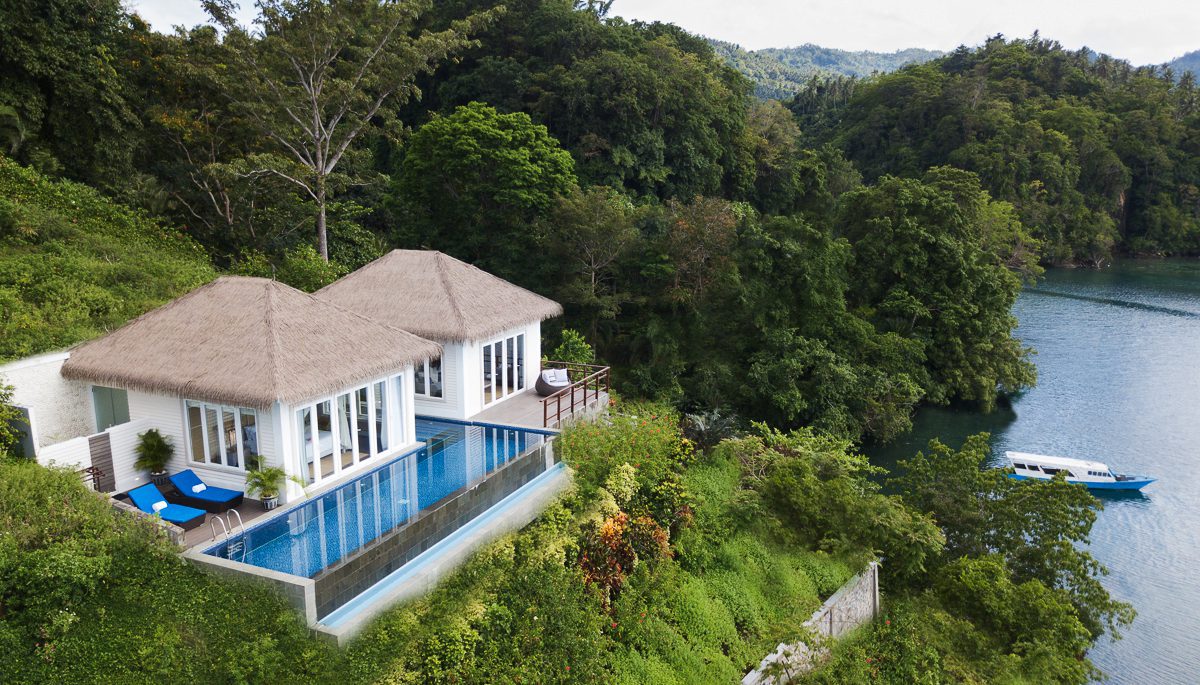 Staying at Lembeh Resort
Lembeh Resort's secluded location on Lembeh Island ensures you enjoy an exclusive and relaxing stay. Tropical gardens, incredible wildlife and exotic flora form a natural backdrop while luxury and elegance come as standard.
Experience the warm hospitality, tropical beauty and unique wonders of this tasteful home away from home in Lembeh. Your expectations will not only be met, they will be exceeded.
We offer three accommodation options (Garden View Rooms, Luxury Cottages and the Cliffside Suite). All accommodation is full board with three exquisite meals a day including a la carte dining in the evenings. Our team of professional chefs can cater for special dietary requirements and requests.
Stay with us at Lembeh Resort, discover the wildlife of North Sulawesi and experience Lembeh with a touch of luxury.