The Power of a Photography Workshop – From Beginner to Winner
Photography workshops are a growing trend among divers but are they really worth it? How much can you learn in a week versus learning through playing around yourself? The answer is a LOT, you can spend diving holiday after diving holiday gradually improving but with a workshop you'll avoid spending valuable diving time making mistakes and with each and every dive you'll have a focus, a skill to practise and what would normally take years of diving trips to accomplish can be achieved in a week. Here we catch up with Rich who stayed at Lembeh Resort for two weeks for the Lembeh Gulen Critter Shootout and also with Murex Dive Resorts in Bangka and Manado. In 10 weeks not only did he learn how to dive but with the professional training here at Lembeh Resort he also took 2nd place in an International photography competition.
---
Reporter: Rich, how have you spent your time in North Sulawesi?
Rich: I haven't finished here yet but when I leave in a couple of weeks I will have been here for 12 weeks; 9 weeks in Manado, 1 week in Bangka and 2 weeks in Lembeh Resort for the Lembeh Gulen Critter Shootout. In that time I will have made 150 logged dives.
Reporter: Wow, that is an amazing trip! How did the photography side of it develop?
Rich: When I first arrived I had never dived before so the first step was just learning the basics of diving through my Open Water Course. After that I started to think about photography, mainly because the divers that I have met here have all been keen photographers and in North Sulawesi there are so many amazing marine species to capture.
Reporter: When you were in Lembeh you joined the Lembeh Gulen Critter Shootout – what camera set up did you use during the event?
Rich: I used a Canon s120 with a flip down macro lens and another macro lens that screwed onto that, 1 strobe and a snoot. It was a lot to manage but the training that I received from Tobias Friedrich and the help from Sascha Janson was really informative, practical and made a huge difference to my images.
Reporter: Which picture from the Shootout are you most pleased with?
Rich: I'm most pleased with my back lit weedy filefish, because it took an entire dive to get the picture. So I learned about patience in photography and working with the critters to get your desired result, not just forcing them into a position. Also not to agitate the critters, you can't pressure the animal too much or move too quickly or else it will swim away or change direction. Also about teamwork because Sascha was holding the strobe and I had to align my camera, the fish and the strobe he was holding to get the right effect. I'm also proud of a Pikachu nudibranch photo that I didn't submit for the contest. I'm proud of that image because I did everything by myself while taking this photo. I learned that when positioning the snoot I had to
anticipate where the nudibranch was going because it was constantly moving and I couldn't hold the snoot and take a picture at the same time. This was also the first good image in my mind that I have ever taken and it needed little editing. This was also my first time using a snoot that was on a separate strobe, so I was happy I could produce a good image so quickly. It was really amazing what I achieved and how my photography developed. I can't imagine how long it would have taken me to learn these skills without professional help.
Reporter: What are the main things that you learned from Sascha?
Rich: I learned about the basic functions of a camera and how to change ISO, aperture and shutter speed. Sascha also taught me about angles when photographing specific critters, for example you should always photograph Frogfish from the more extended side. For nudibranch I learned to get as low as possible and to not cut off the gills unless it looks like it was done on purpose. I also learned forgiveness because I broke a lens holder during a dive but Sascha didn't lose patience with me but instead he helped me try to find critters to photograph during the same dive which was a fish competition dive. That kind of compassion and kindness was extended to me by many people at Lembeh Resort.
Reporter: What are the main things you learned from Tobias Friedrich and other photographers on the shoot out?
Rich: Tobias taught me how to apply the different settings on the camera to specific events when taking photos. Like how to capture ambient light when taking wide angle photos by increasing the ISO or shutter speed or if you want to shoot a nudibranch and capture the rhinophores then lower the aperture. He also taught me to be as close as possible when taking pictures of anything for macro photography. I also learned about responsibility because he handed me his expensive camera during a dive on the boat transfer from Lembeh to Bangka and I've never held onto a camera tighter in my life!
From the other divers at the Shootout I learned that other people's opinion of your photography should not affect the way you feel about your own photography. If you like the way a photo came out then you should be proud of that photo. Everyone sees beauty in different ways and interprets images in different ways. I really liked some of the photos that other contestants took but they were not so pleased with them. I also received kind comments from them about images I captured that I felt I could have done better with.
Reporter: What are your diving and photography plans for the future?
Rich: Dive and take photos as much as possible! How? I'm still figuring that out. Before I started photography training during the shootout I wanted to work on a liveaboard as a dive guide, traveling and diving all over the world. Since the Shootout I have realized that I love taking underwater images so now I would love to either work for a magazine or travel agent. I am thinking of working in some form of marketing which could involve taking images for them of new locations they are promoting or for events that they are organising. Anything that pays the bill for my new camera and equipment (for which I already have everything picked out from camera to focus light) and allows me to dive would be a dream job. I know that I will have to work my way up to the position I want but just seeing myself in 5 years having that kind of job is one of my goals right now.
Reporter: It's inspiring the effect that the Shootout and photography training has had on you! After spending so much time with the amazing marine life in Lembeh what is your favourite marine species to see and take pictures of?
Rich: I can't pick just one but my 3 favourite would be Octopus (wunderpus), Frogfish (hairy) and Nudibranch – there are too many species Lembeh to have a single favourite!
---
Weedy filefish (Chaetodermis penicilligera)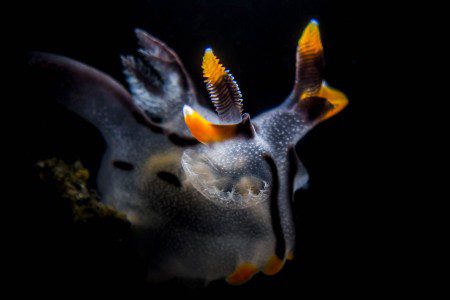 Photo by Rich
Thecacera picta – Pikachu nudibranch (Thecacera picta) 
---
To catch up on what happened during the Lembeh Gulen Critter Shootout 2016 click here.
If you would like to learn to shoot like a pro in just 7 days then join us for the 5th annual "Capturing Critters in Lembeh" workshop from December 3rd to 10th and receive training from our amazing on-site, full time Photo Pro Sascha Janson as well as Hergen Spalink, Kerri Bingham and Steve Fish.
Experience Lembeh with us and see what you can achieve.