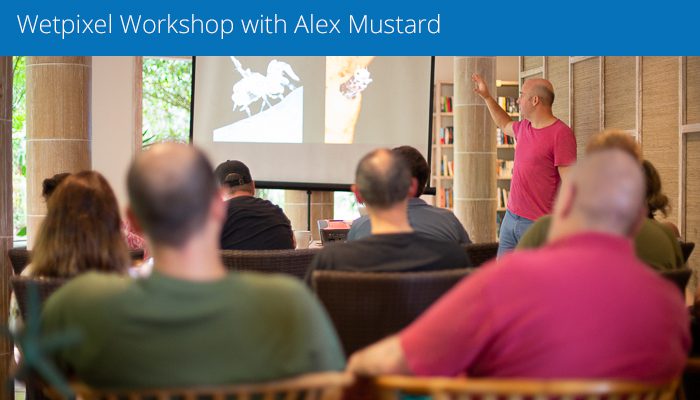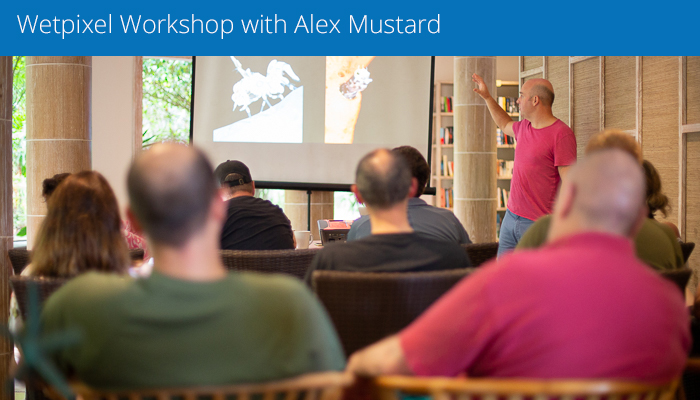 Wetpixel Underwater Photography Workshop with Alex Mustard
We are delighted to welcome Wetpixel and Alex Mustard to Lembeh Resort this week along with the first participants of the Wetpixel Underwater Photography Workshop. Wetpixel and Alex have a packed schedule in store which includes underwater photography presentations, image review sessions and incredible photography dives.
Adam Hanlon from Wetpixel and Alex Mustard will be hosting two back-to-back, week long workshops and we are looking forward to seeing the imagery which will be produced.
The first day of the workshop kicked off with an early breakfast and Alex's first presentation at 7.30am. Each day our participants will head out for a double dive trip in the Lembeh Strait after Alex's morning talk; they'll also be making afternoon dives and night dives before having evening review sessions – this promises to be a phenomenal week of diving.
Alex began the workshop with an introduction to gear selection for the macro subjects and dive sites here in Lembeh, along with some suggestions on how to choose subjects which are appropriate to individual lens and lighting combinations.
After making three dives in the Strait during the day (with a well earned lunch in between) we headed out for night dives in the evening. The Lembeh Strait is world renowned for it's abundance of rare and unusual marine life and night diving on our black sand muck diving sites showcases a plethora of nocturnal species. When you are diving in Lembeh, a night dive should not be missed!
On the second day of the workshop Alex focused on macro backgrounds and shared with our participants the importance of capturing a background which enhances the subject rather than distracts from it. Alex gave insights about how to best utilise negative space, how and when to aim for a black background, how to manage image composition to make the most of the background available and how to use a snoot for different lighting effects.
Armed with a wealth of information our participants headed out for more Lembeh Strait muck dives and the critters did not disappoint. Some of the day's highlights included hairy frogfish, giant frogfish, solar nudibranch (and a variety of other nudibranch species), gobies, mantis shrimps and a variety of other macro crustaceans.
It's been a highly productive start to the first workshop and we are excited to see what surprises the Lembeh Strait has in stock for us over the next days!
Are you keen to develop your underwater photography skills and techniques? At Lembeh Resort we have a dedicated onsite Photo Pro, Photo Centre and we offer a number of underwater photography workshops throughout the year. For more information about upcoming events at Lembeh Resort or to make a reservation, please contact us on: reservations@LembehResort.com 
We look forward to welcoming you to Lembeh Resort and the world's best muck diving soon.
(To find out more about Dr. Alex Mustard and his award winning photography you can view his website here).