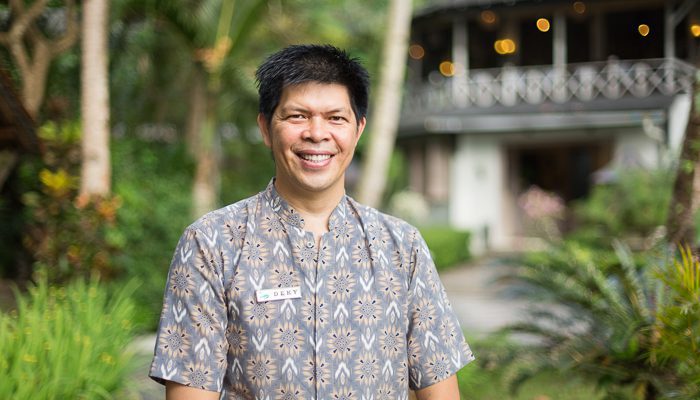 Mixology and Muck Diving – Meet Deky
If you have stayed at Lembeh Resort previously you've probably met Deky Pakasi who is most often found behind the bar in the restaurant. Deky is known for serving everything from soft drinks to sun downers and mixing up a naughty-but-nice selection of cocktails and coolers.
Deky, who is originally from Tondano in the Minahasan highlands, has been part of our team for almost 9 years and now lives in Manado. When Deky joined us in 2009 he already had 10 years of resort and hospitality experience so we were thrilled to add him to our team. Deky is not only an expert bar tender, he is also responsible for organising the operational side of the bar and restaurant and in January 2017 he also took on the additional role of Private Butler to guests staying in our beautiful Cliffside Suite.
Deky says, "I love my job here in Lembeh Resort because I really enjoy mixing cocktails and talking with the guests. It's very exciting and interesting for me when I talk to guests from all over the world. When I was asked to be the Butler for the Cliffside Suite I was a little nervous at first but now I am extremely proud to be a Private Butler!"
Did you know that Deky is also a diver? At Lembeh Resort we encourage all staff to experience the diving here in Lembeh and Deky is now open water certified and has made 15 dives here in the Strait.
"I really like Bianca dive site and love seeing the different nudibranch and frogfish that we have here in Lembeh. The first time I dived I was very scared and I just wanted to get out of the water but with the help of my Instructor (Morten) I started to get more confident. Now I'm so happy that I have the opportunity to go diving in Lembeh – it really is fun and it's another world for me – I love it!"
Deky says that a big part of why he is still passionate about Lembeh Resort after 9 years is due to the team and the guests, "The people here are awesome and it's a lot of fun meeting the guests and even better when we have guests coming back again and again because then I get to know them more".
When Deky is not working in Lembeh he likes to spend his free time at home with his wife and daughter, play volleyball (which is a national sport in Indonesia) and see more of North Sulawesi.
"North Sulawesi is a really special place to visit. People here are very friendly and we have beautiful landscapes, stunning nature, rich culture and great diving! Guests at Lembeh Resort have great muck and reef diving, dining and accommodation and it's also good if they can take a tour while they are here like Tangkoko or the Minahasan Highlands because then they can learn more about North Sulawesi – and see where I come from too".
So what does Deky have planned for the future? "To work hard to keep Lembeh Resort the best place to stay in North Sulawesi, to have success for my family and to do more diving!"
Our team of staff here in Lembeh love to spend time with guests so next time you are staying have a chat with them. They'd love to share stories with you about their lives in North Sulawesi.
A big thank you from all of us to Deky for taking time to talk to us and for being the best cocktail mixer in Lembeh!
If you'd like to come and join us at our Indonesian Resort and experience the best muck diving in the world, contact us on [email protected]