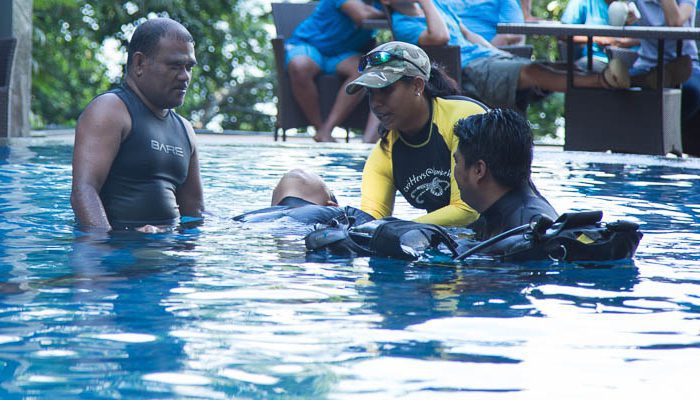 Rescue Training: Safety First at Lembeh Resort
It's not just extensive underwater photography and specialist critter knowledge training which makes our dive team so exceptional here in Lembeh. Safety has always been our number one focus and that's why we conduct comprehensive annual Rescue and CPR training to put our Dive Guides through their paces, refresh their rescue skills and make sure that every team member who is out on the water with you knows how to act in an emergency.
This year's training was led once again by our in-house PADI Instructor and Marine Biologist (a dedicated diver with many talents!) Dimpy Jacobs. We believe that we are the only Dive Operator in Lembehwho has structured and ongoing training programs in three fields (Photography, Marine Biology and Rescue & CPR) and whose training extends beyond Dive Guides but also to Boat Crew and Resort Staff.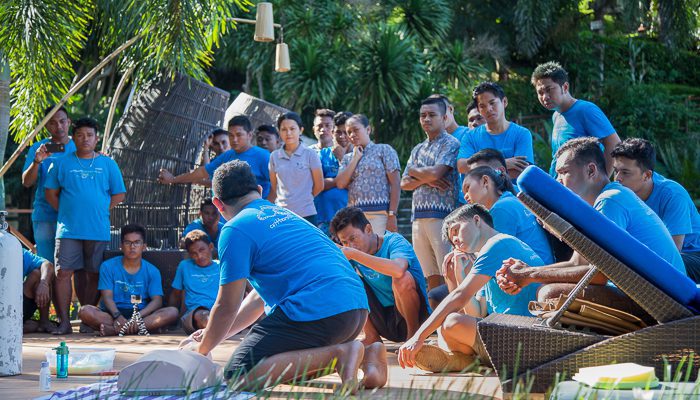 Our two day intensive rescue training program included rescue techniques for tired and panicked divers on the surface and underwater, unresponsive divers on the surface and underwater, safe surfacing of an unresponsive diver and exiting an unresponsive diver onto a boat or shore. The EFR component of the training focused on immediate calls for help to resort and emergency services, CPR (rescue breathing and chest compressions), oxygen administration and safe lifting and handling in cases where spinal injuries are suspected.
Our 30 strong team of trainees included 15 Dive Guides, 10 Boat Crew and 5 Resort Staff. Despite the serious nature of the rescue training, there were still a lot of laughs along the way. Our dive team re-demonstrated their well-honed, in-water rescue techniques in the pool and then took on this year's surprise practice drills and rescue scenarios in the Strait.
All trainees (Dive Team, Boat Crew and Resort Staff) were reminded of current CPR guidelines and were asked to perform their CPR techniques in a practice environment as well as being asked to deal with a variety of scenarios to test them.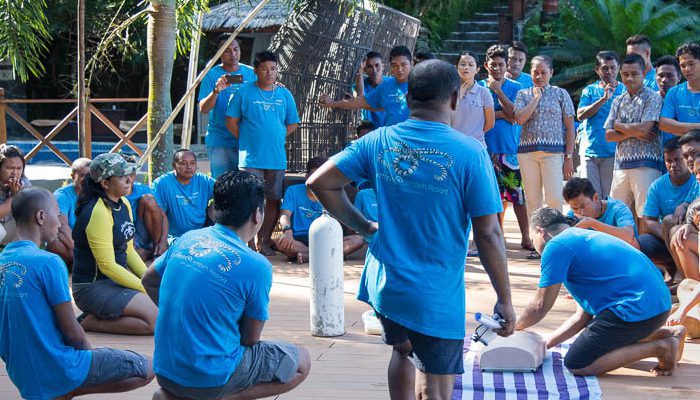 Gold stars were due all round and a big "Thank you" to Dimpy for leading such a comprehensive rescue training event once again. We are looking forward to another year of safe diving with our incredible critters here in the Lembeh Strait!
Have you heard about our new Luxury Cottages at Lembeh Resort? Take a look at them here.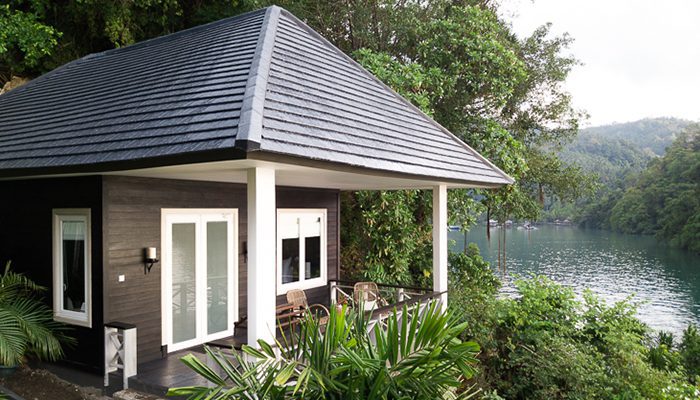 We look forward to welcoming you to our beautiful Indonesian resort soon. To make a booking or for more information, contact us on [email protected]