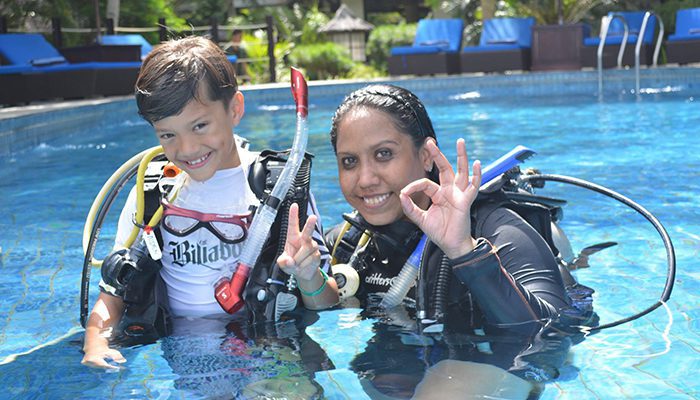 First Indonesian Marine Biologist to Explore Norway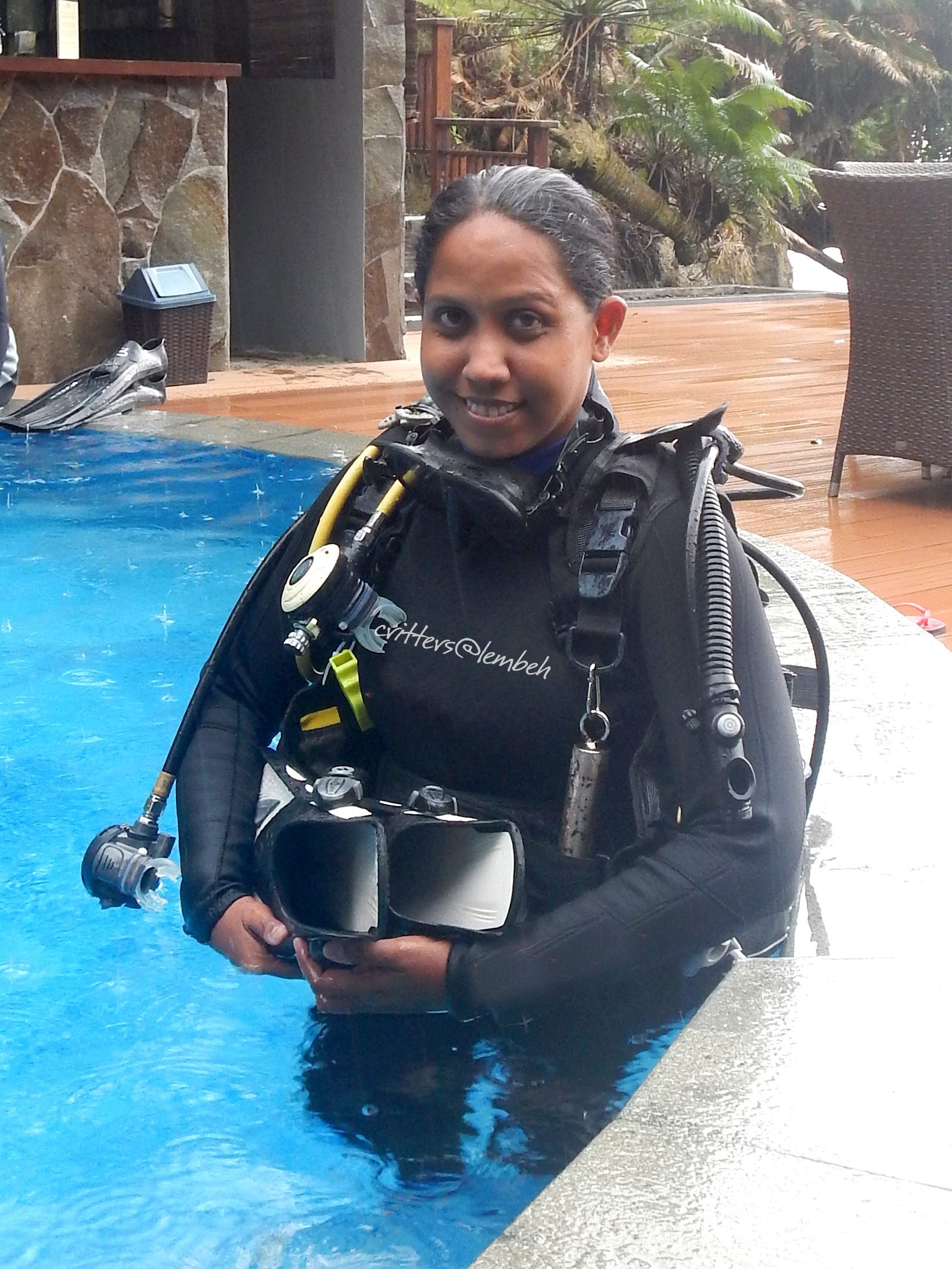 For those of you that have dived with us before you may well be familiar with our on-site, full time marine biologist "Dimpy". Dimpy has been with [email protected] since her training began in 2005 and over the last 11 years she has become an integral part of our team and has spear headed numerous conservation projects here at Lembeh Resort. Here we catch up with Dimpy and find out more about her history with the resort, her on-going projects, why she thinks that the Lembeh Strait is a Mecca for marine biology and underwater photography and most of all her ground breaking, upcoming trip to Norway.
Dimpy, whose full name is Catherine Jacobs, grew up in Jakarta prior to moving to Manado in 1997 to continue her high school education. After high school Dimpy was accepted to study marine biology at UNSRAT University (University Sam Ratulangi) in Manado. At this time Dimpy was not yet a certified diver – that came after her first semester. In 2005 Dimpy was finalising her thesis and looking for a marine biology position but jobs were not so easy to come by for an Indonesian female so for a short period Dimpy was selling phone pulsa (top-up cards) in Manado to support her university studies!
Dimpy's major break came later that year when she met with Danny Charlton, the owner of [email protected] – Danny invited Dimpy to come here to the resort and take a look at the marine life. Dimpy's love of the ocean, combined with her marine biology expertise led to her becoming the first ever female Dive Guide at [email protected]. Dimpy started her Dive Guide training later in 2005 and by 2006 she was fully trained as a Dive Guide and had completed her Bachelor's degree – and she hasn't looked back since!
---
Dimpy at Bio Rock – House Reef project
During her first years at resort Dimpy was not only a Dive Guide but also responsible for maintaining the House Reef – something she still does to this day. Her initial training was with Lembeh Resort's previous managers who were also marine biologists. Dimpy learnt how to apply her knowledge from university, how to build artificial reefs and how to study and analyse their success as well as to maintain it.
So how did Dimpy first become involved in marine biology? Dimpy became interested in biology during her school years when she, unsurprisingly, received excellent results and she enjoyed learning new facts and developed an interest in marine life. Marine species were a new area for her and one that immediately caught her attention so continuing her studies at university level was an obvious next step. It's not easy to identify her favourite critters as here at Lembeh Resort we have so many but if she had to choose, it would be a close contest between nudibranch and cephalopods.
As part of Dimpy's studies and research here in Lembeh she developed our famous Critter Log  and is continuously updating it with new species and new information. Dimpy says that the Lembeh Strait is a marine biologist's paradise and for her she has learnt and is still learning more and more about critter behaviour and taxonomic and environmental conservation.
---
Dimpy give critter test to dive staff
As well as the House Reef and Critter Log, Dimpy's role now also includes training our team of Dive Guides in critter knowledge which they can share with our guests and diving techniques. Dimpy is also active in guest relations and is always happy to share knowledge, information and advice to anyone who has questions about the phenomenal diversity of marine life in the Lembeh Strait.
Dimpy doesn't just train other members of our team though – she is also continuously developing her own skills and is receiving training from our on-site Photo Pro, Sascha Janson in underwater photography. Many of you may have already seen some of Dimpy's recent images on our website and Facebook and she is shooting like a Pro!
Dimpy give EFR & Rescue training
---

Dimpy started taking underwater images in 2010 with a simple point and shoot and since then, and with the guidance of Sascha, she is now shooting with a DSLR. In 2015 and 2016 her efforts and training came to fruition when she won 2nd place (both years) in our Lembeh Resort Calendar competition!
Dimpy is now an expert in identifying marine species in the Lembeh Strait and she is looking forward to developing her photography skills further, conducting more research on the diverse marine creatures of Lembeh, developing her graphic design skills and sharing her knowledge with guests and staff.
This month we say goodbye to Dimpy for a few weeks as she will travel to NORWAY as part of our first ever International Critter Shootout. This is a ground breaking event for Dimpy – the first ever Indonesian Marine Biologist to intrepidly explore the icy waters of Gulen. This experience for Dimpy cannot be underestimated. Take a moment to reflect: This will be the first time that Dimpy has stayed in a room with heating rather than AC, the first time she will go indoors to get warm and outdoors to be cool, the first time she will have to wear more than shorts and a t-shirt, the first time she will experience being super cold, the first time she will see a different landscape and flora and fauna from that in Asia – it's an exciting trip and one we are so proud to support.
Dimpy is most excited about learning to dive in a drysuit and to comparing marine species from opposite sides of the planet. What will she miss about Lembeh? We suspect the rice, the spicy sambal sauce and of course, the climate!
She's also a little bit nervous too – her main concerns are about being freezing cold and this will be her first time travelling on her own, her first time leaving Asia, her first time in Europe and her first time seeing snow and ice that's not in her freezer. Dimpy, we all wish you the best of luck and can't wait to follow your amazing adventure on Facebook and here on our website. If anyone wants to send Dimpy wishes of good luck or advice for Norway please add them to our comments section below – Dimpy would love to hear them.
Bon Voyage Dimpy, go for it and have the time of your life – we are all so proud of you and we can't wait to hear all about your epic adventure.
Sometimes there is one in a million – and then there's Dimpy.