Best Dive Sites in North Sulawesi – Indonesia
It's not been an easy challenge nominating North Sulawesi's best sites as there are just so many to choose from. However, these are the sites that we think showcase the best of what diving in North Sulawesi has to offer – from towering walls and sandy slopes to stunning soft corals and exhilarating drifts.
Take a look at our top picks to see which spots should be on your wish list when making your next North Sulawesi diving holiday.
---
Lekuan 1 & 2 – Bunaken Island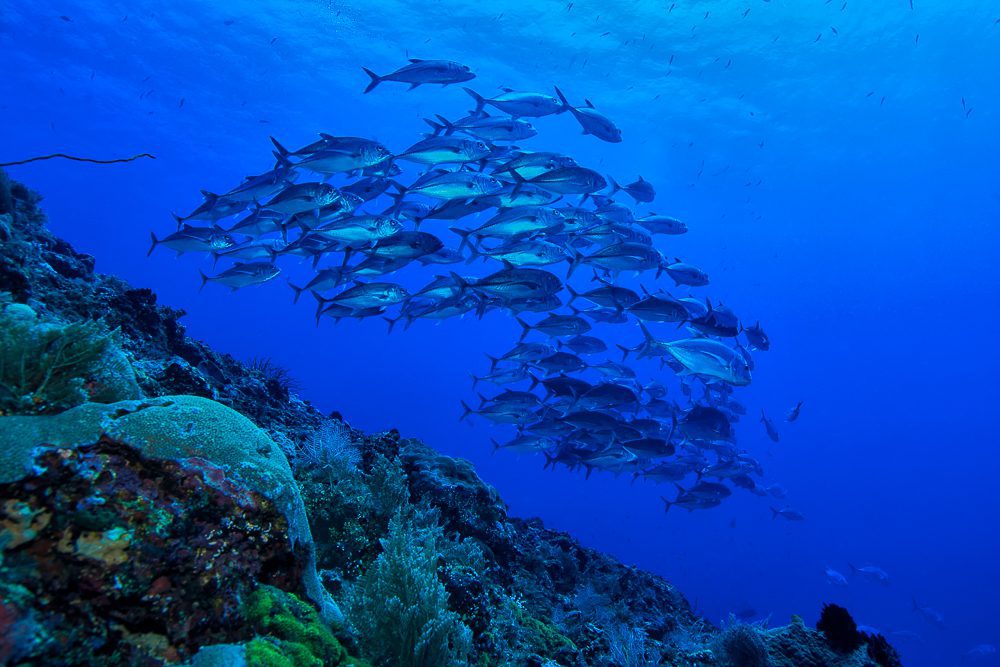 Trevallys
These classic Bunaken dive sites represent everything that Bunaken is famous for – towering walls adorned with corals and pocked with crevices, ledges and alcoves. There is often a gentle current which means that swimming is optional! When diving here be sure to search in every nook and cranny for a variety of nudibranch, hiding octopus and numerous species of critters.
On the larger ledges you'll find larger creatures – most notably huge green sea turtles which are quite comfortable for you to get up close and personal with your camera. If they are not resting on ledges you can be sure to see them cruising by in the blue along with schooling fusiliers, passing jacks, trevally and the occasional tuna.
A real highlight at Lekuan is the white tip reef sharks that have also made this colossal stretch of wall their home. We usually find them in the deeper recesses of the walls and quite often they are in pairs. As you head up to the safety stop don't assume that the fun is over – the reef top is alive with clouds of schooling sergeant majors, red-tooth trigger fish and look out for scorpionfish nestled down in the corals.
---
Paradise Pier – Bangka Island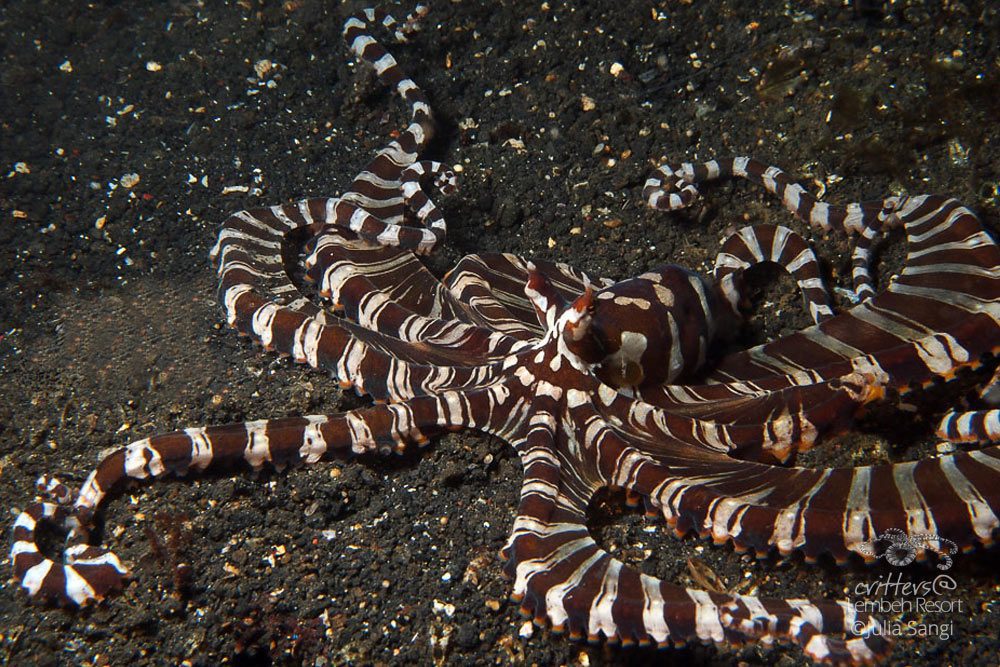 Wunderpus octopus
If you are staying on Bangka Island and you want to muck dive then this is THE site to visit. There is a coral reef sloping down around the jetty area which then leads on to a dark sand slope. Start by heading down the sandy slope to catch glimpses of any number of Frogfish species, colorful nudibranch as well as some of Sulawesi's rarer critters.
Blue spotted rays are common here and you'll see their eyes peering out of the sand. The slope is also littered with numerous anemones which are a haven for a variety of anemone and commensal shrimps as well as squat lobsters around their lower skirts and harlequin crabs underneath! Wunderpuss and Mimic octopus are not unusual here and as you head back up to the jetty thinking that your dive is finished you'll be surprised again.
Crocodile fish lay close to the reef together with Indian walkman, in the sea grass you'll find stick pipefish and at just a couple of meters there is a natural hot spring bubbling out of the reef – it's quite a sight and a geographic phenomenon. As you make your safety stop look for the schooling bat fish under the jetty – with the sun overhead this is an exceptional photography opportunity.
---
Nudi Falls – Lembeh Strait
Rhinopias – Weedy scorpionfish
This is a site that combines and showcases everything that North Sulawesi is famous for in one hit. We jump in just in front of the banks of the Strait and descend down to just a few meters. Bottom composition here is a mix of sand and rubble in the shallows and this is where you can see swimming ribbon eels and mantis shrimps, at depth the rubble peters away to an amazing field of soft corals that can be ideal for finding macro cowries and even rhinopias scorpionfish are also known to hide here too.
On the south side of this site is an incredible wall which boasts gorgonian sea fans. These fans are home to bargibante pygmy seahorses – a photographers favorite. Swimming back along the base of the wall you'll soon see where the dive site takes its name from as a wide variety of nudibranch can be seen. And make sure you pay special attention to the anemones here – they are often host to Banggai Cardinalfish which are an especially rare and localised species – and amazingly photogenic due to their intricate markings!
As you head up to the entry point and back to the boat look out for Giant Frogfish, Painted Frogfish and even Clown Frogfish. If you're shooting wide-angle then look up in the shallows for some great shots of the sun's rays penetrating through the overhanging trees.
---
Hairball, TK 3 and Air Bajo 3 – Lembeh Strait
Cockatoo waspfish
These three sites rank as our top picks for classic Lembeh, black sand muck diving. We like to dive these sites in what is known as "Lembeh Style". For those who are new to Lembeh this means we head down the slope at a leisurely pace while looking out for crazy critters. Once we have reached our maximum depth we then head back up the slope in a zigzag pattern from left to right. This means that our guides literally cover the whole site leaving no area un-inspected. Don't be deceived by the initial barren look of muck diving sites – they are literally crawling with life – you just need good eyes – or a good guide!
Both Hairball II and TK III are on the west bank of the Strait whereas Air Bajo is on the east coast, off Lembeh Island. These sites have very sporadic small croppings of halimeda algae, natural debris, some 'unnatural' debris and random small sponges, anemones and soft corals which attract critters like moths to a lamp in the darkness. Check them all for inhabitants hiding beneath, behind or just in plain view but relying on their own camouflage mechanisms for disguise.
What can you see here? It varies and the range is phenomenal but some of our favorite critters include flying gurnards, dwarf cuttlefish, pipefish, coconut octopus, blue ring octopus, painted frogfish, Ambon scorpionfish, cockatoo waspfish, mimic octopus and wunderpuss- on good days flamboyant cuttlefish are seen at these sites too. Whichever of these three slopes you dive you can be assured of a range of hidden gems and whilst the topography is simple the marine life is anything but!
---
Sahaung – Bangka Island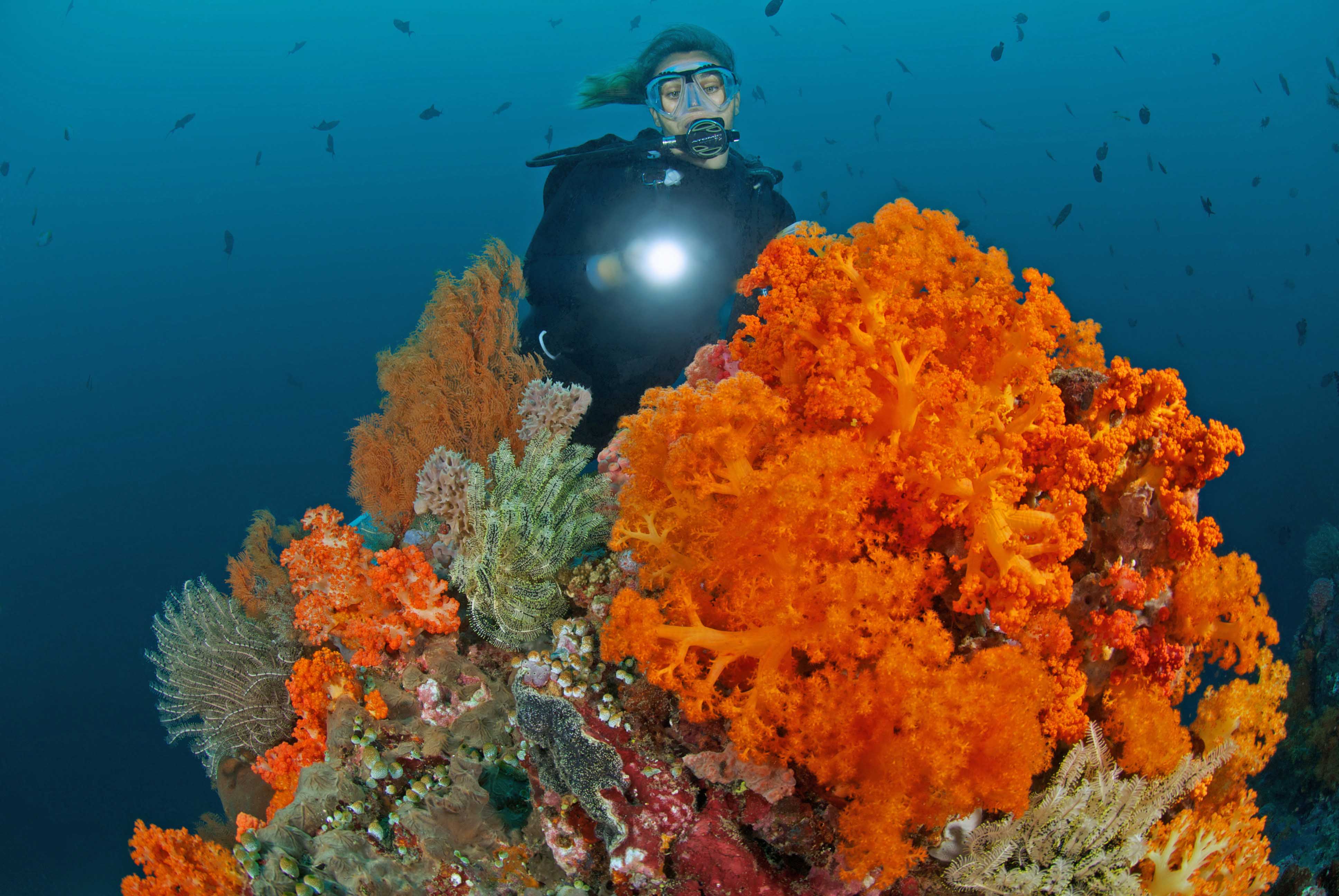 Soft coral garden
Looking for a kaleidoscope of color, stunning soft corals, macro, reef sharks and great drifts? Then this Bangka site is a must! Sahoung is an iconic Bangka dive site which usually involves some current, a lot of fish and a plethora of macro critters too – it has something for everyone. On a good day at Sahoung we have seen 3 different species of pygmy seahorse in a single dive.
Sahoung is a rock pinnacle which we dive around with the current – shallowing up as we go. One of the highlights of Sahoung is the unique topography at the end of the dive where the pinnacle rises up from the reef in a step-like formation. Around the base of the steps are some beautiful table corals which are prime spots for resting, juvenile white tip reef sharks – it's a great place for a safety stop!
---
Bethlehem – Manado Mainland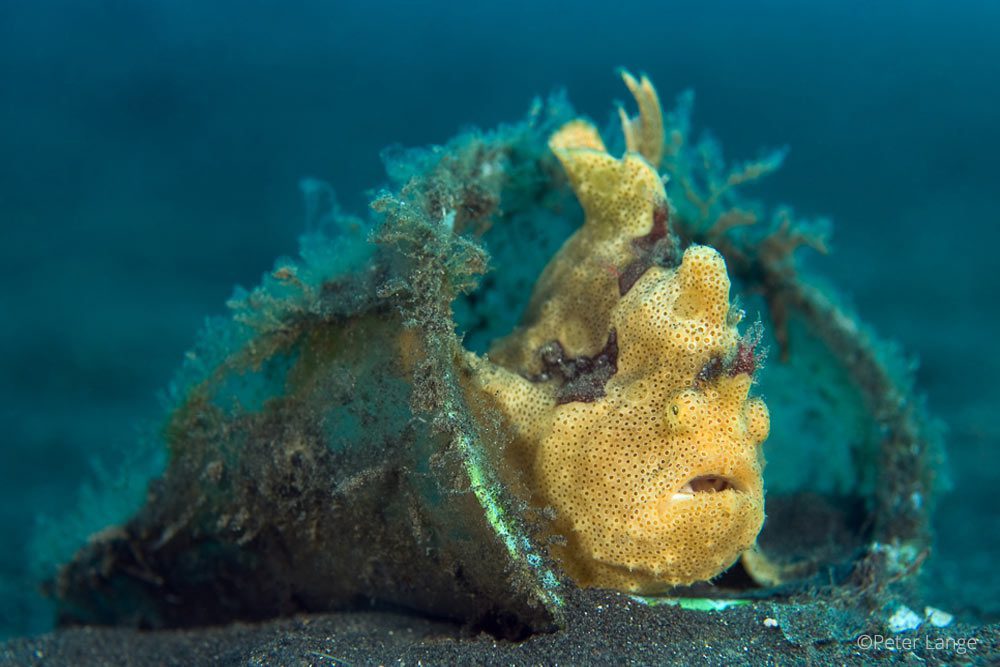 Painted frogfish
If you are staying in Manado and want to see critters as well as Bunaken's walls then this site ticks all of the boxes. Situated just off the Manado coast line Bethlehem is a sandy slope which has many of the same qualities as Lembeh's dive sites. It is littered with sporadic patches of debris which, upon closer inspection, provide homes to numerous critters.
Common and thorny seahorses are frequently seen, along with frogfish, flounders and all manner of weird and wonderful sand dwellers. It's also an excellent option for night dives with easy conditions and a host of nocturnal inhabitants just waiting to be discovered!
---
Bianca – Lembeh Strait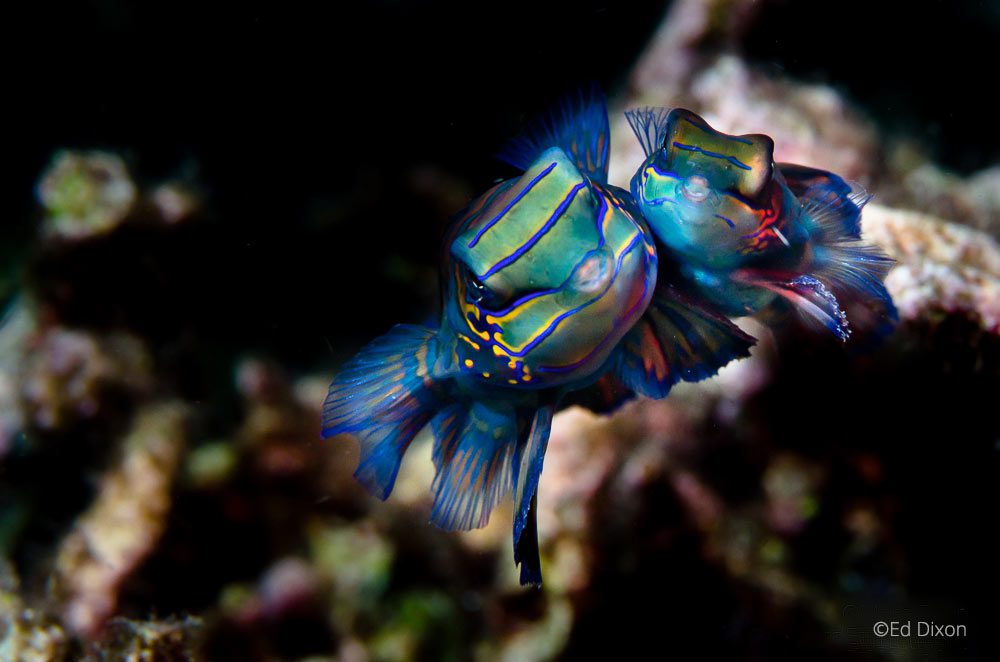 Mandarin fish
When you arrive at Bianca it's immediately obviously where this site's name comes from. Just off the shore there is a huge white Indonesian style phinisi boat moored – name Bianca! We enter the water just next to the ship and descend on to a sandy slope which is characterized by numerous coral outcroppings – primarily sponge formations. This site is another "Lembeh Style" dive where we head down to our maximum depth and zig-zag back up.
Bianca is another great spot for several species of frogfish – which you can see in a single dive, nudibranch, mantis shrimps, ribbon eels and the real treat here comes right at the end. As you shallow up there is a bank of staghorn corals which is accompanied by numerous anemones that host both Banggai and Pajama cardinal fish as well as Mandarin fish.
Mandarin fish are famous for their sunset mating behavior but here at Bianca it's entirely possible to see these exquisitely colored fish through the day time. They are a shy species but with some patience and by waiting quietly you can catch glimpses of them darting in and out of the coral – what a treat!
---
Rojos – Lembeh Strait
Flamboyant cuttlefish
ROJOS is named after the dive guides and crew from Lembeh Resort that found the site while exploring the Strait in 2008. The expedition crew included Ronald, Opo, Joni, Ona, and Salmon. This site is a mix of coral, sandy slope, and sandy bottom and is located close to a pearl farming area towards the north end of the Strait. Diving here should be on the bucket list of any diver who is interested in Cephalopods.
Some of lembeh's most iconic critters can be found here including Mimic octopus, Long arm octopus, Flamboyant cuttlefish, Randall frogfish and Fingered dragonets. So get your macro lenses on and get ready for some serious critter action! If you are thinking about diving in Lembeh and want to know more about our dive sites check our dive site map or get in touch with us for more information about what we can offer you here at Lembeh Resort.
Are you intrigued by the critters that Lembeh is famous for? Use our free Critter Log to learn more about the marine life which makes the Lembeh Strait the Critter Capital of the World. For more information or to make a booking please email us at reservations@lembehresort.com
---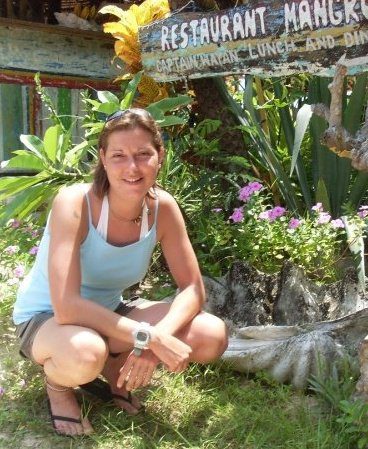 Author : Sarah Wormald