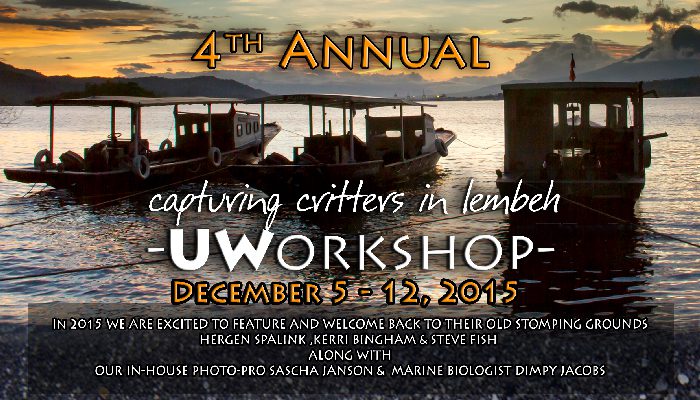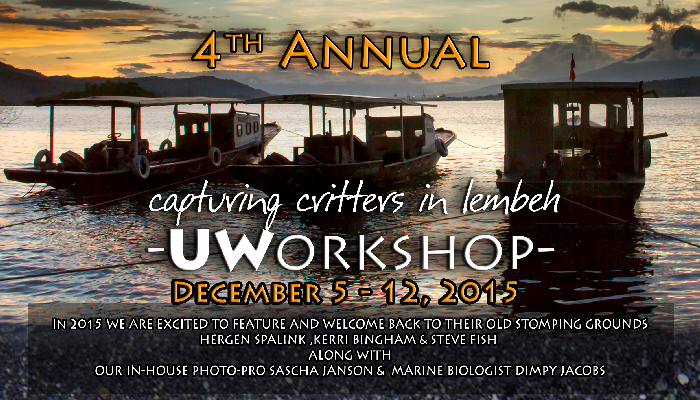 4th Annual Capturing Critters in Lembeh – UW Workshop December 5 -12, 2015
Join Us For Our 4th Annual
"Capturing Critters in Lembeh" Digital Imaging Workshop
December 5 -12, 2015

Back together again for a limited engagement! Hergen Spalink, Kerri Bingham and Steve Fish, our previous dive center management team and photo pro return to their old stomping grounds in Lembeh Strait where they will join together with support from our In-House Photo Pro Sascha Janson and In-House Marine Biologist Dimpy Jacobs for our Capturing Critters in Lembeh 2015 workshop.  This well-rounded team of experts will provide presentations, seminars & one-on-one instruction. With their intimate knowledge from 3 years diving Lembeh Strait and photographing it's "weird and unusual" marine life they have the inside scoop on topics they'll be discussing; including the best time to photograph a critter, lighting and capturing images in this unique environment plus finishing and editing strategies. During the workshop Steve will be focused on helping videographers enhance the quality of their work and improve their skills when taking their underwater videos. This is the perfect workshop for learning the pros' techniques and skills to get the images and video footage you've always wanted to produce.
Included in this unique 8 – Day Workshop:
• Daily seminars by our professional presenters on a wide range of customized topics followed by practical in-water application.
• "Office Hours" (one-on-one) time with the pros: maximize your learning curve during surface intervals and master the techniques presented or sort out your processing woes.
• Unsurpassed dive guide attention and superlative resort service to compliment the entire event.
• 7 nights & 17 guided boat dive
• 3:1 diver to guide ratio
• Unlimited guided house reef dives
• Nitrox for all dives
• Wide Angle day trip outside of Straits
• Daily fruit basket & cookies in room
• Complimentary 30 minute Spa treatment
• 20% Discount on all Spa bookings
• Complimentary Lembeh cocktail during Resort welcome
US$2,550 per person in Deluxe Ocean view cottage – double or twin shared
Price includes:  airport transfers, all meals, snacks, coffee, tea, unlimited drinking water and taxes.
Click Here to make reservations or contact your favorite dive travel agent.
[reveal title="View 2014 Schedule" ]

2014 Schedule was based on our participant survey.
We will do the same for this year; therefore the schedule will be customized to the desires of participants.
[/reveal]
Former Photo Pro for Lembeh Resort Steve Fish (yes, his name really is Fish) is a professional underwater photographer, filmmaker and author with over 39 years of diving experience. Since 1993 he has worked full time at dive resorts and on liveaboard dive boats around the world as UW Photo/Video Pro in residence.  His photos have appeared in magazines and books around the world.  His UW video footage has been used in broadcast projects on 3 continents.  He is the author of six recent books; two on UW Video and Editing techniques and four on Underwater Digital Photography.  Steve teaches a variety of courses on Underwater Photography and Underwater Videography.  He currently is based in Bali working on film, book and app projects as well as occasional freelance assignments in SE Asia. Steve's work can be found at www.fishtales.com
Hergen Spalink is a Nauticam sponsored professional photographer who has spent most of the last decade diving, traveling and photographing the Indonesian Archipelago.  Hergen, along with his partner Kerri Bingham, were the dive center managers at Critters@Lembeh for three years, making them intimately familiar with finding and photographing the spectacular creatures that inhabit the strait.  Hergen's photos have been published both in print and new media around the world and he is a previous Managing Editor for DivePhotoGuide.com for which he is still a regular contributor.
Hergen was born in Germany but is now a naturalized tax-paying American from North Carolina and has been diving for 20 years.  He has a BS in Biology from the University of North Carolina at Chapel Hill and has spent the last eleven years diving professionally both in the Caribbean and Asia. He holds a PADI instructor rating and a USCG Masters License.


Kerri Bingham is a Nauticam sponsored professional photographer whose work and underwater modeling have appeared in a variety of print and new media publications.  Kerri's passion for teaching and diving has garnered her a reputation as one of the top professionals to dive and learn photography with.  Kerri was the Dive Center Manager for Critters@Lembeh with her partner Hergen Spalink for three years, making her an expert on the critters of Lembeh Strait.  Kerri is also a former Managing Editor for DivePhotoGuide and a frequent contributor.
Kerri is from California and has been diving since 2000 when she got certified in freezing cold Hood Canal in Puget Sound, yet still loves diving.  She holds a BS in Social Sciences from Portland State University and is a PADI instructor. Kerri's underwater modeling has appeared in numerous dive magazines such as Fathoms, Asian Diver,Australasia Scuba Diver, and Scuba Diving.