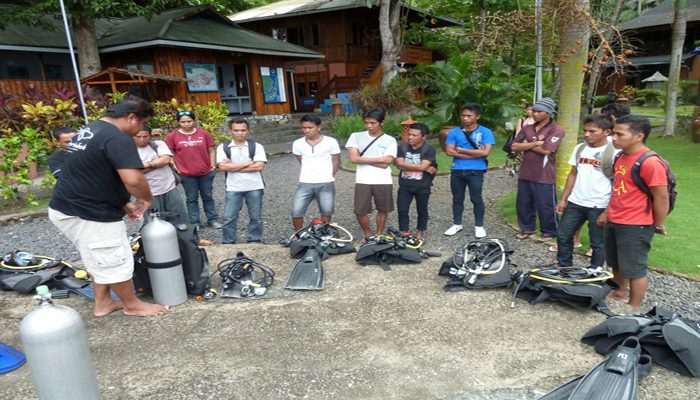 Career Day with Critters@Lembeh
Critters@Lembeh held "Career Day " last week where we invited any and all local villagers who would like to learn about working in dive tourism to join us for a day.  It is also a way for us to maintain a good relationship with the locals and have some good fun together!  We had 11 participants on the day, who come from three of the local villages: Pintu Kota Besar, Pintu Kota Kecil, and Baturiri. They were given a general introduction to the Critters@Lembeh dive operation, which included a presentation on the history of Critters@Lembeh, a tour of the facilities, basic training on dive equipment and the compressor, and boat crew training.
They also participated in a beginner scuba diving session on our house reef with Dimpy, Abner, Iwan B., Opo S., and Jhoe.  This was a very popular part of the day because for many of them, it was the the first time they had an opportunity to try scuba. Lucky they get to experience some of the best diving in Indonesia on their first try! To round off the program, they played a game to learn English. We awarded the participants with a certificate of appreciation. Those that are interested will be eligible for an internship program with the Critters@Lembeh team with the option of employment after that.
A big thank you to Dimpy and Lauren for organizing this program, to Julia, Abner, Yance, Iwan B., Opo S., and Jhoe, for their assistance with the presentation and training on the day, and most of all to the participants who enthusiastically joined us for our inaugural Career Day and who made the day a great success!