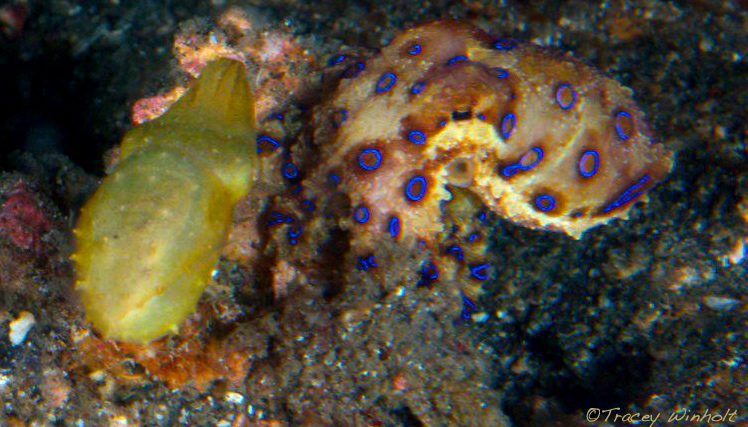 Missing Lembeh Very Much
Tracey Winholt and her husband recently had a great trip at Lembeh Resort and Critters@Lembeh.  See what Tracey has to say:
I can't say enough about the convenience and beauty of this resort.  It is definitely built for divers!  The meals were delicious, always with an Indonesian flare.  There are two things that make this resort stand out from the rest:  the staff and the diving!!!  Critters@Lembeh is the name of the dive center.  This is the place where all of your dreams come true….  I came to Lembeh because I wanted to see the weird and wonderful critters.  What I did not know is that I would see the unimaginable!  On our first dive with Opo K., we came back with a list of about 20 critters I have never seen in my life.  I thought we were lucky, but this continued for the entire two weeks of our trip!  Opo has the eyes of an eagle.  He can look at the smallest piece of coral, sponge, or even a piece of trash and find an amazing critter living on it!   He made sure that every diver had their own critter to view and by the end of the trip, I was creating a wish list of critters.   On our very last dive, he found the very last critter on my list!  He is amazing!  We also had the opportunity to dive with Fandy, Iwan K and Jhoe….all just as amazing as Opo K, but Opo had my heart forever!
The dive center also has its own marine life expert, Dimpy J who is an encyclopedia of marine life knowledge!  She was always so helpful.
The convenience of diving is perfect!  All dive sites are less than 15 minutes by boat, most being 5-10 minutes away.  This means that all surface intervals are done back at the resort!  The dive team takes care of everything for you, they bring every piece of your equipment on and off the boat and treat your equipment with care.  Dive groups were always small.  We never had more than four people in our group!
We were lucky enough during our stay to meet the new managers of the dive operation, Lauren and Sascha.  On one of Lauren's first dives, she found us a hairy octopus!  In just a few days, I can conclude that Lauren and Sascha will be an amazing addition to the LR team! Do I recommend this place?  YES….in fact, I miss it sooooo much!