Honeymoon in Indonesia: Creating Lasting Memories in Luxury and Adventure
There's no doubt that one of the most special holidays you will ever take is your honeymoon. After the wedding planning and the big day, this is finally your chance to kick back and relax! This is the beginning of your next phase in life and here at Lembeh Resort, we want to make sure that you have an incredible honeymoon experience exploring North Sulawesi, Indonesia!
---
Explore with us….
If you're an active couple and interested in activities that go beyond laying by the side of the pool, then here are just a few of the things that you can enjoy with us in this unique destination. 
Tangkoko Nature Reserve
For anyone who loves nature, Tangkoko Nature Reserve is an absolute must to add to the bucket list. 
Take a light trek through this natural forest and not only will you find tarsiers (the smallest primate in the world), but you'll also find a range of tropical birds which can't be seen anywhere else on the planet – including knobbed hornbills. And then add to the list of sightings Cuscus bears and black macaques to boot!
---
Minahasa Highlands

Explore the Minahasa Highlands and we can tailor make this tour to include what you want to see and do most. 
This is a unique opportunity to see and experience the local way of life while experiencing the natural beauty that surrounds us.
Chasing Waterfalls
There are a number of waterfalls that are stunning to visit.
Local Markets
The local markets are a hub of activity. There are locals selling baked treats, fresh flowers, and locally grown produce.
Volcano Trekking
Trek the rim of Mount Mahawu! Mahawu is an easy drive from Lembeh Resort and it's possible to trek the rim. Mahawu is a stratovolcano capped with a 180 m wide and 140 m deep crater with two pyroclastic cones in the northern flanks. There are also great views from the peak!
Danau Linow – Hydrothermal Vents
Danau Linow – or Lake Linow is a crater lake that is also known as the 'changing color lake". Due to our volcanic region, this lake has a high level of sulfur that reflects light differently. Several hydrothermal vents spew hot gas from the edges and depths of the lake. The changing chemical composition of the lake means that it changes colors often, ranging from red, dark green, and even to dark blue.
---
Sea Kayaking

If you would like to explore our region by water, there is no better way than to go by sea kayak. Our kayaks allow you to silently glide through the local mangroves and feel free to stop and snorkel over our reefs!
Sulawesi Cuisine
If you'd like to find out more about our local cuisine, then why not take a cooking class? Our kitchen staff will accompany you on a trip to our local market where you will choose produce to be used in your cooking class. You'll even receive a recipe book to take home with you so you can recreate dishes from home! 
Snorkelling and Scuba Diving
If you would like to explore our famous underwater world, try snorkeling or scuba diving with us – if you would like to get certified to dive, we also offer a full range of PADI courses.
---
Stay In Luxury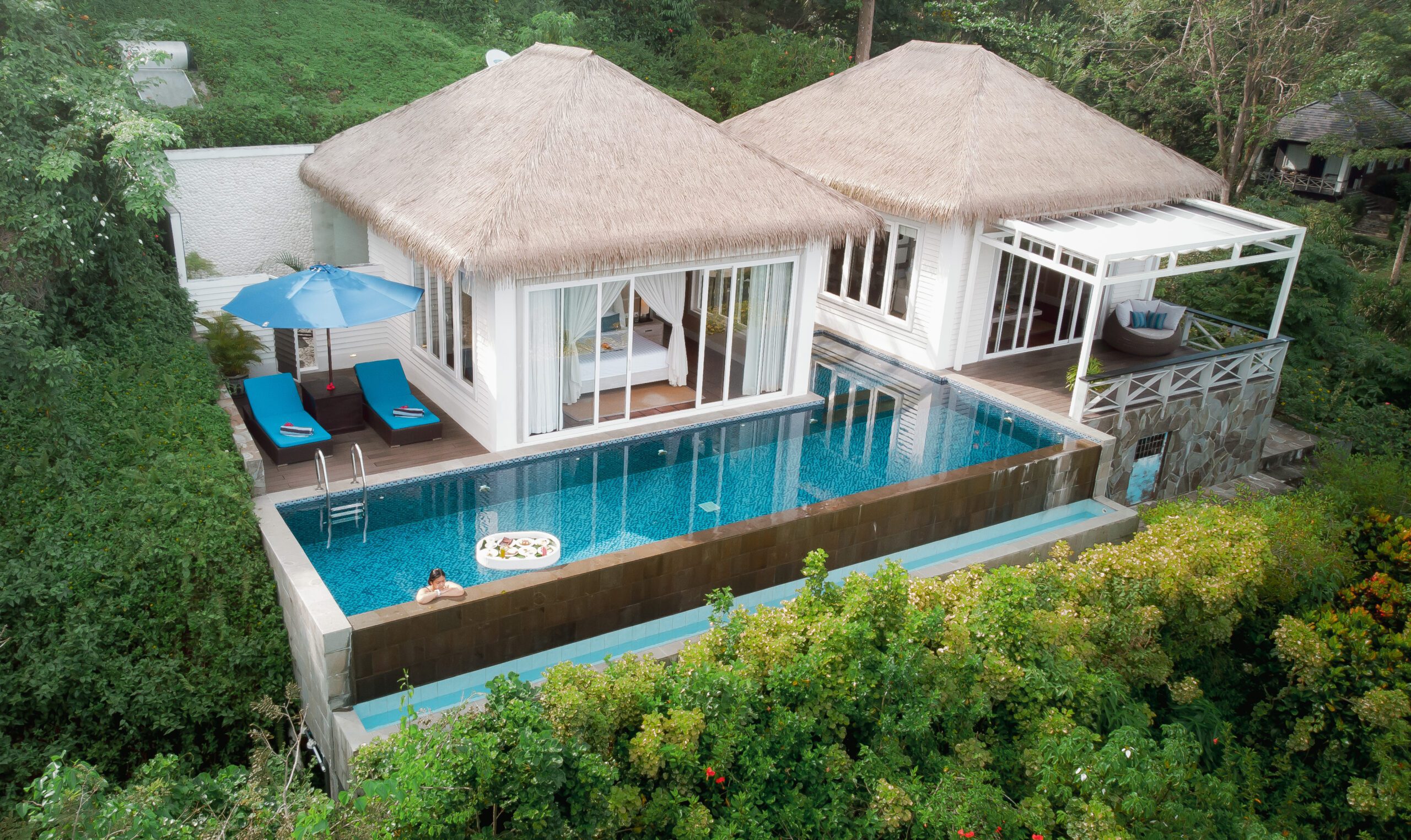 This is your honeymoon so make it extra special by staying at Lembeh Resort in North Sulawesi, Indonesia! Our Cliffside Villa is a private sanctuary of stunning views which sets the benchmark for luxury accommodations. This beautiful private villa is perched on a green hillside, surrounded by colorful floral gardens. The setting is framed with a dramatic backdrop consisting of the extinct volcanoes of the Minahasan Highlands. Go ahead, jump in the pool, enjoy a romantic candlelight dinner on your veranda, relax and indulge.
Extra Specials
For all Honeymooners staying with us, we understand the importance of your stay. We are happy to include in your stay a romantic dinner for two with a complimentary bottle of wine or you may want to opt for a complimentary spa treatment instead – just let us know!
Ready to Book?
Can't wait to spend your honeymoon in Indonesia? Book your stay with us or talk to us for more information now. Contact us on reservations@LembehResort.com.
Further Reading?
If you enjoyed reading this article, you may also like: