Welcome
We are the premiere destination for critter diving, muck diving, and underwater photography—especially macro photography and wide angle photography—in Lembeh Strait. Our spectacular boutique-style resort, situated on Lembeh Island and perched above the beautiful Lembeh Strait of northeast Sulawesi is surrounded by lush tropical gardens and blends perfectly into the landscape. Westerly views of Mt. Klabat and spectacular sunsets await you on the sunny side of Lembeh.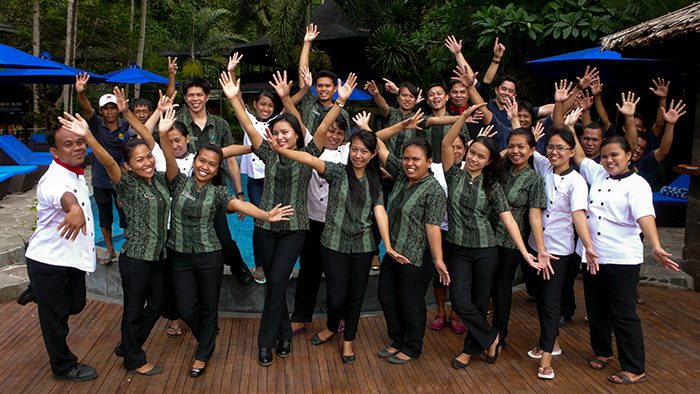 Please take a moment to look at our website, we've provided some information to make you feel immediately at ease and apprised of the diverse opportunities we offer to experience the warm hospitality, tropical beauty and unique wonders of our home.
We are committed to delivering North Sulawesi hospitality at its best and making our guests' stay enjoyable and memorable both above and below the water. With a 3:1 staff ratio to ensure a high level of service, our team looks forward to welcoming you to Lembeh Resort soon.
History
Lembeh Resort began as the family holiday home of Alex Rorimpandey, a North Sulawesi native from nearby Tondano. What began as a single cottage overlooking the Strait grew to become a small resort, opening in December 2002 with three guest cottages. Today, the resort boasts 14 deluxe ocean view cottages, 6 garden view rooms, a spa and a freshwater swimming pool.
Alex passed away in July 2003, but his legacy lives on in proud traditions at Lembeh Resort. Today, his wife and sons own the resort and are actively involved in its management. The resort employs and trains many local villagers on Lembeh Island. In keeping with his commitment to the community, Alex donated materials to build the local church in nearby Pintu Kota Kecil. This mutual cooperation helped forge a strong bond. Alex's message to his family and staff was, "We are all owners of Lembeh Resort, so we must all take care to watch over it."
Continuing the community ethos that Alex wanted Lembeh Resort to embody, we employ approximately 30% of our staff from the neighboring villages and another 50% from the local Bitung area.
RESORT NEWS