Capturing Critters in Lembeh Underwater Photography Workshop 2017
Pro Presentation – Composition
Photo Pro: Martin Edge
Have you ever wondered what makes the difference between good photographs and award winning photographs? Is having a good subject, lighting and focus enough? World-class underwater photography professional Martin Edge explains how good image composition is key and how to achieve it.
Rule of Thirds:
This is a well established and golden rule which is easily applied and makes for great composition. Imagine that your image is divided into thirds both horizontally and vertically. The rule of thirds is applied by aligning a subject with the guide lines and their intersection points, placing the horizon on the top or bottom line, or allowing linear features in the image to flow from section to section. The rule of thirds can also be used to balance your negative space and subject matter.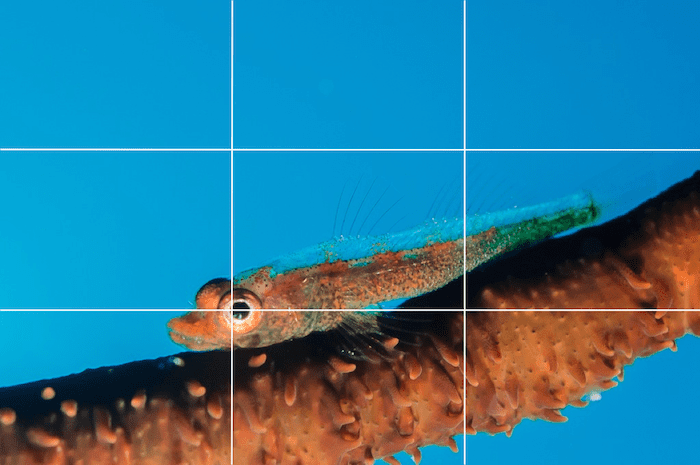 Focus Point:
Martin explained that the eyes and mouth of the subject are the two most important features to keep in focus. However, when shooting macro, getting both the mouth and eyes in focus is not always possible. Martin suggests focusing on a point between the eye and the mouth or, taking a few different shots with varied focal points to have the best chance of getting both in focus. If you have to choose between the two then the eyes are usually the most important (see in the image above how the eye is in focus AND on one of the intersections of the grid).
Eye Contact:
Direct eye contact is simply irresistible. A picture might have twenty fish in it but is only one is looking into the camera that will be the one which the viewer will notice and connect with.
If you are aiming to take a photo head on and have both eyes in the image it is important to make sure both eyes are equally featured otherwise your fish will look boss-eyed. If you cannot get both eyes equally in the image, take the photo from a ¾'s angle or profile and feature just one eye.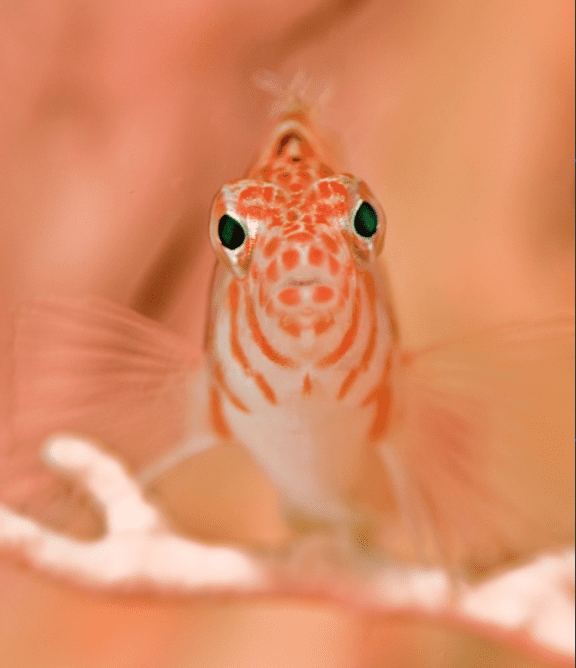 Clipping:
Take good care that all subjects, whether in the foreground or background, are entirely inside the frame and not "clipped". Allow space around them so you have something to work with during editing.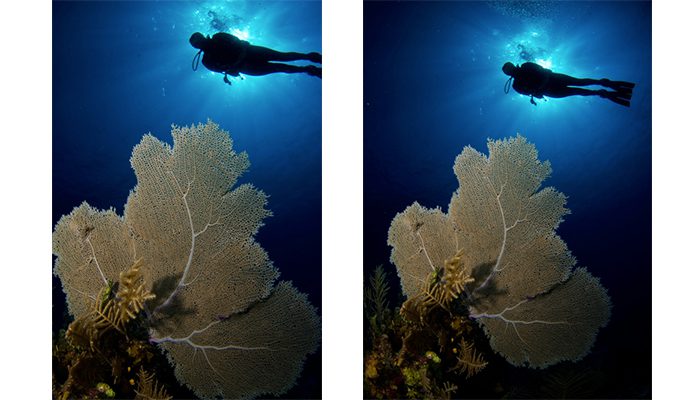 More Background Reminders:
We mention backgrounds a lot because backgrounds are easy to forget about but they are just as important as your subject. Think about your negative space so that it enhances your subject rather than distracting the viewer's eye away from it. Pay attention to complementary colors and background colors which make the subject "pop". The example below shows how Alex Tattersall has used movement to create a complementary background and a unique effect.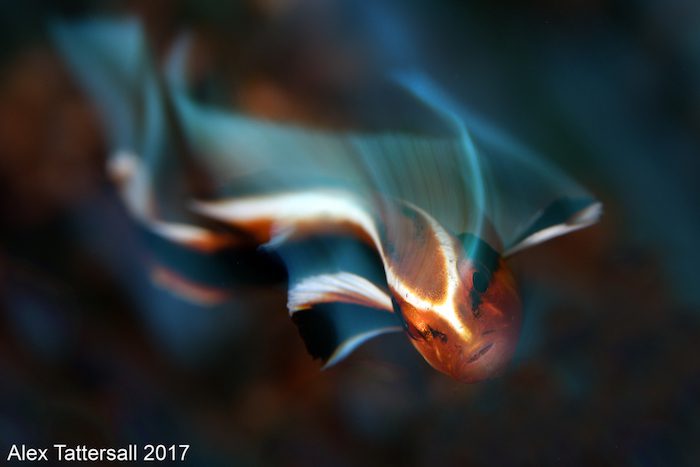 Martin Edge has been teaching underwater photography for 30 years and still loves his subject and is as passionate about teaching as ever before. Martin teaches in Bournemouth in his home country of England as well as in various dive locations world-wide. Martin is also the author of 'The Underwater Photographer', published by Focal Press and now in it's 4th Edition. Find out more about Martin Edge here.
Our Capturing Critters in Lembeh underwater photography workshops are extremely popular and places sell out a long time in advance. If you'd like to book a place for the 2018 Workshop (5th – 12th December), which will feature Photo and Video Pro's Brandi Mueller, Brent Durand and Tobias Friedrich, contact us: reservations@LembehResort.com
Pro Presentation: Making Mini Masterpieces
Photo Pro: Alex Tattersall
This week at Capturing Critters in Lembeh 2017, world-class Photography Pro Alex Tattersall explains what makes a great photograph incredible and how to make images that stand out from the crowd. Find out more about making 'mini-masterpieces here…..
Evaluate, Adjust and Improve:
Even Pros take bad shots that don't work out! Don't be surprised when you take an image that doesn't turn out the way you want it to. This happens to Photo Pros too. What is most important is how you deal with it and that you move on and improve.
Alex starts by taking an initial shot and then by evaluating the image on his LCD screen and looking for ways to improve it. Take into account the lighting, the composition and the overall effect of the image. Make corrections and adjustments – this may not always be camera or strobe setting adjustments, it may mean moving yourself into a better position and trying from a different angle.
Don't keep shooting the same image again and again. The image will not improve through repetitive shots unless you make changes in between.
If after making adjustments you still can't get the desired effect, move on. This is Lembeh and there are numerous other opportunities to explore.
Identify Constraints:
Once you have identified a subject, start by evaluating the scene for any constraints and assessing if you will really be able to get a decent shot. If the stingray you want to shoot is under a narrow ledge will you be able to get enough light on it? If you carry out a thorough evaluation and identify constraints that you can't work around, don't waste time and move on to the next opportunity.
Work with Constraints with the Equipment you Have:
If you decide to shoot in a constrained situation make the most of the equipment you have available to get the best shot. Remember to move yourself and try different angles, different lighting techniques and be open minded to creating a different effect to what you initially had in mind – you'll be amazed at the number of effects you can create from one situation.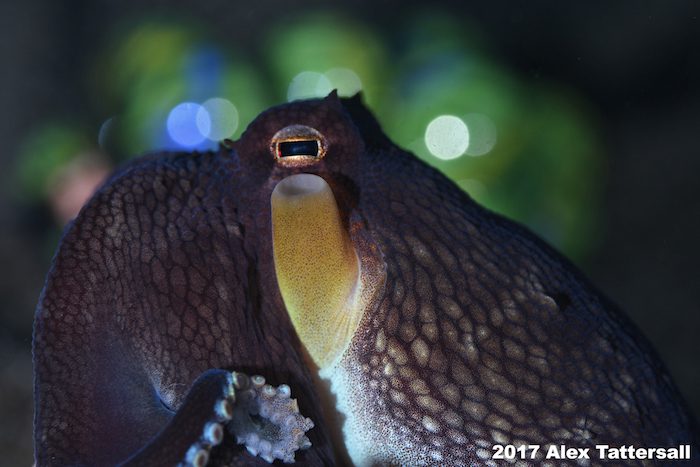 Unrepeatable Moments in Time:
An image which stands out and becomes a true 'mini-masterpiece' is one which captures an unrepeatable moment in time such as that shown in today's cover shot of a mantis shrimp fight or Alex's emperor shrimp and nudibranch image below.
Shots such as these are unrepeatable as they capture extremely special moments. Never manipulate a critter into behaving unnaturally to capture these images. People have done this in the past and have been stripped of their accolades. Photography professionals and shoot out judges are experts at picking out images where critters have been manipulated.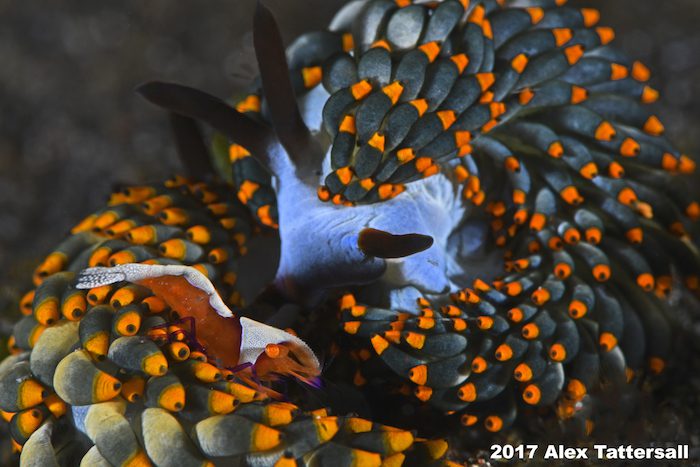 Consider the Environment:
If taking a shot will mean damaging the environment, harming another critter or putting yourself at risk, move on. It is important to be well stabilized when shooting and the best way to achieve this without touching the bottom is to use a pointer stick to minimize contact.
Experiment on a rock or coral before you approach the critter to reduce the amount of time you need to spend shooting.
Backgrounds:
Never overlook the importance of your background matter. Backgrounds can serve to either enhance a critter or distract from it – make sure your background is enhancing. Negative space is important so think about the entire image not just the subject.
When you can't get close to a critter, think about using your background as context which shows the critter in it's environment and adds perspective. When used in this way, your negative space still needs to be quality and not distracting or overly busy.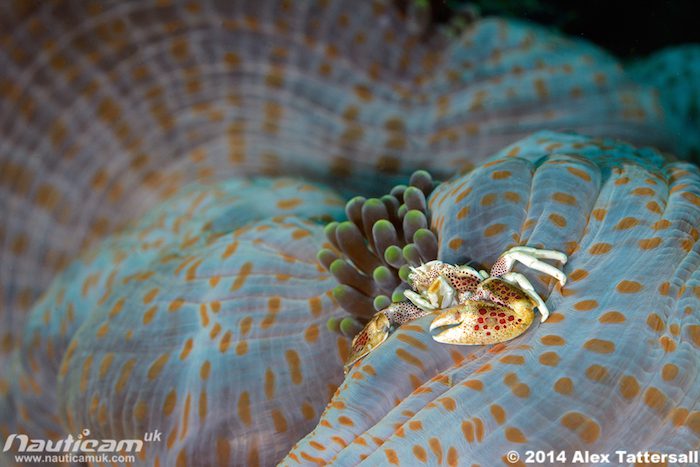 Alex's Summary for Creating Masterpieces:
– Consider your subjects
– Consider capturing an unrepeatable moment in time
– Look at the constraints and be proactive with the equipment you have
– Try to get the best negative space background possible.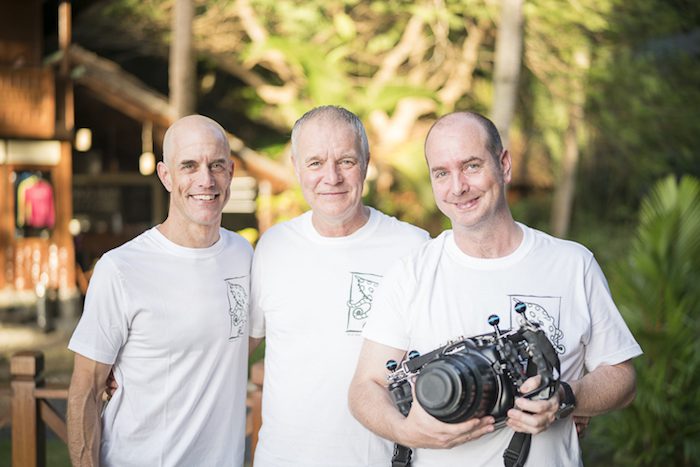 About Dr. Alex Tattersall:
Alex is a UK born, award-winning underwater photographer who is also the founder of UnderWaterVisions Ltd / Nauticam UK. See more of Alex's incredible underwater images here or find out more about UnderWaterVisions 
Our Capturing Critters in Lembeh underwater photography workshops are extremely popular and places sell out a long time in advance. If you'd like to book a place for the 2018 Workshop (5th – 12th December), which will feature Photo and Video Pro's Brandi Mueller, Brent Durand and Tobias Friedrich, contact us: reservations@LembehResort.com
---
[/reveal]
Day 3 Capturing Critters in Lembeh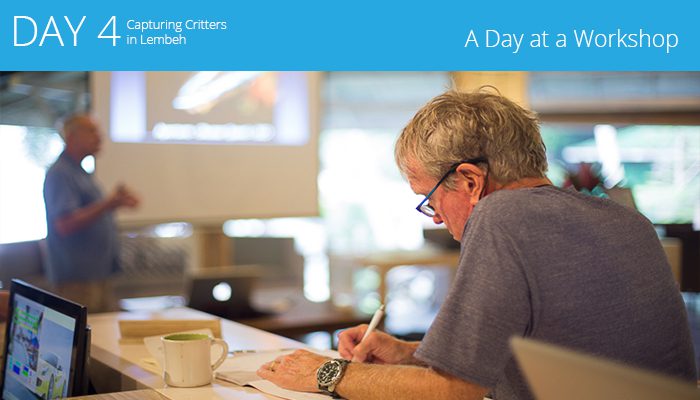 Workshops Uncovered – Frequently Asked Questions
Who Should Attend an Underwater Photography Workshop?
Anyone who enjoys taking underwater images. Workshops cater to all levels regardless of previous experience or camera system. We've had complete beginners who have arrived with their new camera still in the packaging through to semi professionals who are looking to become professional. All levels WILL benefit and see improvements in their images as the workshop progresses.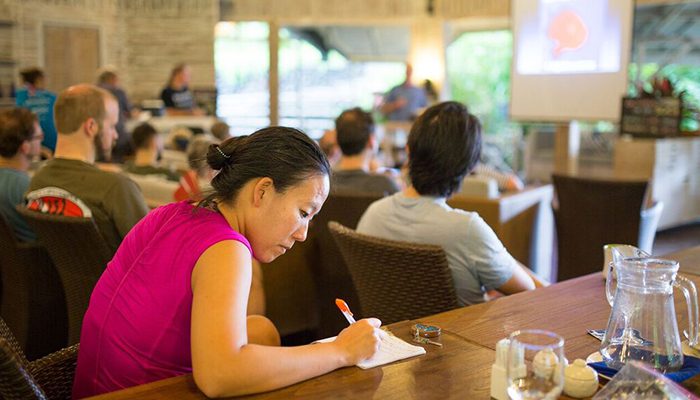 How Serious is a Workshop?
It's as serious as you want it to be. If you want to enjoy more downtime than workshop time that is entirely possible, likewise if you want to use it as an intensive program that works too. We plan an active workshop schedule and for those who want to attend all sessions they will be very busy and it will be an intensive 7 days. If you want to cherry pick which presentations you attend to allow for more relaxation time that's perfectly okay too. A workshop can be what you want it to be. We plan the schedule and you have total choice around how you follow it.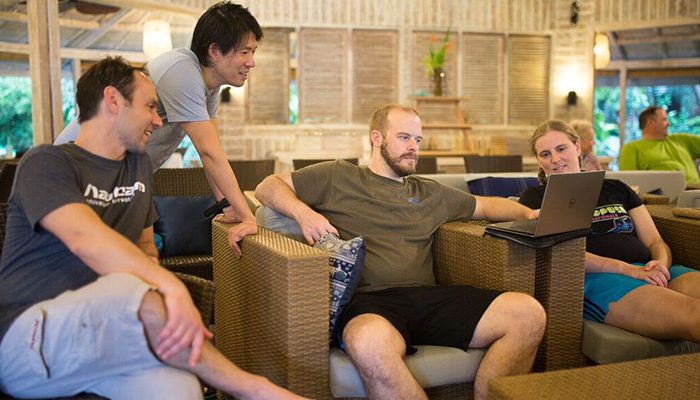 Can I attend if My Partner Just Wants to Dive?
Absolutely, and this is often the case. Workshop participants go out on dedicated workshop boats with the Pros so although you won't be on the same boat together you will be diving at the same times and dining together here in the resort.
How Many Dives per Day / Presentations per Day?
Workshops are based around 3 dives a day – a double dive trip in the morning, followed by a single dive in the afternoon. If you'd also like to night dive or make a mandarin fish dive, this can also be added to your package.
Who are the Workshop Presenters?
We host several workshops throughout they year which are presented by world-class Photo Pros supported by our own on-site Pro . Check our "Upcoming Events" http://www.lembehresort.com/upcoming-events/ page to find out more.
Capturing Critters in Lembeh is held every December and 2018 will be our 7th annual event. Capturing Critters in Lembeh is the ONLY underwater photography workshop in Asia which is hosted by three visiting Pros plus our own in-house Pro. Capturing Critters in Lembeh 2018 (HYPERLINK: http://www.lembehresort.com/home/capturing-critters-lembeh-2017/) will include featured Pros Brandi Mueller, Bret Durand and Tobias Friedrich.
A Day at a Workshop
To see what a workshop day entails, this is a standard daily schedule from Capturing Critters in Lembeh:
06.45 – 07.30: Our buffet breakfast is served in the restaurant with western cooked classics including bacon, sausages and eggs made to order. For lighter or healthier choices there is a selection of cereals, muesli, yoghurt, fresh cut tropical fruits and traditional Indonesian 'jamu' shots. Breakfasts at Lembeh Resort also showcase individually plated breakfast options such as exquisite quiches, breakfast bruschetta bites or try our light corn fitters with avocado. Our home baked bread station includes a variety of breads and delectable pastries and our continental salad bar offers cheeses, cold meat cuts and other savory breakfast delights.
07.30 – 08.15: Pro Presentation #1
08.30 – 12.30: A double dive trip to two iconic Lembeh Strait dive sites. Workshops have designated workshop boats and guides to ensure that those attending have an exclusive experience. The presenting Photo Pro(s) and our in-house Pro, join all dives to provide in water assistance and surface interval advice and guidance.
12.30 – 13.30: Our legendary Lembeh Resort lunch is available in the restaurant. Choose from a selection of thoughtfully presented, individual starter plates from young papaya salad through to tuna Carpaccio. You'll also find a vibrant classic or Indonesian salad bar along with a soup of the day and freshly baked bread. Our signature a la minut live cooking station serves daily specials in addition to our other beautifully cooked hot dishes. Our lunchtime specials feature both classic Indonesian and Western options along with some beautifully constructed fusion creations.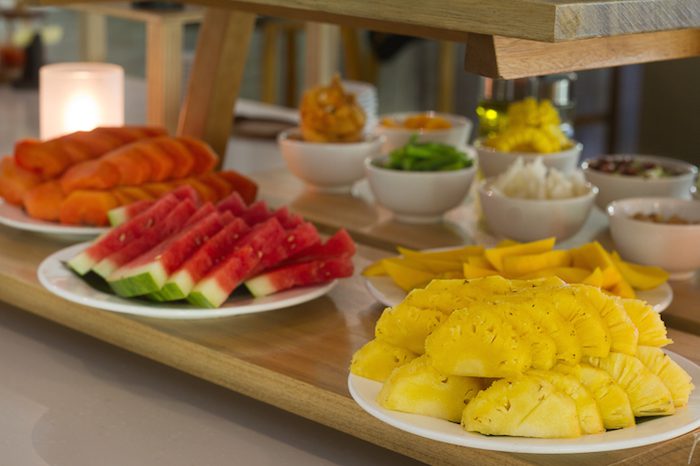 13.45 – 14.15: Pro Presentation #2
14.30 – 16.00: We make our third dive in the Lembeh Strait, once again accompanied by the Pros on our private workshop boats.
16.00 – 17.00: Some well deserved down time for showering and relaxing or photo editing and camera system preparation.
17.00 – 17.30: Pro Presentation #3
17.45 – 19.00: 'Office hours' or critique time. Office hours are times when our Pros make themselves available for participants to have some one-on-one time. You'll be able to ask the questions you always wanted to, ask for advice and guidance on your images and explain your frustrations. During the workshops we ask participants to submit 3 images to be used during critique sessions. These are small group sessions where participants' images are critiqued by the Pros and the group. It's amazing what you can learn from your fellow participants and there is always a great sense of camaraderie.
19.00 – 20.30: A La Carte dinner is served. Our four course evening menu starts with a soup of the day which varies between Indonesian, Asian and western, some of our favorites include fragrant Thai tom kha gai, traditional Indonesian soto ayam and peppery watercress and spinach. A choice of delicate vegetarian and non-vegetarian appetizers follows before our selection of main courses. Our main course choices include vegetarian, gluten free, meat and seafood options as standard. Satisfy your taste buds with our succulent 'Bebek Lembeh', a traditional slow roasted duck leg; opt for a taste of home with our sesame pan seared tuna fillet served with hasselback potatoes or embrace the flavors of Indonesia with our aromatic 'Pepes Ikan', a banana leaf baked fresh fish fillet with lemon grass and kafir lime.
If you are still wanting more, why not end your evening with one of our irresistible deserts? Our crème brulees, pancakes stuffed with grated coconut and palm nectar and chocolate lava cakes are just a few of the indulgencies on offer.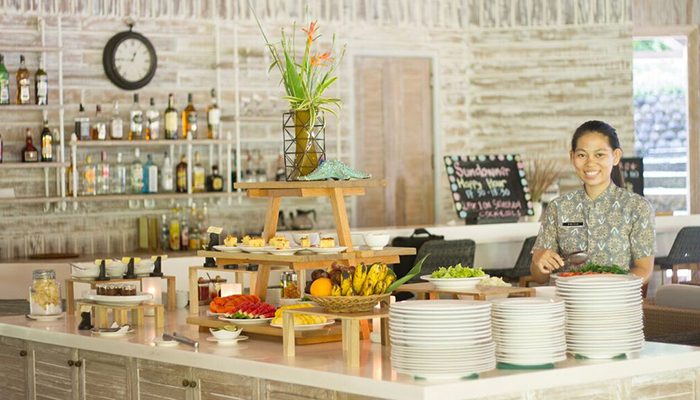 Our restaurant stays open until the last guests leave so you are more than welcome to relax with an after dinner coffee or savor a nightcap with friends before heading to bed.
Many of our workshop participants prefer an early night or time in their accommodation to edit their photographs from the day. Our luxury accommodation is designed with divers and underwater photographers in mind so as well as comfortable sleeping arrangements you'll find a work desk with lighting, plenty or charging sockets and comfortable seating for snuggling up with your laptop or just a good book – you will have earned it!
For more information or to book a place at one of upcoming workshops contact us on: reservations@LembehResort.com
---
Day 3 Capturing Critters in Lembeh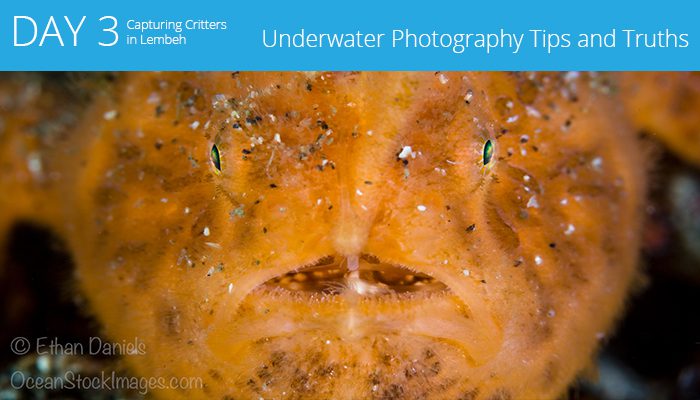 Presentation by Photo Pro Ethan Daniels
Underwater Photography Tips
Get it right 'In Camera'. Lightroom and editing software are great tools but if you can get it right in camera then post processing is easier. Post processing has limitations. If your image is out of focus, no amount processing will help.
"You can make a good photo great through editing but you cannot make a bad photo good." (Photo Pro, Ethan Daniels)
Focus: This is absolutely essential because focus cannot be corrected after the event. Ethan uses manual focus and moves his body in and out, instead of relying purely on auto focus. Auto focus can be frustrating when your camera does not focus on the part you want it to, such as the eyes or rhinophores.
Background: Having the right background will take a good image and make it a great image. Think about magazine covers – the background is as important as the subject. A busy background can be difficult on the eyes. Use your aperture and shutter speed to control the background.
Composition: Try to get it right 'in camera' first. Composition can be adjusted slightly after the event if there is enough space in the frame to do so. We try to get close but sometimes giving space works too so you have more to work with later.
Lighting: There are hundreds of different ways to light a subject. Getting good lighting 'in camera' is best. If an image is over exposed, no amount of editing will fix it. Hotspots are also difficult to take care of afterwards. In Lembeh a lot of subjects do not move a lot so it's like an underwater studio where you can move around and try different techniques.
Respect the subjects: If critters are in a critical stage, such as laying eggs, allow them to do so. If they are not in a good position to photograph, leave them and move on – in Lembeh there will be many other critters.
Awareness: Be aware of your surroundings and do not damage the environment. Do not put yourself at harm. Share subjects and be aware of other members in your group. Always be courteous.
It's never the same twice: Underwater subjects are always different. Even the same subject can be taken from a different angle, with different lighting or with a different focus. Even simple subjects that might not seem special have incredible patters and textures that can be used to create stunning effects.
Time for Some Underwater Photography Truths:
"No matter what level of photographer or videographer you are, we all have the same 'truths' to work with:
You WILL get frustrated
You WILL run out of time
You WILL NEVER be satisfied
You WILL get addicted
Dive guides in Lembeh are incredible".
Once you have acknowledged these truths – then you can start to work with them!
Frustration: Have you ever taken the same picture again and again and still not got the image you were hoping for? If it isn't working out, don't frustrate yourself. Stop and rethink about taking it from a different angle, in a different light, with a different focus point or just decide to move on to a different subject matter in a better position.
You will run out of time: This is especially true in Lembeh because there are so many critters. Pick carefully and selectively what to shoot. Don't waste time chasing impossible opportunities such as skittish fish or critters in difficult positions when there is a frogfish posing right next to you. Plan your shots to be effective. If you are making a double dive trip make sure you take extra batteries, SD cards and anything else you need.
You will never be satisfied: Everyone is chasing the perfect image – the best one yet. You'll never get it and if you do it will be short lived. If you look at the best shot you took years ago, you probably won't feel the same way about it now. Underwater photography is about progressing and making images that you are happy with. Underwater photographs and videos can never be the same as the real thing; they are your interpretation so shoot in a way that captures that. Doing your best with what you have is a great goal to aim for.
You will get addicted: Keep shooting, keep progressing and keep interpreting the underwater world as you see it. Advice from Pros and other photographers gives you the tools to make what you want. There is no right or wrong if you are happy with it.
Dive Guides at Lembeh Resort are incredible: Just as Professional shooters can give you tips to use as tools, the dive guides at Lembeh Resort also have expert knowledge. Not only are they amazing spotters, they are also a massive resource. Make the most of this opportunity and utilize them in and above the water. They work with underwater photographers day in and day out and know what will photograph well and what is best left alone.
Photo Pro Ethan Daniels is also a biologist with a fascination for the natural and geographic history of marine eco-systems. Ethan regularly contributes articles and images to publications world-wide and is the author of "Under Cape Cod Waters" (2010), "Coral Triangle Seascapes" (2012) and most recently, "Marine Life and Natural History of the Coral Triangle" (2017).
To find out more about Ethan Daniels, check out his website.
Our Capturing Critters in Lembeh underwater photography workshops are extremely popular and places sell out a long time in advance. If you'd like to book a place for the 2018 Workshop (5th – 12th December), which will feature Photo and Video Pro's Brandi Mueller, Brent Durand and Tobias Friedrich, contact us: reservations@LembehResort.com
---
Day 2 Capturing Critters in Lembeh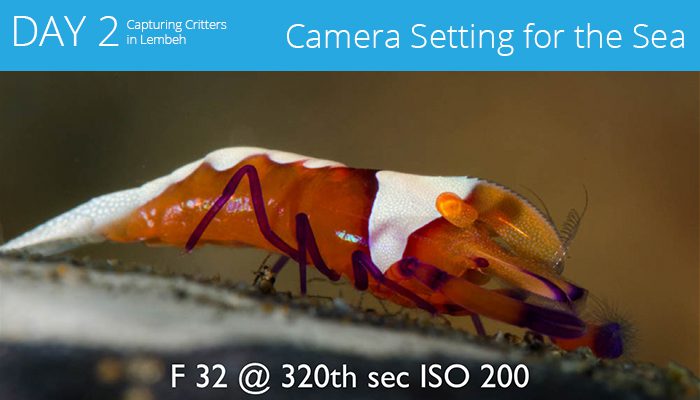 Featured Presentation by Martin Edge
Martin Edge has been teaching underwater photography for 30 years and he still loves his subject and is as passionate about teaching as ever before. Martin teaches in his home town of Bournemouth in the UK as well as in various dive locations world-wide.
In this presentation Martin gave Capturing Critters in Lembeh participants the benefit of his 30 years of experience in trying out different camera settings underwater.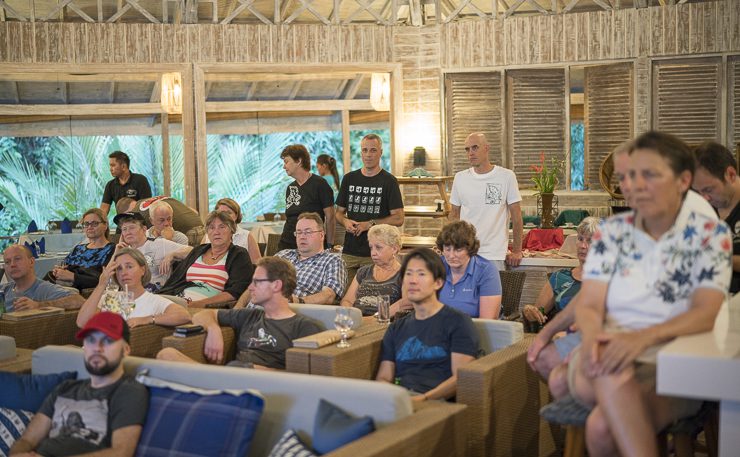 "Don't get stuck in the trap of using automatic mode. Be brave enough to venture into using manual settings and you'll be surprised. Manual settings are not as complex as you might think.
There are 3 main settings that every underwater photographer should be familiar with: Shutter Speed, Aperture and ISO".
– Apertures control the depth of field (how much we see from front to back of the image) by allowing for more or less light.
– Shutter Speeds freeze action.
– ISO settings control lighting via the image sensor.
Achieving a Black or Blue Background?
Shutter speeds control backgrounds and allow us to manipulate them. To achieve the sought after black background you are hoping for, Martin recommends using a shutter speed of 1/320 (of a second). Using a slower shutter speed of say 1/250 or 1/60 is a good way to achieve a blue background.
Setting the F-Stop
F-stops are the aperture settings. For shooting a small critter, close up Martin recommends an F-stop of around F22 or F16. As the critters you are shooting increase in size then you need to be further away from the subject to fit it entirely into the frame. As the distance between your camera and the subject increases you'll need to reduce the F-stop, likewise, if you move in for a super close shot you'll need to increase the F-stop.
What is Bokeh?
Bokeh is the art of achieving a blurry, out of focus background. This is a very effective technique when shooting macro and focusing on just a small feature of a larger critter e.g focusing on just the eye and the head and body blurring away. Martin achieves this effect by using a low aperture. Martin recommends starting from around F11 and gradually dropping it down until you achieve the desired effect.
To find out more about Underwater Photo Professional Martin Edge (Author of "The Underwater Photographer" which is now in it's fourth edition), check out his website here.
Day 2 Dive Report from Arlena Boat and Pro Alex Tattersall
"Today has been like another day in the Lembeh Strait. A critter paradise with critters galore!" (Alex Tattersall).
Arlena boat headed out to Pante Parigi and Retak Larry this morning with Pro shooter Alex Tattersall on board and in just two dives the list of critters included: blue ring octopus, painted frogfish, blue-yellow and black ribbon eels, big fin reef squid, juvenile barramundi, Banggai cardinalfish, halimeda crab, juvenile broadclub cuttlefish, several species of nudibranch, peacock tail anemone shrimp, eggshell shrimp and a minute juvenile short fin lionfish measuring around just 1cm. Critter lists like this are why we love diving in Lembeh and what make it such an incredible destination for an underwater photography workshop!
Participant Comments:
Evelyn: "This morning has been pretty amazing and both dive sites were beautiful. This is why Lembeh is so amazing. Alex was really helpful and I think I managed some good shots which I am really happy about!"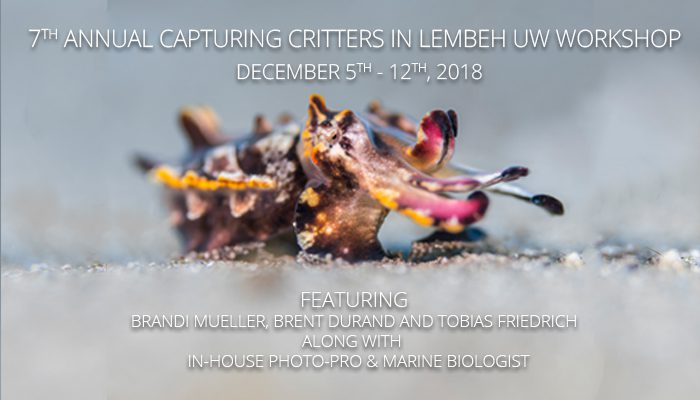 Our Capturing Critters in Lembeh underwater photography workshops are extremely popular and places sell out a long time in advance. If you'd like to book a place for the 2018 Workshop (5th – 12th December), which will feature Photo and Video Pro's Brandi Mueller, Brent Durand and Tobias Friedrich, contact us: reservations@LembehResort.com
---
Day 1 Capturing Critters in Lembeh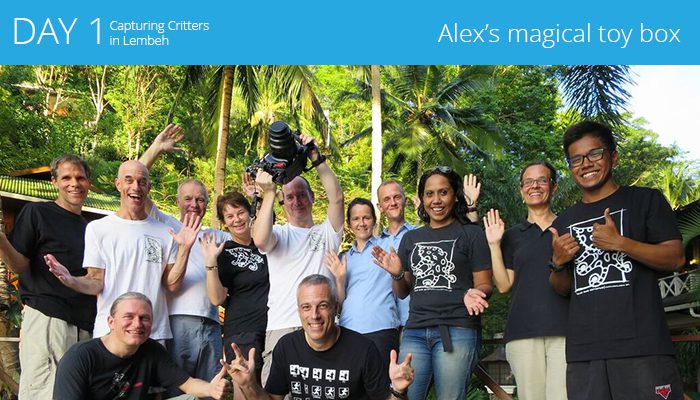 Capturing Critters in Lembeh 2017 officially opened last night at Lembeh Resort. Visiting Pros Alex Tattersall and Martin Edge arrived from the UK and joined Ethan Daniels to declare the workshop open and brief all participants on the week ahead. After a sumptuous Lembeh Resort buffet dinner and some camera preparation time, participants and the Pros enjoyed a singing performance from the Lembeh Resort restaurant staff to round off the day.
We are extremely excited to have such a heavy weight team of Pros joining forces to bring the latest underwater photography tips and techniques to our participants here in Lembeh. This promises to be an epic event!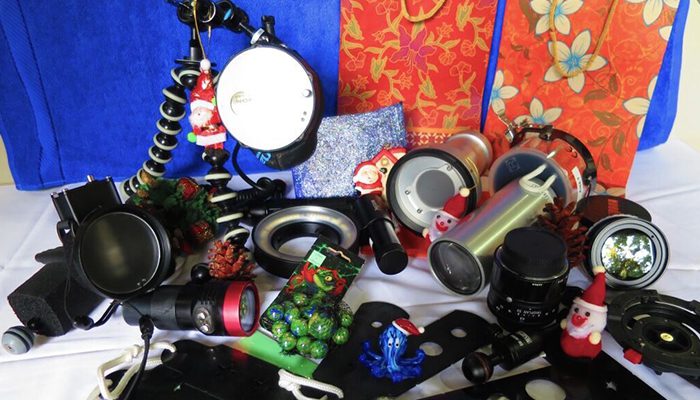 Alex "Santa Claus" Tattersall and his Magical Toy Box!
In the spirit of Christmas, Alex Tattersall donned his Santa hat this morning (well, not literally) but he did bring a crate of incredible underwater photography "toys" for participants to try out for free during the workshop – thank you Alex!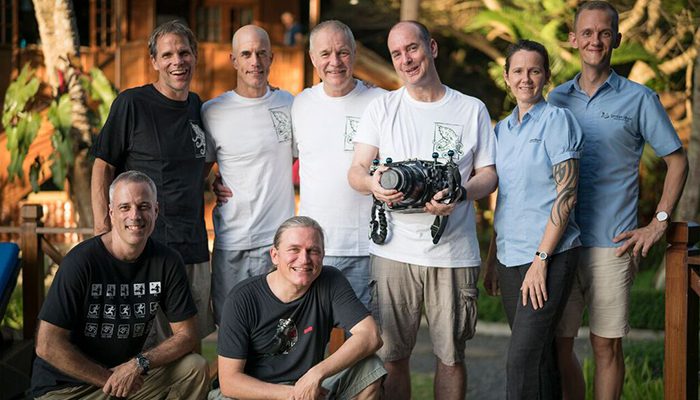 Among Alex's toy box of goodies were both CMC and SMC 1 and 2 lenses, Retra LSD Prime strobes, light shaping devices, snoots and a laser snoot, back lighting lights and tripods, spot lights, Cokin effect filters, colored and neutral background slates, colored lights including blue lights and yellow shields for luminescence imaging, prisms and even crystal balls!
We can't wait to see the effect of these toys being turned into tools and the images they produce.
Today's dives gave the participants to re-familiarize themselves with their systems and to make three spectacular dives in the Strait. This year we have five workshop boats heading out each day – each one with one of our Pros onboard to ensure that all participants have maximum "Pro time" in small groups. Pros will rotate boats so all participants have underwater time with each of the Pros throughout the week.
Day 1 Dive Report from Arlena Boat and Pro Ethan Daniels
"This morning's dives were uber productive in terms of photography subjects and dive site aesthetics" (Ethan Daniels).
Arlena boat headed out to Makawide and Aer Bajo 2 this morning with Ethan on board and in just two dives the list of critters included: Wonderpus, long arm and coconut octopus, wasp fish, juvenile barramundi, a pair of rough snout ghost pipefish, Banggai cardinalfish, pygmy pipehorse, fingered dragonets, pygmy cuttlefish, big fin reef squid laying eggs, estuarine seahorse and a tiny juvenile zebra lionfish.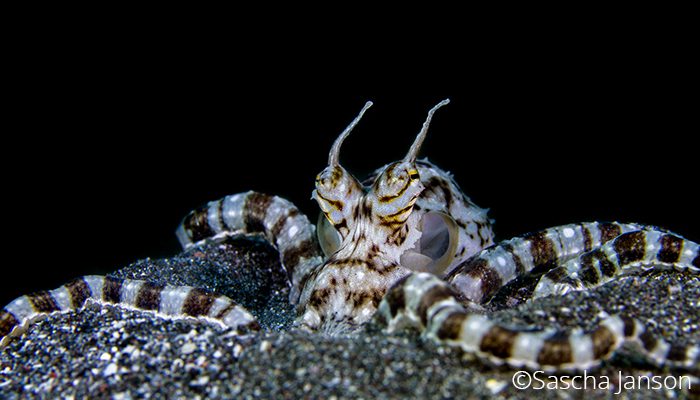 Participant Comments:
Larry: "I got to spend time on the boat and underwater with Alex (Tattersall) and it was fun watching how he moves around underwater. My equipment all felt good and the dives were great with a lot of critters. I'm looking forward to experimenting with techniques this week."
Sharon: "The first dive was about me getting back in to it. On the second dive I felt used to it again and it was Lembeh as I know it. Ethan (Daniels) was super helpful".
Our Capturing Critters in Lembeh underwater photography workshops are extremely popular and places sell out a long time in advance. If you'd like to book a place for the 2018 Workshop (5th – 12th December), which will feature Photo and Video Pro's Brandi Mueller, Brent Durand and Tobias Friedrich, contact us: reservations@LembehResort.com
---
Introduction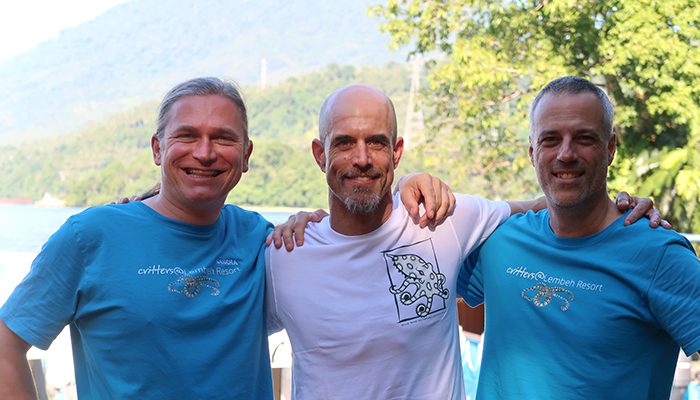 This years annual Capturing Critters in Lembeh underwater  photography workshop starts this week and we are delighted that one of the Pros, Ethan Daniels, has already arrived in resort. Ethan will be joined by Martin Edge and Alex Tattersall for the official event opening on Wednesday evening.
This year promises to be our most exciting underwater photography workshop yet with the 3 visiting Pros being joined by our in house Marine Biologists Dimpy Jacobs and Agus Peloa as well as Photo Pros Sascha Janson and Frederic Juneau.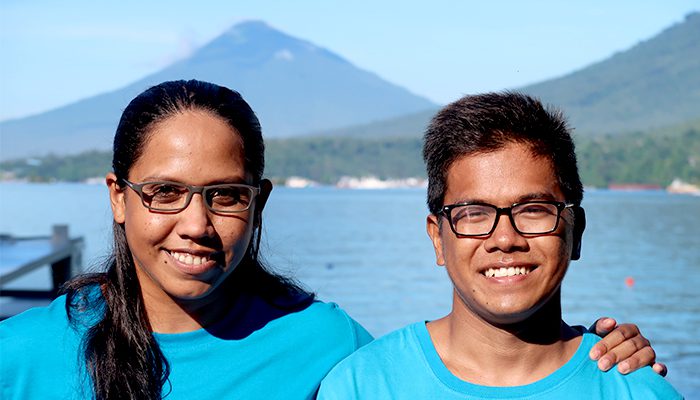 Dimpy and Agus (Marine biologists in-house)
Our annual Capturing Critters in Lembeh event is now in it's 6th year and participants will have a week of underwater photography presentations, practical sessions, one-on-one time, critiques and incredible Lembeh Strait dives with the Pro Team.
During this years workshop just a few of the presentation highlights include underwater photography composition and subject selection, lighting and backscatter, using snoots and LED's for creative lighting effects, photo editing in Adobe Lightroom as well as other techniques and tips to improve your imaging. Our own Marine Biologists will be giving evening marine life presentations and explaining about how to best capture striking images of critters according to their natural behavior.
---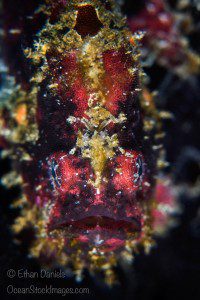 Ethan Daniels, a photo journalist, who focuses on the natural history of marine eco systems, is looking forward to being part of the workshop 2017 team. Ethan comments that, "Lembeh, in terms of its bio-geographic collection of marine life, is unique. There is a certain mystery as to why there is such an abundance of unusual critters in one place and that draws me. Each individual dive site has its own collection of marine organisms which can be completely different to those of another nearby site which has the same substrate. The behavior of the fish and invertebrates in Lembeh is also different to anywhere else in the world in terms of approachability. This makes the Lembeh Strait a truly premier destination for underwater photographers and videographers who just wouldn't be able to capture so many rare behavioural traits in any other location".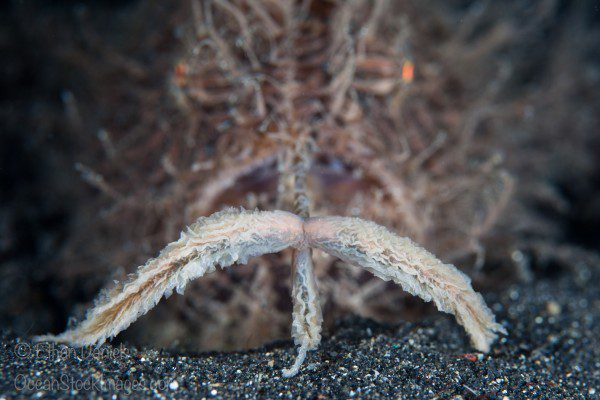 Ethan regularly contributes articles and images to publications world-wide and is the author of "Under Cape Cod Waters" (2010), "Coral Triangle Seascapes" (2012) and most recently, "Marine Life and Natural History of the Coral Triangle" (2017).
What is Ethan most looking forward to over the coming week? "Spending time with like minded people who are super enthusiastic about marine life and underwater photography is always a real treat for me. It's really rewarding to watch photographers and videographers develop. I'm also excited to try out some new photography techniques myself and no matter how many times I've dived here I always see or notice something new on each trip so I'm looking forward to seeing what the week brings".
We will be posting daily throughout the event to keep you up to date with the latest event news and top tips from the Pro Team – watch this space!
Our Capturing Critters in Lembeh underwater photography workshops are extremely popular and places sell out a long time in advance. If you'd like to book a place for the 2018 Workshop (5th – 12th December), which will feature Photo and Video Pro's Brandi Mueller, Brent Durand and Tobias Friedrich, contact us: reservations@LembehResort.com