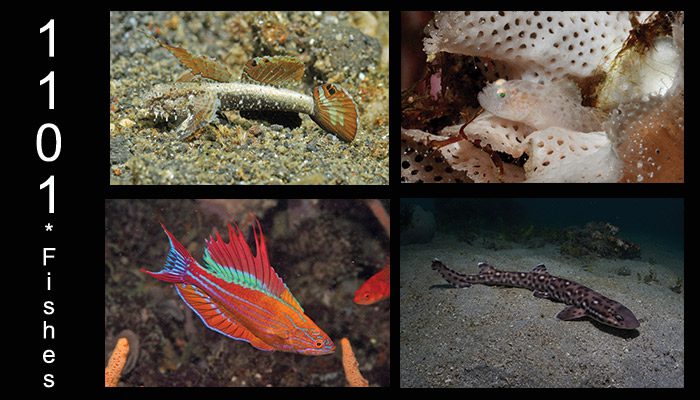 1101 Fishes – 43 More than they Thought Before!
It's official: North Sulawesi is a fish biodiversity superstar!
During our 2014 Lembeh Resort/[email protected] Fish Geek Week, Dr. Mark Erdmann and Dr. Gerald Allen gave entertaining and informative presentations on the weird and wonderful fish life in Lembeh, and during dives, they hunted for new, rare, or never-before-photographed species.
Previously, 1058 fish species had been recorded in North Sulawesi, but in just a week, Mark and Gerry were able to add an additional 43 species, bringing the grand total for North Sulawesi to 1101 species representing 362 genera and 93 families!
To put these numbers in perspective, let's compare North Sulawesi's 1101 species with some other popular diving locations in the graph below. North Sulawesi's high number is all the more remarkable when you consider that most of the other areas being compared are much larger and better surveyed than North Sulawesi. – (chart by Lauren Siba)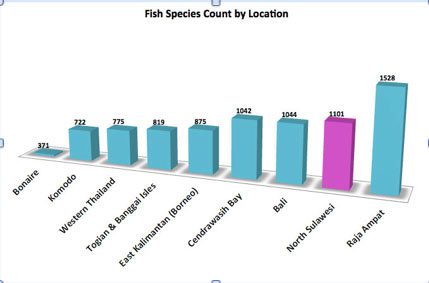 Here are some of the highlights of Mark and Gerry's discoveries during Fish Geek Week 2014:
New and undescribed fish
–Atelomycterus catshark – this is a new species, likely endemic to North Sulawesi or eastern Indonesia – look for it on one of Lembeh's famously excellent night dives.
-The bryozoan goby. This beautiful but shy fish is still undescribed (Mark and Gerry are now in the process of describing it), and until recently had never been seen before in Lembeh. Check out Sascha's (our in-house Photo Pro) short video footage of it here: (LINK)
-A beautiful little undescribed Discordipinna goby – to see it yourself, ask your guide to show you the "Okinawa Goby" and marvel at its strange way of propelling itself along the sandy bottom by rapidly flapping its pectoral fins.
-Two new Synodus lizardfish (1 shown here) – Mark and Gerry are now working with the Indonesian Institute of Sciences to describe them.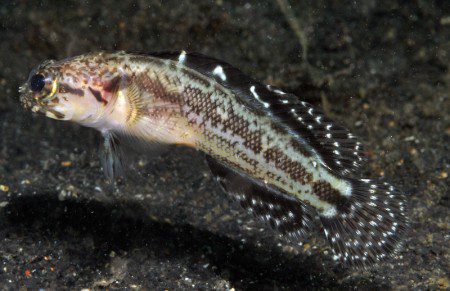 -Two new Stalix jawfish that are now also in the process of being described
Exciting range extensions: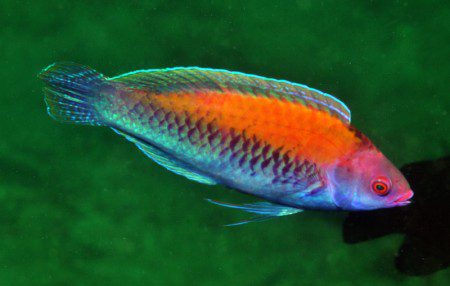 –Cirrhilabrus aurantidoralis. A beautiful fairy wrasse previously known only from the Togian islands, but now documented in Lembeh.
–Ecsenius caeruliventris. Like the fairy wrasse above, this coral blenny was only known previously from the Togians.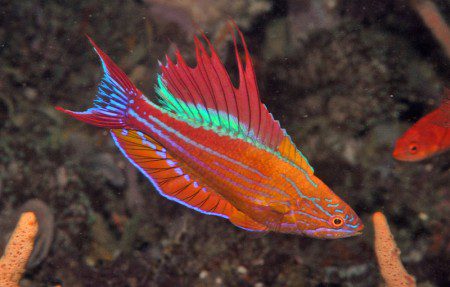 –Paracheilinus filamentosus x togeanensis, a hybrid flasher wrasse. This is a cross between the "normal" Lembeh flasher crossed with an endemic flasher from the Togians. The spectacular male flasher wrasses can be seen displaying during the day but they mate at dusk, just like the mandarin fishes.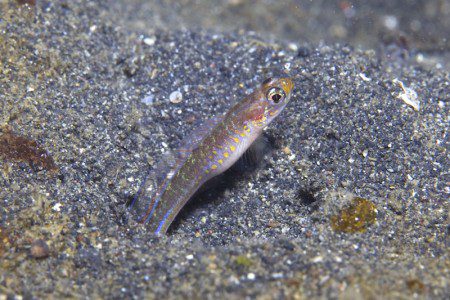 –Vanderhorstia cyanolineata. This recently described shrimpgoby previously known only from Ryuku Islands in Japan has a delicate, ethereal beauty.
Exciting photographic record:
–Neamia articycla, a beautiful cardinalfish that has never before been photographed live. Mark and Gerry initially thought this was a new species given its striking coloration (that they'd never seen before), but they've now determined it is in fact the first live colour photograph of this cryptic species.
There's always something new to see!
This incredible biodiversity and richness of marine life is one of the many reasons why people come back time and again for the scuba diving in Lembeh Strait – there's always something new to see, whether you're doing your 10th dive or your 10,000th!
Special thanks to Dr. Mark Erdmann and Dr. Gerry Allen for the photos, research and updates. You two are our favorite Fish Geeks!
Research information collated and article written by [email protected] Dive Manager  ~ Lauren Siba