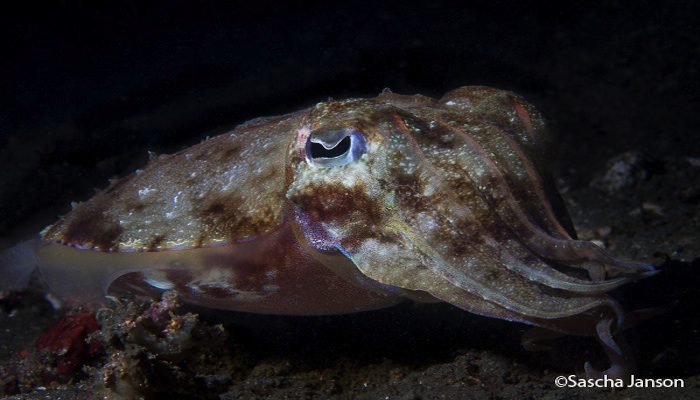 Our New Photo Pro
Our new photo pro, Sascha Janson is being trained by our very experienced existing photo pro, Steve Fish, who will transfer his knowledge over the next 6 months. Here is a short introduction to Sascha:
Hi, my name is Sascha Janson and originally I'm from Germany. I'm very passionate about underwater photography and my background as an engineer comes in really handy for repairs of all sorts of equipments. I'm really excited to be here in "critter paradise" and to be training as the new Photo Pro here with Critters@Lembeh at Lembeh Resort.
Steve Fish, with 20 years of underwater photo and video experience, is an exceptional mentor and is sharing all his knowledge, tips and techniques with me.  I'm learning a ton and will pass this on to you so that you can take amazing photos and videos!
The last month here at Critters@Lembeh has already given me a very good introduction to the Photo Pro position as there is always something interesting and exciting going on in the Photo Center. From ideas on how to improve image lighting to equipment repairs, we have helped many guests with their images and video so they can take home beautiful works of art and mementos of their stay here in Lembeh.
The Underwater Photography Workshop in December was a great learning experience for all of us as we had the combined knowledge of 4 fantastic Photo Pros who were really generous with their time and expertise.  We're really excited about the next photo workshop in December 2013.
The Photo Pro is here to help you take the best underwater images possible.  If you have questions about techniques, or difficulties with your equipment we are here to help.  Whether you're just starting out or have already been taking photos for a while, we can help you achieve your image/video goals.
Are you thinking of branching out into video for the first time?  Would your spouse be interested in doing a beginner photography course?  Are you wondering how to take your images to the next level?  We can do all this and more!  A wide range of underwater photography and video equipment is available for rent at the Photo Centre. Depending on your needs, you can choose between several point-and-shoot systems, DSLR systems or video systems. The photo centre also has a good selection of "bits and pieces" such as flashes, sync cords, optics and video lights available for rent.
We are looking forward to helping you shoot great photos and video of unique critters and their behaviour here in Lembeh.
On behalf of the team here at Critters@Lembeh, we look forward to your visit.