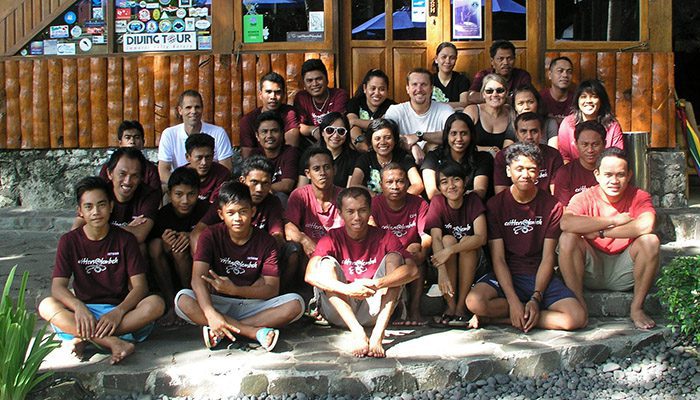 See you soon, Hergen & Kerri!

Yesterday we said "See You Soon" to Hergen & Kerri who have managed [email protected] since October, 2009.  They have been instrumental in shaping us to what we've become and greatly enhanced our commitment to service and learning. We would to thank them both for their hard-work and dedication and we look forward to their visit in March.
Hergen passed the IT torch to Lilian Tanpian and we're extremely pleased to welcome her to Critters.  Originally from Manado, Lilian moved to Australia in 1998 where she earned her IT degree and worked in the IT industry for several years.  An avid diver and former guest of Lembeh Resort, Lilian is a great addition to our team.
By virtue of Kerri's training and guidance, Julia and Abner have taken responsibility of operational positions.  Kerri molded their years of dive center experience and groomed them into mature supervisors.
Arriving in November, Lauren Siba will continue to guide and build our team.  Lauren, a Canadian transplant and also a former Lembeh Resort guest, comes to us from Misool Eco Resort.  She's excited to dive the muck and further develop everyone's skills at Critters.
Lauren's partner, Sascha Janson will join the team primarily tutoring with our Photo Pro, Steve Fish.  Along with his passion for underwater photography, Sascha brings many specific skills to the team, which will significantly boost staff's knowledge level.
While we will all miss Hergen & Kerri, we look forward to the new opportunities and challenges ahead.  Most importantly, we look forward to having you all visit us so we can show off our talents and our "front yard," the world famous, Lembeh Strait.
See You Soon!