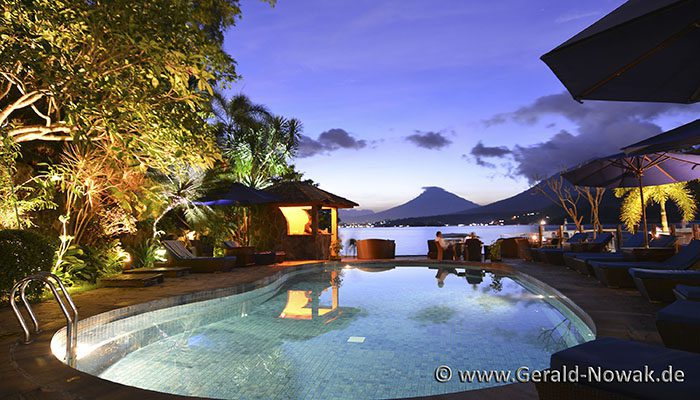 Lembeh Resort Aufenthalt November 2013
My expectations in the Lembeh Strait and Lembeh Resort were high, but what I found exceeded my expectations!  The team of the resort is incredibly helpful, friendly and always in a good mood . The facility is located in a charming narrow valley, giving the resort a special flair.  Critters@Lembeh dive crew and dive guides are very professional. Personal needs are not only met but exceed the "normal" level of service.  The guides work hard and try everything imaginable to find the rarest critters themselves.  I was also excited about the variety of dive sites.  So far, I always just thought Lembeh Strait was exclusively for macro dives, but I was proved wrong . The coral wealth is at times quite huge and great for wide-angle images as well especially for Close -Up Wide Angle. Thanks for a great few days; it will certainly not be the last time that I come here to Lembeh Resort.
Meine Erwartungen in die Lembeh Strait und das Lembeh Resort waren hoch, doch das was ich vorfand, übertraf meine Erwartungen. Das Team des Resort ist unglaublich hilfsbereit, freundlich und stets guter Laune. Die Anlage liegt in einem bezaubernden engen Tal, was dem Resort einen besonderen Flair verleiht. Die Tauchbasis und die Tauchguides sind sehr professionell. Persönliche Wünsche werden nicht nur den Profis erfüllt, die Guides versuchen alles erdenkliche selbst die seltensten Critters zu finden. Begeistert war ich auch über die Vielfältigkeit der Tauchplätze. Bisher dachte ich immer nur, die Lembeh Strait sei ausschließlich für Makrotauchgänge interessant, jedoch wurde ich eines Besseren belehrt. Der Korallenreichtum ist stellenweise gigantisch und durchaus für tolle Weitwinkelbilder gut. Besonders geeignet sind die Plätze für Close-Up-Wideangle. Danke für ein paar tolle Tage, es wird sicher nicht das letzte Mal sein, dass ich hierher komme.
Gerald Nowak
www.Gerald-Nowak.de