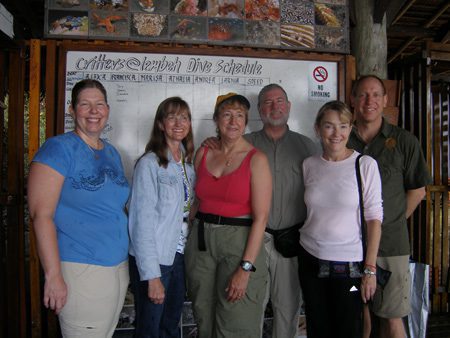 Sara: Fabulous experience diving with your gregarious, knowledgeable & STRONG dive masters & crew- ONA was very attentive to every aspect of my gear & needs – Fandy Abner & Iwan super smart + knowledgeable. The room was always clean tidy in every aspect down to the umbrellas hot & cold water/coffee in the room. The waitress staff in the restaurant were all friendly & expected our food & drink. The chefs are awesome … beautiful food & enjoyed the diversity of cuisine – loved the local indigenous dishes. Thank you for a beautiful & memorable weekPS: The dive setup is very handy & clean coffee shop, bathroom, dive center, camera room wonderful.
Thank you to Steve Fish for his generous knowledge & sharing of spots for our night dives what a great in depth, friendly resource.
Penny: Thank you so much for such a wonderful time. The entire crew and staff was so helpful and kind. Also the knowledge of the dive masters was amazing! I hope to come back!